So iconic has become the image of Bela Lugosi, so definitive to the role of the greatest vampire that it comes as a surprise to hear that he was actually not the first choice for the role. He was not the second choice either, or third or fourth. There was in fact a long list of possible Draculas that the film makers went though before settling on Bela Lugosi.
Bela was a veteran Hungarian actor with the tongue twisting name of Béla Ferenc Dezső Blaskó who started out in Hungary and German films with supporting roles in several silent movies and who had actually been playing the role of Dracula in a very successful Broadway version for a few years after coming to America. However he was little known outside Broadway and Universal Studios was probably concerned that his stagey acting style would translate badly to the screen as well as about his shaky grasp on the English language. Besides by 1930 the project was given to director Tod Browning, after the death of German director Paul Leni who had been the first choice to direct, and Browning had ideas of his own. Browning was a veteran of the silent screen who was known as a moody and erratic man with a serious drinking problem, but he also had a taste for the weird and Gothic as shown by his later classic film "Freaks". He had also made several silent films with the greatest character actor of the silent film; Lon Chaney. Not surprisingly Chaney was Browning's first choice to play the great vampire lord.
BELA LUGOSI;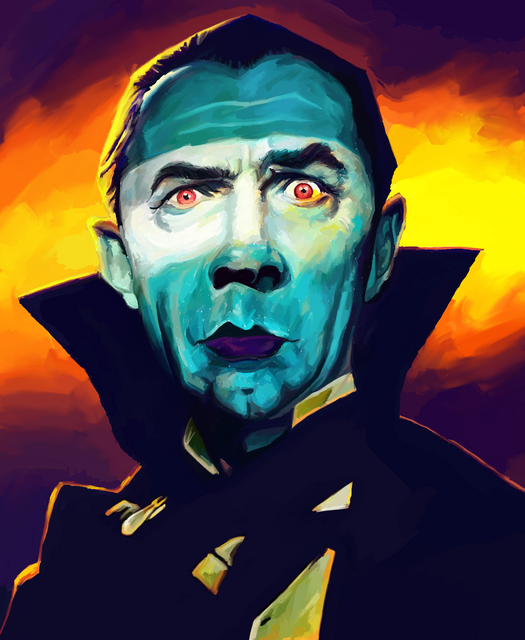 LON CHANEY;
Lon Chaney had carved out a name for himself in the classic silent horror films "The Phantom Of The Opera" and "The Hunchback Of Notre Dame". He had even played a vampire character in "London After Midnight". World famous as The Man Of A Thousand Faces for his uncanny skill at devising elaborate disguises in playing such believable characters as an Chinese coolie in "Outside The Law", an armless gypsy knife thrower in "The Unknown", the legless gangster in "The Penalty" or the crippled grifter in "The Miracle Man". However Chaney was more than just a master of disguise, he was also a superb actor whose emotionally complex and strikingly modern acting style still stand out today compared to many of his peers who can seem stagey to today's viewers. He was also a very physical actor, tall and imposing with great strength and the dexterity of a dancer. He specialized in tortured villains who are racked by guilt and loneliness, that audiences sympathized with as well as fearing. Characters like Eric in "Phantom Of The Opera", the Hunchback, the legless mobster in "The Penalty", the armless gypsy in "The Unknown", the crippled vice lord in "Road To Mandalay" or the terrorist in "Ace Of Hearts" were not just killers but tragic and even tormented figures. Chaney was reportedly enthusiastic about the role and happy to work with Tod Browning as the two had made several excellent movies including "The Unholy Three" which they had just remade as a sound film. There can be little doubt that Chaney would have played Dracula as one of his many tormented demons, doomed to a literal eternity of loneliness in search of his long lost love. Later actors such as Gary Oldman and Klaus Kinski (in the remake of "Nosferatu") would indeed play him that way. Unfortunately by 1930 Chaney (who was a chain smoker) was dying of throat cancer and the Chaney/Browning remake of "The Unholy Three" would be his first and last sound film. In fact by the end of filming he was no longer able to speak above a whisper and the ending had to be re-shot to enable him to wave goodbye as his train pulled away since he could no longer speak the lines. He died that year.
LON CHANEY IN "LONDON AFTER MIDNIGHT;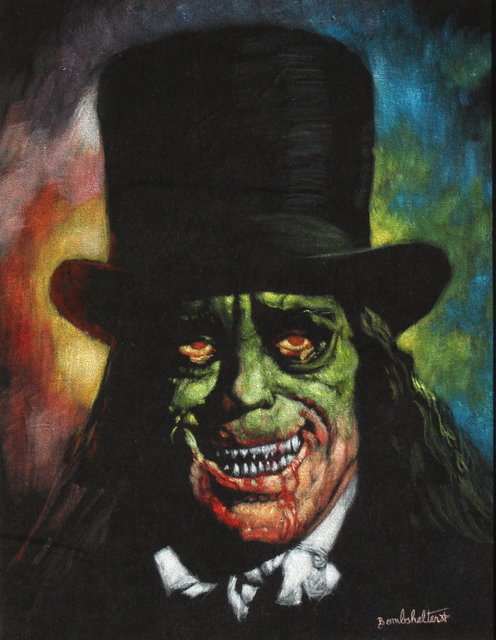 CONRAD VEIDT;
With Chaney no longer available Browning turned to Conrad Veidt, the second greatest horror actor of the silent screen who had been original director Paul Leni's choice. Veidt had a long career in Germany where he had starred in some of the most iconic horror films of the era. He played Cesare, the ghostly sleepwalker in "The Cabinet Of Doctor Caligari", as well the title role in "The Hands Of Orlock" (both directed by Robert Wiene) in which he played a concert pianist whose hands are amputated and replaced by those of a killer, who begins to take over Orlack's mind. Veidt also starred in "Waxworks" in which he played a statue of Ivan The Terrible that awakes and in "The Student Of Prague" he played the double role of the young student who sells his soul to Satan and his evil twin who is in fact the dark side of his soul come to life. By 1928 he had come to Hollywood at the urging of German ex-patriot director Paul Leni who cast him in the Gothic horror film "The Man Who Laughs" in which he played a nobleman who is disfigured by having a permanent smile carved into his face. This character and the makeup used for it was the inspiration for the Joker character in Batman. In many ways Veidt was the German version of Chaney in that he also played his characters as tragic loners rather than monsters. Veidt was, like Chaney, a superb actor with a deeply emotional style and great physical grace which no doubt caught Browning's eye. Veidt would have no doubt played Dracula as Chaney would have, as a tragic loner. This is probably what original director Paul Leni had in mind before he died in 1929 as well given their previous collaboration. Unfortunately Veidt spoke little English and all his previous triumphs had been on the silent screen. Even though the character was European and would have an accent, Veidt did not feel comfortable taking on leading role with his limited, heavily accented English and he worried about typecasting. He may have also been leery of working with the alcoholic American Browning. He turned down the role and returned to Germany. However with the coming to power of the Nazi's in 1933 he reconsidered his prospects. Veidt was married to a Jewish woman and like many other actors and artists they fled Germany for America. He returned to Hollywood where he learned English and resumed his acting career taking the role as the villainous Nazi commander in "Casablanca" this triumph seemed to re-establish him but he died suddenly of a heart attack while playing golf in 1943.
CONRAD VEIDT IN "THE CABINET OF DOCTOR CALIGARI";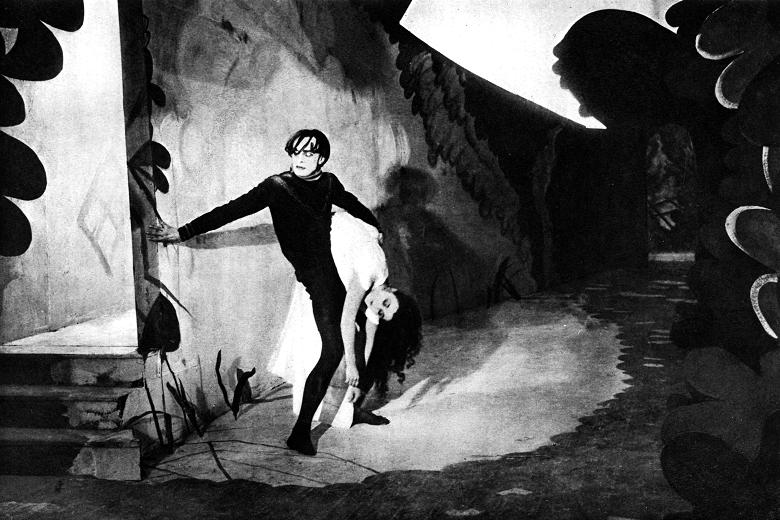 PAUL MUNI;
Browning now turned to another respected European character actor, albeit this time one who had been living in America for years and spoke perfect English. Born in Liviv in 1895 in the Austrian controlled Ukraine from a family of Jewish actors (Edward G Robinson was a cousin), his full name was Frederich Meshilem Meier Weisenfreund and his family moved to Chicago when he was seven. He took up acting in the local Yiddish theatre and changed his name to the more manageable Paul Muni. Graduating to Broadway he became known for playing a variety of exotic characters and his skill at makeup which earned him the title of "The Yiddish Lon Chaney" so it's not surprising that Browning was interested in him in spite of the fact that he was not exactly a household name in spite of his rave reviews. Muni was an early exponent of what would later be called "method acting" carefully researching his roles and immersing himself completely. Even though Muni would never be known to horror fans he would no doubt have made an interesting and complex Dracula. Muni was also known for being highly choosy in his roles, this was unusual in an era when most actors, including big names like Edward G Robinson, Jimmy Cagney and Humphrey Bogart had to play whatever their studio said and it is a measure of his toughness and his renown that he was always able to insist on his choice of roles. He once turned down an incredible $800,000 contract, a huge sum in those days, because he wouldn't have creative control. Whatever his reasons for turning down Dracula, it probably wasn't money. He probably didn't look back either. In 1932 he became a huge star with title roles in "Scarface" and "I Am A Fugitive From A Chain Gang" for which he was nominated for his first Oscar. Muni would go on to a glittering career playing detailed historical roles, and winning an Oscar in for "The Story Of Louis Pasteur" in 1935 and getting nominations five more times. Dissatisfied with Hollywood he turned down a contract renewal and returned to the stage in the early 1940's winning a Tony Award for the stage version of "Inherit The Wind" in 1955 although he did return to the screen for a few more films before retiring for good in 1959 due to his deteriorating eyesight. He died in 1967 aged 71.
PAUL MUNI AS "SCARFACE" (trailer);
WILLIAM POWELL;
Best known for his roles as coolly ruthless detectives Philo Vance and Nick Charles (AKA The Thin Man) in a series of movies from 1929 to the 1940's, Powell already had a long career as a leading man dating back for years. He appeared in supporting roles in silent films starting with 1922's version of "Sherlock Holmes" (with John Barrymore) and the original versions of "Beau Geste", "The Great Gatsby" and "The Four Feathers" before graduating to leading man roles. The coming of sound did not hurt his career as he had a urbane dry wit. He was also known for his slicked back hair, pencil mustache and dark eyes so casting him as Dracula was not a bad idea. It's not know whether he turned down the role or the casting was reconsidered. His career did not suffer as he continued on for over a decade with a successful career that would include three Oscar nominations.
WILLIAM POWELL;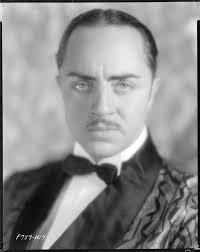 ARTHUR EDMUND CAREW;
Best known today, if at all, for appearing opposite Lon Chaney in his classic "Phantom Of The Opera" as the menacing Ledoux. Carew was originally from Armenia and named Hovsep Hovsepian (that certainly explains the name change) although he had been living in America since he was about eight. With his exotic looks; tall and dark with a piercing stare and a shock of dramatic hair, he was a natural screen villain in the silent age. Besides his role in "Phantom Of The Opera" he got rave reviews as a Svengali type character in "Trilby", in the haunted house caper "The Cat And The Canary" and in "Uncle Tom's Cabin". He had also played a number of Rudolph Valentino Latin or eastern lovers. Carew was therefore an obvious choice for Dracula and he probably would have played him as a brooding dark eyed predator. It's not clear why he turned the role down, although he was not the most stable of people having once tried to kill himself over an affair with an actress. Money may have an issue at this point since Universal Studios had cut the budget for the seemingly cursed project. Carew was also having health issues so perhaps he decided it wasn't worth the trouble. He would later go on to a few more screen villains in films like "Doctor X", "Mystery Of The Wax Museum" and "Charlie Chan's Secret". In 1936 Carew suffered a serious stroke and depressed over his prospects he shot himself for real this time. He was only 52.
ARTHUR EDMUND CAREW: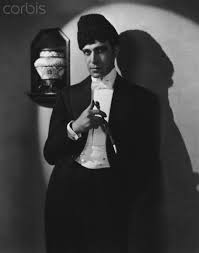 JOSEPH SCHILDKRAUT;
Another European ex-patriot character actor, Schildkraut was son of a Jewish Austrian acting family who had immigrated to America when he was a small child. He became a stage actor and appeared on Broadway appearing in such notable plays as "Peer Gynt" and an early version of "Carousel". He moved to the silent screen playing villains in major projects like D.W. Griffith's "Orphans Of The Storm" and Cecil DeMille's "The Kings Of Kings" where he played Judas Iscariot. He did not exactly endear himself to his co-stars and crew who regarded him as an arrogant, preening prima-donna. It seams that with his background in the legitimate theatre Schildkraut considered himself above mere movie people. He was also exceedingly vain about his appearance. He probably thought that Dracula was beneath him. It's hard to see how he would have been a better choice than Lugosi anyway. His career did not suffer however, he would go on win an Oscar for best supporting role in "The Life Of Emile Zola" starring with Paul Muni who also received a nomination. He would go on to play more aristocratic villains in costume dramas "Marie Antoinette", "The Man In The Iron Mask", "The Three Musketeers", "The Tell Tale Heart", "Flame Of The Barbary Coast" as well as in "Mr. Moto Takes A Vacation". In later years he would host a TV show on the DuMont Network and guest star in a Twilight Zone episode as a NAZI death camp commander.
JOSEPH SCHILDKRAUT;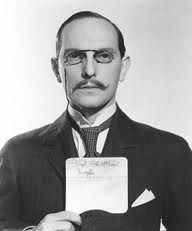 CHESTER MORRIS;
So far our list of European character actors, plus Lon Chaney, are perfectly sensible, even obvious choices, but affable, boyish, unpretentious American leading man Chester Morris as Dracula? Morris had made his film debut as early as 1917 billing himself as "Hollywood's Youngest Leading Man". He had been nominated for an Oscar in 1929 for "Alibi" directed by Roland West and would also appear in West films like "The Bat Whispers" and "Corsair" as well as prison film "The Big House" so he had made a name for himself but his easy going American persona was wrong for Dracula and it's just as well that he either turned it down or Browning changed his mind. It's doubtful Morris lost much sleep over his lost opportunity once he scored the role that would define his career as the smooth talking private eye Boston Blackie in a popular series of fourteen movies starting in 1941, along with a radio series. In the 1950's he appeared mostly in television and B Sci-Fi movies like "The She Creature". In 1970 he was diagnosed with terminal cancer and he committed suicide with a drug overdose. He was 69.
CHESTER MORRIS AS BOSTON BLACKIE;
WILLIAM COURTENAY;
Although long forgotten today Courtenay was a well known and respected figure of the early screen era both in films and on the Broadway stage. Born in 1875 he was at least a decade older than any other name on the list and had made his first film as early as 1894 but was better known for his stage work where he was a friendly rival to John Barrymore. Most of his films were silents and few survive making it hard to judge his talents but he reportedly had a typically imposing stage persona and powerful voice. His age of 55 may have been a deciding factor in his not getting the role and his health may have also been an issue since he would die just two years later.
WILLIAM COURTENAY;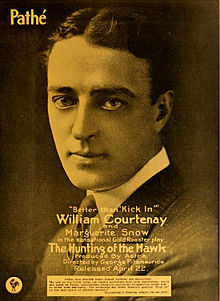 JOHN WRAY;
Little known today, Wray (no relation to Canadian actress Fay Wray of "King Kong" fame) was a New York stage actor-turned screen actor who had had made a name playing villains in "The Czar Of Broadway" and the Oscar winning "All Quiet On The Western Front" as the sadistic drill sergeant. So his name was perfectly reasonable at the time as a possibility. However he pales beside Lugosi as Dracula. He would later go on to play the role of the grifter-contortionist in the 1932 remake of "The Miracle Man" a role ironically originally played by Lon Chaney. He died in 1940.
JOHN WRAY IN "ALL QUIET ON THE WESTERN FRONT";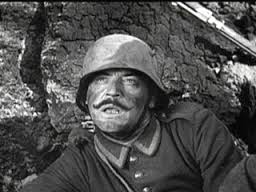 VICTOR JORY;
Unlike some of the other names on the list Victor Jory is well known, or at least he would become so long after he took on the Dracula role briefly in a traveling stage version in 1930. Born in 1902 in Canada's Yukon, the rugged Jory was a former boxing and wrestling champion in the U.S. Coast guard who therefore a powerfully built man with a booming voice and a long villainous face. He was no doubt well suited to a stage version but not quite right for the more suave version envisaged for the film. Nonetheless he would go on to a long and successful film and TV career often playing villains as well as a version of The Shadow. His last TV role was in 1980 and he died in 1982.
VICTOR JORY;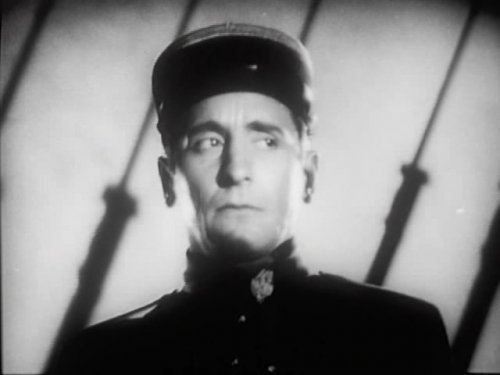 IAN KEITH;
A journeyman character actor of stage and screen since the 1920's Ian Keith had been in a number of movies most notably DW Griffith's "Abraham Lincoln" as John Wilkes Booth. Aside from that notable screen villain he had appeared in a variety of mostly b-movies from westerns to crime dramas and he had always played in supporting roles and he seems out of place in this company. His inclusion here was mostly due to his tall, dark and handsome looks and his stage trained bass voice than due to any particular charisma. He would go on to a long career which would include a recurring role in the "Dick Tracy" b-movie series and in Ray Harryhausen's 1955 sci-fi epic "It Came From Beneath The Sea". In 1932 he would marry German actress Fern Andra who had starred in
Robert Wiene's 1920 expressionist horror film "Genuine"
. In fact he would have to marry her again in 1934 since their first marriage was declared not legal. After all that they would divorce in 1938. He died in 1960.
IAN KEITH;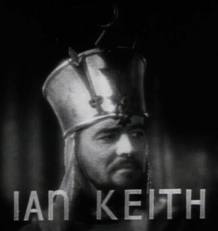 RAYMOND HUNTLEY;
A British stage actor Huntley had appeared in the original 1927 London production of the stage version of Dracula written by a British actor/director/writer Hamilton Deane, who also starred as Van Helsing. The London version was disdained by critics but was a box office smash and it quickly inspired an American version on Broadway starring Bela Lugosi which was also a hit. Lugosi was not even the first choice to play Dracula on the stage in America with Huntley being invited from England to reprise his role. However he wanted too much money and was therefore replaced. In spite of his high asking price Huntley was a British stage actor with no film experience at the time and Browning probably never gave him a second thought. As it would happen Huntley would end up having the longest career of any of the potential Draculas, acting in film and television both in Britain and America almost until his death at age 86 in 1990. His credits were mostly in supporting roles but would include the popular BBC TV series "Upstairs Downstairs".
RAYMUND HUNTLEY;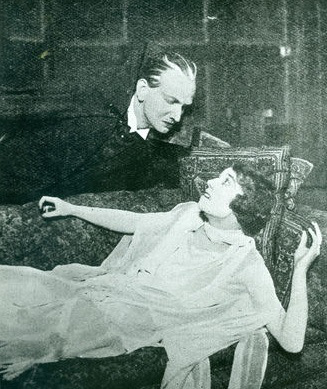 Hamilton Deane;
An Irish born actor born in 1880, it was Deane who took Bram Stoker's original, unwieldy four hour play and edited and revised it to a functional length and then staged it successfully in 1927. Deane was friends with Bram Stoker and both served in the Shakespearean troupe of Sir Henry Irving (Stoker was stage manager) for several years. Stoker had made a unsuccessful attempt to bring his novel to the stage in 1897 and after Stoker's death in 1912 and Irving's in 1905 Deane would try again. Rewriting Stoker's play in a month and staged it for the first time in 1924 at Derby. It was Deane who had the idea to make Dracula younger and suave, wearing a tuxedo and cape instead of the older, more decrepit Dracula that Stoker had intended. Stoker's Dracula would probably bear a closer resemblance to Max Shreck in Nosferatu, however unlike German director FW Murnau, who had neglected to get the rights to the story and thus got sued, Deane had no problem getting permission from Stoker's widow before starting. Deane acted in the play himself for years taking the role of Van Helsing. After going through several other actors he would take over the role himself in 1939, by which time he was fifty years old. In spite of his stage success he had only five film roles to his credit, all of them bit parts, when he died in 1958. Meanwhile his adaptation of Dracula would go on to spawn a number of stage shows
for years to come
.
HAMILTON DEANE;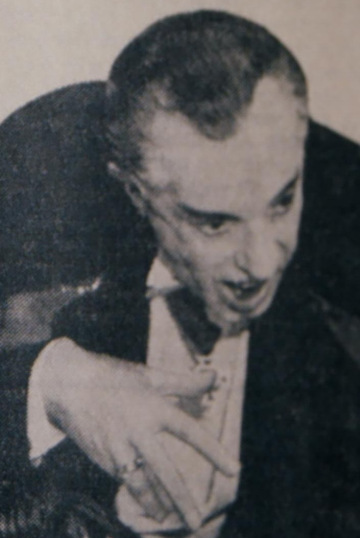 EDMUND BLAKE;
Ray Huntley is often listed as the first stage Dracula but this is in fact not true. Hamilton Deane's first run of the play took place not in London but as a trial run in Derby in 1924. The actor billed as Dracula was one Edmund Blake. Unfortunately little is known about him. He appeared at the Regent Theatre in London through the twenties in various melodramas including another version of Dracula and a version of "Maria Marten; or The Red Barn Murders", a popular true crime melodrama of the Victorian Age (it was made into a Tod Slaughter movie in 1935) in which he presumably played the role of the murderer William Corder. The Adelphi Theatre Project Data Base, which stage lists actors from the Victorian era, does not list him at all, but that list only applies to actors who actually played the Adelphi Theatre, and it ends in 1901. An Edmund Blake is listed on IMDB as director and probably actor in a 1921 British silent version of "Flotsam", based on a story by Erich Maria Remarque, best known as the author of "All Quiet On The Western Front". It's probably safe to assume they are the same person but after that he disappears from the records as mysteriously as he came. I can find no photos of Blake but here's a playbill from one of the "Maria Marten" plays of the Victorian Era by way of consolation.
"MARIA MARTEN" PLAYBILL;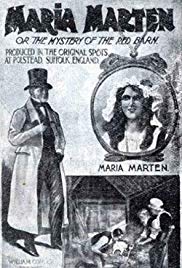 KEITH PYOTT;
After Ray Huntley went to America Pyott took over the role. A London born actor, was born in 1902 and would go on to a career in film and TV with credits including "Village of the Damned" (1960), "The Phantom of the Opera" (1962) and British TV series "The Avengers", "Doctor Who", "The Saint" and "The Prisoner". He died in 1968.
1927 STAGE BILL WITH PYOTT;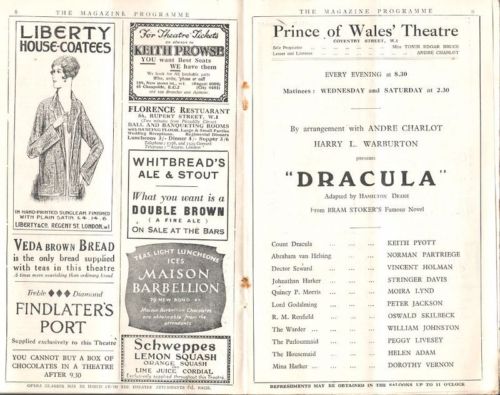 FREDERICK KEENE;
Another obscure British stage actor who took over the role briefly in 1928. Keen has only one film role to his credit, a supporting role in a British suspense film called "The Body Vanished" in 1939. Thereafter there is another bit part on a British TV show in 1959. After that he disappears from the records.
W.E. HALLOWELL;
An Australian stage actor who took over the role in 1928, Hallowell was an older man, born in 1884, with salt and pepper hair and mustache. Fine for the theatre but not right for what Browning and Leamele had in mind for the screen. He also had no film experience at the time. He would later go on to act on screen and TV until his death in 1952. I have seen a photo of Hallowell in Dracula makeup on a Dracula documentary but I can't find it on the web.
IVAN BUTLER;
Ivan Butler was a young (born 1909) stage actor in Hamilton Deene's troupe who had played other roles in the Dracula play for years before finally taking over the role when Deene moved to America. He would later go on to a long history on the stage and occasionally on TV but would be best known for writing several books about horror movies in general and Dracula in particular. He would continue giving interviews on the subject up to the his death in 1998.
IVAN BUTLER;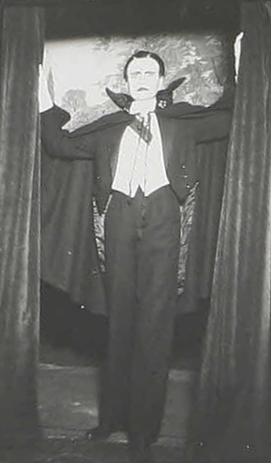 BIG BILL TILDEN;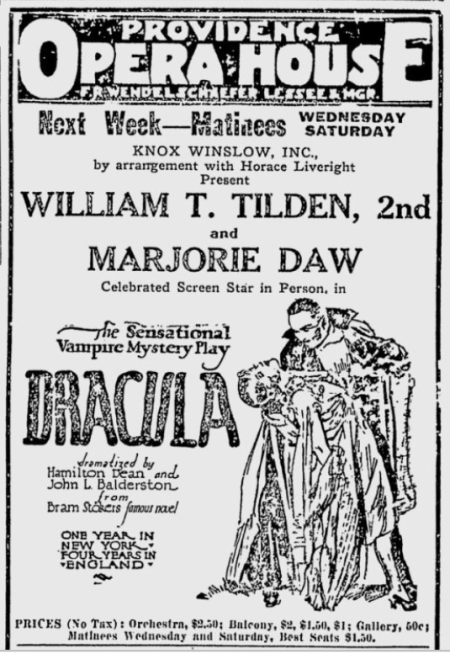 Wait; Big Bill Tilden the tennis champ? Yes that Big Bill Tilden. Tilden was the man who not only dominated the sport in the 1920's but took it to the mainstream through his celebrity. A florid and flashy, larger-than-life figure who loved publicity, Tilden took to the theatre naturally. This was not unusual in that era; such sports figures as Paul Robeson, Jim Thorpe, Johnny Weismuller, Johnny Mack Brown, Buster Crabbe, Esther Williams, Sonja Heine and Gene Tunney had fairly successful acting careers. Even Babe Ruth and Jack Dempsey tried their hands at acting. The success of the London production made an American attempt inevitable. Accordingly in 1928 John Balderston revised the Deane play yet again for American audiences and made the odd casting of Tilden as Dracula, a role that is usually assumed to have gone to Bela Lugosi. Tall, dark and charismatic Tilden (who billed himself somewhat pretentiously as William Tiden 2nd) played the role of Dracula to fairly friendly reviews for a year before turning to the new and far more lucrative pro tennis tour where he continue to play until 1946 when he retired although he would make a few other appearances on the stage as well as making a series of short films about tennis. In 1953 he was attempting a comeback on the seniors tour when he dropped dead of a stroke while training.
BIG BILL TILDEN;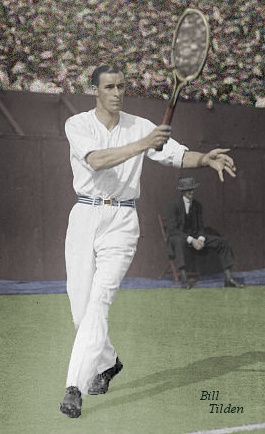 FREDERICK PYMM;
An obscure stage actor who took over the role after Tilden returned to the tennis courts in 1929, he did get some good reviews in 1930 but would be replaced when Lugosi would take over the stage role later that year. Pymm would go on to play other smaller roles in the play when Lugosi took over but did not appear in the movie, or apparently any other films. He is also not listed in the Internet Broadway Data Base, although that just means he appeared in off-Broadway and touring productions. He is listed in the
The North American Theatre Online data base
as playing in the "Morosco Stock Company" from 1926 to 1928 and in the "Edward Everett Horton Players" in 1929 with such names as Lloyd Nolan and Duncan Renaldo. Note that he is listed in a newspaper review and photo as "Frederick Plymm" but this is obviously a typo.
FREDERICK PYMM;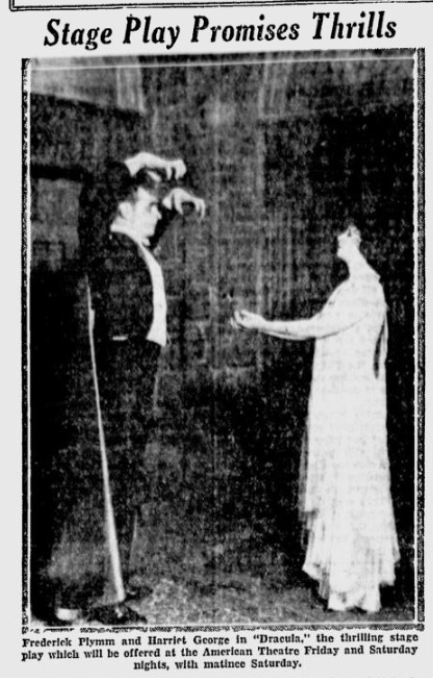 OTHER AMERICAN STAGE DRACULAS;
A series of little known stage actors would play the role for brief times in 1929 to 1930 including George Hasley, Howard Sinclair, Edgar Mason, and Courtney White. These were all obscure figures with no apparent film credits. A search of the
Internet Broadway Data Base
shows Sinclair appearing in a play in 1916 and again in 1924, Mason in six plays from 1932 to 1941, Courtney White in ten other plays from 1918 to 1935 and nothing at all for Hasley. This means the bulk of their work was probably in smaller touring companies.
GEORGE HASELY;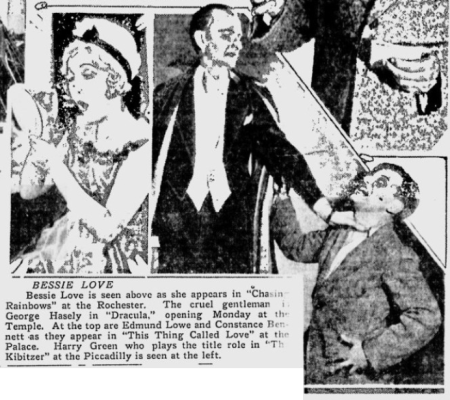 ASHTON JARRY;
After successful runs in Britain and America the play made it's way to Australia where it had another hit with the role going to Ashton Jarry, who was actually billed third behind the actors playing Renfeild. Jarry was a British born stage actor with a long career but only one film to his credit, as a mounted policeman in "Uncivilized" in 1937.
ASHTON JARRY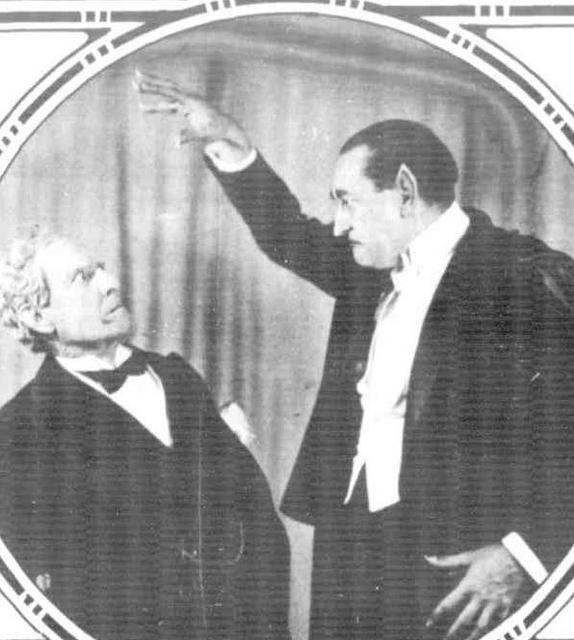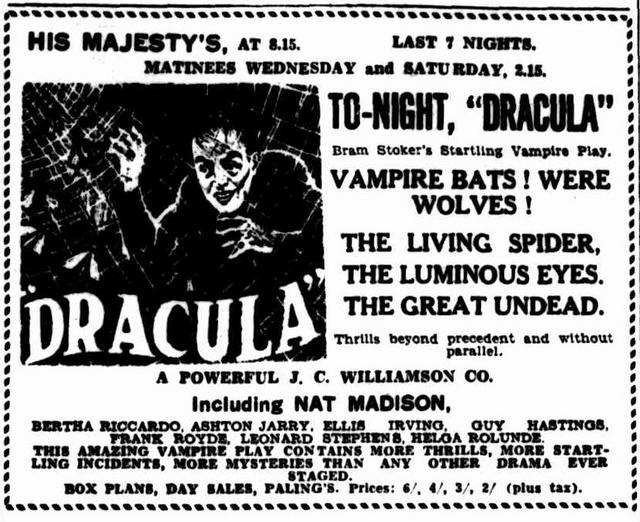 BELA LUGOSI;
Lugosi was well aware that there was a Dracula film in the works, and he was also aware that he was not being considered for the role. He desperately wanted the part though, knowing that it would establish his name and feeling it was his by right, and the proud prima-donna was prepared to beg for it. He lobbied hard for the role and auditioned in his costume and cape. He also agreed to take a drastic pay cut of a mere $500 per week for a brief seven week shooting schedule and he would supply his own costume. That probably settled matters and Lugosi was in. As we know the movie was an immediate smash and made Lugosi a star. As we also know it stereotyped him forever as the Count. He tried to avoid this for a while by avoiding the sequels, where Dracula was ironically played by Lon Chaney jr. Lugosi would also turn down other iconic monster roles when he passed up the role of Frankenstein's monster since he did not want to appear in the heavy makeup, and when he turned down "The Invisible Man" as he did not want to spend the bulk of the film as a disembodied voice or in bandages. He would spend the rest of his career doing increasingly low-budget horror and sci-fi b and c-movies while developing a serious drug habit. As we all know he ended up appearing with Ed Wood. He died in 1956.
BELA LUGOSI;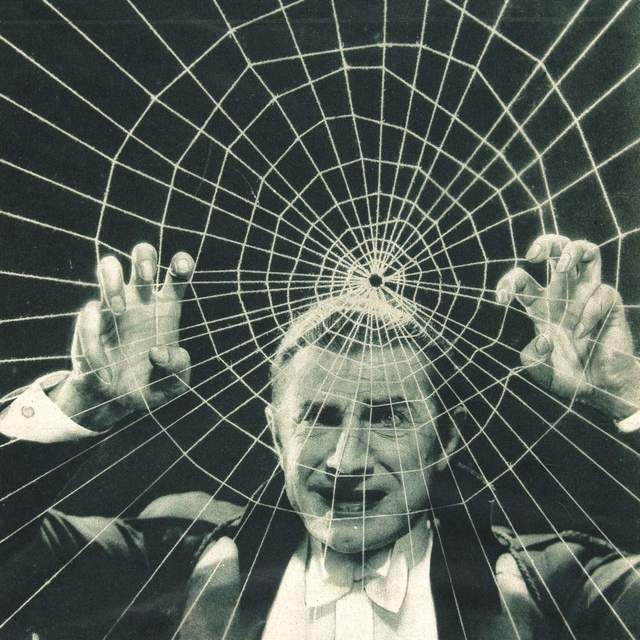 CARLOS VILLARIAS;
When Universal filmed the Lugosi version in 1931 they also decided to simultaneously film a Spanish language version for the huge Latin American market. At the time Hollywood studios had often filmed versions of popular hits in various foreign languages such as Spanish, French, German and Italian, later they would decide that it would be cheaper and easier to use subtitles and/or dubbing. In the earlier silent age it was easy to create subtitles in any language they needed of course. The Spanish Dracula was directed by George Melford, an Anglo-American who spoke little Spanish and featured a largely Mexican cast with Dracula played by Carlos Villarías. The Spanish version was filmed at night after the Anglo cast and crew had finished for the day and this gave Melford and his cast the ability to come in hours early to study the work done by the Anglo crew. Although they had to work fast this gave them the chance to take notes and analyze to consider improvements rather than simply do a shot by shot remake. Most critics now consider the the Spanish version to be superior in many ways in having a more efficient pace and sexier female leads in Lupita Tovar and Carmen Guerrero. There is also a more evocative final shot. However there is one way in which the Anglo version is clearly better. Even though he basically copied his role and costume from from Lugosi (including the slicked back hair) Carlos Villarías is simply not as charismatic a figure as Bela Lugosi. Villarias was a stage actor from Spain with heavy features, popping eyes and an indifferent voice whose main expression is an exaggerated leer. Villarias would go on to a long film career in both English and Spanish movies until he retired in 1953, he died in 1976 at the age of 83. The Spanish Dracula was considered lost until the 1970's when a version surfaced, it now available on DVD, usually in a double bill with the Lugosi version.
CARLOS VILLARIAS: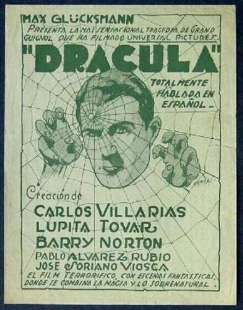 MAX SCHRECK;
We should of course spare a mention of the first film Vampire, the iconic Max Schreck from the brilliant F.W.Murnau 1922 classic "Nosferatu". For decades after the film's withdrawal due to a legal dispute with Stoker's widow a myth grew up (at least in the English speaking world) that Max Schreck was a mysterious figure who came from parts unknown with a shadowy past. His truly creepy rat-like appearance and the fact that his last name actually means "fear" in German lent to his myth. In fact he was a respected stage actor in Germany born in 1879 with a long career starting in 1902 before he went into films. He even stared in Bertolt Brecht's first play as well as plays by Moliere. His long list of film credits is made up mostly of unknown and lost German films but he did star in the lesser known but well regarded Expressionist film "Die Strasse" ("The Street") in 1923 playing a blind man. He made some sound films as well before dying in Germany in 1936. The myth of Max Schreck was later taken to it's logical extremes in the 2000 film "Shadow Of The Vampire" where he was portrayed as an actual vampire by Willem Defoe. In 1992 Max became a fictional villain played by Christopher Walken in "Batman Returns". Not sure how the real Max would have felt but he was reportedly an eccentric loner with a morbid sense of humour so perhaps he would have enjoyed it.
MAX SCHRECK IN "NOSFERATU";
PAUL ASKONAS;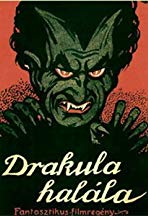 Actually "Nosferatu" is the first SURVIVING movie Dracula. There was a 1921 Hungarian film called "Dracula's Death" (or "Drakula Halála"), which has saddly been lost aside from a few stills. It starred one Paul Askonas (according to IMDB) who also appeared in "Orlack's Hands" (with Conrad Veidt), as well as playing Rasputin and Svengali so he was obviously an experienced villain. The two or three existing stills seem to show a Dracula closer to the grotesque old vampire of Max Shreck rather than the suave later Count. The story has little to do with the Stoker novel (thus avoiding the lawsuit that sank "Nosferatu") instead the story is reportedly a dream sequence set in an asylum, which shows an influence of 1919's "The Cabinet Of Dr Caligari". Askonas spent his career in Germany, Austria and Hungary and died in 1935. Note that the Wikipedia entry for this film lists a different actor for this role, at least the English language entry does, the Hungarian entry lists Askonas. There are also rumours of a 1920 Russian film called "Drakula (Дракула)" about which there is no real information and may not actually exist, but if it did it would be the first Dracula film.
SLIDE SHOW OF "DRAKULA HALALA";
SIR HENRY IRVING AND MR. JONES:
Most histories list Ray Huntley as the first Dracula but as we've seen this is not true. But while Edmund Blake was the first actor to play Dracula in front of an audience he wasn't technically the original Dracula either. That honour goes to an anonymous stage actor known only as Mr. Jones. When Bram Stoker wrote the original novel he always intended to make the story into a play. Stoker was the stage manager for the theatrical troupe of Sir Henry Irving, the greatest Shakespearean actor of the age, and Stoker based the character partly on Irving. Tall, imposing and charismatic, Irving was a brilliant actor but he was also an arrogant martinet who terrorized subordinates and co-stars alike. Stoker both feared and idolized Irving and desperately hoped he would agree to play the role. Accordingly in 1897 Stoker wrote a theatrical version and staged a single run-through for Irving and a select group of potential backers at the Lyceum both to protect Stoker's copyright and to attract interest. Unfortunately Stoker's original version of the play ran over four interminable hours and midway through Irving stalked out loudly proclaiming the play to be "dreadful". A dejected Stoker never attempted another showing and Dracula would have to wait until after Stoker's death in 1912 before actor/director/playwright Hamilton Deane would revise and shorten the play. Luckily the cast list for Stoker's one night only showing of Dracula still exists and Dracula is listed as played by a "Mr. Jones". The rest of the cast are similarly listed as surnames only. This does not necessarily mean they were amateurs however. It was not unusual in those days for performers to be listed by surnames unless they were established names like Irving. Our Mr. Jones and the rest of the cast were probably members of Irving's troupe and a careful search of Irving's records, which probably still exist somewhere, might tell us who he was. It might then be able to find out what else he did and what became of him, including whether he was still working when the film age began about fifteen years later.
The Adelphi Project's
list of actors of the Victorian age lists a possible Mr.Jones in a "G.H. Jones" appearing in plays at the Adelphi Theatre in 1875 and 1880 which fits the basic time frame assuming he started in his early twenties and played Dracula in his late forties which makes sense. Of course there is no way of knowing if that's our guy or even if G.H. Jones is male or female, although I'm guessing the first name is probably George or Gerald, since those would have been the most common names starting with "G". Similarly the "H" is probably Henry or Harold. A female actor would most likely be specifically named as "Miss" or "Mrs. Jones". As it stands the only thing we know about the mysterious Mr. Jones is that he goes down as the first Dracula. As for Sir Henry Irving, the man Stoker had written the role for in the first place, he would remain as one of Britain's greatest actors, starring in plays by Shakespeare, Walter Scott, Lord Tennyson, Oliver Goldsmith, Conan Doyle, and Goethe. He was not known to have made any films although he did make a few Edison Cylinder recordings. His son would go on to a film career under the name George Henry Irving. Henry Irving suffered a stroke while on stage playing the title role of Thomas A' Beckett and died in 1905 aged 67.
SIR HENRY IRVING READS THE OPENING FROM "RICHARD III" IN 1898;
SIR HENRY IRVING;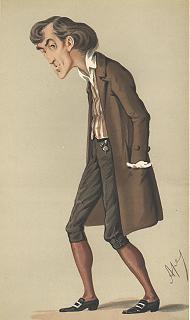 PROGRAM FOR THE 1897 PRODUCTION;