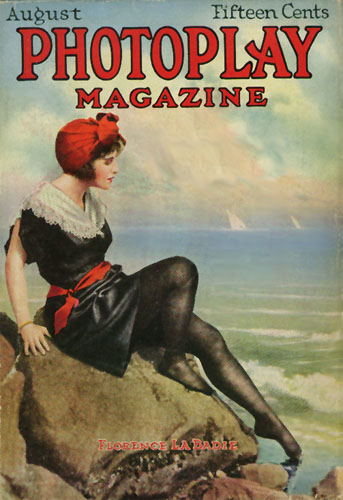 One of the oddities of American cinema is how many of the first generation of it's female stars were actually Canadian. May Irwin (1862-1938), a bawdy Vaudeville comic who appeared as half of the first onscreen kiss in the infamous if appropriately named Edison short "The Kiss" (1896) was originally from Whitby, Ontario. Florence Lawrence (1886-1938), AKA The Biograph Girl and the first real film star to have her name on the bill, was from Hamilton, Ontario where she got her start on the stage with her actress mother. While Mary Pickford, AKA "America's Sweetheart" and her sister Lottie got their start in their hometown of Toronto. Nell Shipman (1892-1970), feisty star and producer (indeed one of the first woman producers) of wilderness adventures was from Victoria BC. Popular comedien Marie Dressler hailed from Cobourg, Ontario, while plucky Norma Shearer came from cosmopolitan Montreal and fragile Marie Prevost was from Barrie, Ontario. Then there was Florence La Badie, one of the very first screen sex symbols as well as being the first major Hollywood star to die young, in a car accident in 1917. Her 135th birthday would be this April.
In spite of having the aura of both sex appeal and tragic early death La Badie has been somewhat forgotten about with most silent film fans are likely to name the ever iconic Theda Bara as the first screen siren and poor doomed Olive Thomas as the first tragic death but La Badie actually preceded them in both departments. There were previous screen stars of course, some very popular, but both Florence Lawrence and Mary Pickford, were pretty younger sister types, virginal and wholesome rather than sexy. Florence La Badie however had a natural beauty that even now is eye-catching. Many sex symbols of the Victorian and Edwardian eras have not necessarily weathered the changing tastes of the century. Such stars considered great beauties in their time like Lillie Langtry, Ellen Terry, Ada Issacs Menken and Clara Kimball Young can look somewhat plain (if rather regal) to modern eyes but La Badie has a timeless quality that would have translated into any era. While not tall (she was about 5.4) she was slim and statuesque as well as being sporty (she would be known for doing her own stunts) with hair that ranged in colour from light brown to honey blonde depending on the lighting. But it's her face that looks especially modern, with open yet delicate features, perfect skin and soulful blue eyes, she would have looked just as natural in the 1940's as a Femme Fatale, a 1950's Cheesecake Pin-Up, 1960's Beach Bunny or 80's Ski Bunny.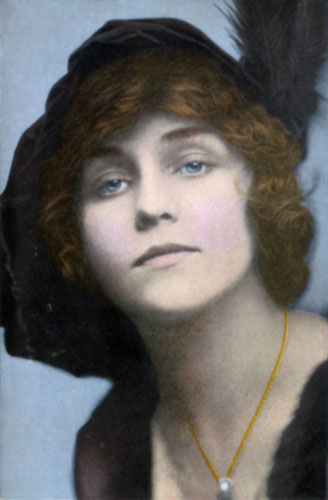 The background of Florence was shrouded in mystery in life and would be researched only years after her death. She was born Florence Russ to Marie Russ in 1888 New York but when she was two and due to her mother's unexplained inability or unwillingness to take care of her and her fathers unexplained absence she was adopted by Joseph La Badie a prominent Montreal lawyer and his wife Amanda, a wealthy French heiress. How this came to be is unknown but given the Quebec connection it's likely Marie gave her up to Church authorities either because she was unable to care for her for some health (or mental health) related reason or because she was an unwed mother, we will never know for sure but given the absence of any father being mentioned the latter seems more likely especially as it would turn out that her mother, who was assumed to be dead would outlive her. As the Church then adopted her away from New York via their own services in the highly Catholic Quebec and sending her not only out of the diocese but out of the country also suggests that her mother may well have been unwed and the Church wanted her sent far away from any shame and scandal. Adoption was still in itself considered somewhat embarrassing at the time but would have been more so if she had been born out of wedlock. At any rate she was well cared for as the La Badies formally adopted her giving her their surnames (usually pronounced as La-Bad-Eee but sometimes as La-Bad-Ay) and she would remain close with them for the rest of her life even living with them well into her career. She grew up in Montreal where she would get a good education and upon graduating high-school she returned to New York where her parents kept a second house. The depth of her education is unknown, she is known to have attended schools in both New York and the Convent of Notre Dame in Montreal and studio propaganda at the time stated that she spoke several languages was well playing piano and being well read in all the classics from Shakespere to Dickens and Thackeray as well as being an excellent dancer. The part about being a playing piano and being a dancer was true and she clearly would have spoken French but while La Badie was certainly bright, any claims of artistic or literary pretensions should probably be taken with a grain of salt.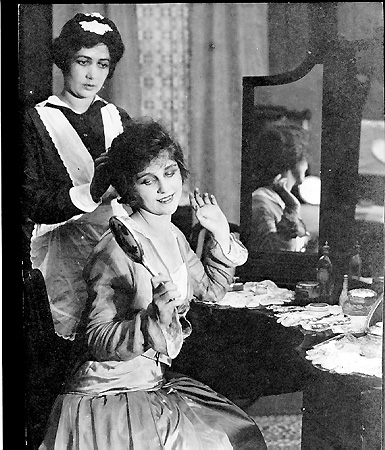 It was in fact very common for studios to completely make up histories for their stars with men invariably presented as manly athletes, soldiers, sailors or cowboys, even if they were not. Early western star Bronco Billy Anderson was actually named Aronson and was a Jewish kid from New York who could barely ride a horse and while William S Hart's western roots were more genuine he had also been a trained Shakeperean actor and cowboy singer Vernon Dalhart had appeared in Gilbert & Sullivan operettas. Meanwhile women were presented as carefully studying classic works of fiction and even philosophy (but not science), learning to play musical instruments, painting or sculpting and were often photographed engrossed in a weighty tome, holding a brush while staring intently at a canvas or leaning moodily over a piano keyboard or harp. This sort of posing would carry on into the Twenties with the likes of Pola Negri, Alla Namizova, Natacha Rambova, Anna Pavlova, Theda Bara and Mae Murray with varying degrees of sincerity. If this sort of posturing seems somewhat comically pretentious now it must be remembered that previously actresses had been considered as little better than harlots with such stage luminaries as Sarah Bernhardt, Maude Adams, Eleanora Duse, Ellen Terry, Ellen Ternan, Lillie Langtree, Pauline Markham, Lydia Thompson and Ada Issacs Menken being known as much for their scandalous affairs as for their talents. It probably also goes without saying that great actors like John and Maurice Barrymore, Charles Kean or Edwin Booth were not held up to the same standards even though their drunken and debauched behaviour was objectively more outrageous and self destructive. The new movie studios were eager to market their stars as being acceptable to a wider swath of people than the stage including families and the more conservative audiences who might not be prepared to go to a play and one way of doing so was to present their female stars as being cultured and sophisticated as well as being aspirational figures their fans could admire. Some of them, like Alla Namizova, Natacha Rambova, Pola Negri and Barbara La Marr actually were, more or less, cultured but most were barely highschool grads from working class backgrounds. This highbrow posing was one Clara Bow would flout by being a neighbourhood girl who was happy being "one of the boys" and which made her unpopular among the Hollywood elite. As for La Badie, she had wealthy, socially prominent and supportive adoptive parents who sent her to good schools but she also started modelling in her teens and acting by the time she was twenty so she would not have had the time for any further education. At any rate her interests were clearly more athletic as she was by all accounts a fine dancer and gymnast, strong swimmer, avid equestrian and fond of fast cars (fatally as it turned out) at a time when most girls did not engage in sports. She would be noted for her trim, fit body, healthy complexion, energy and willingness to do her own stunts which earned her the nickname "Fearless Flo".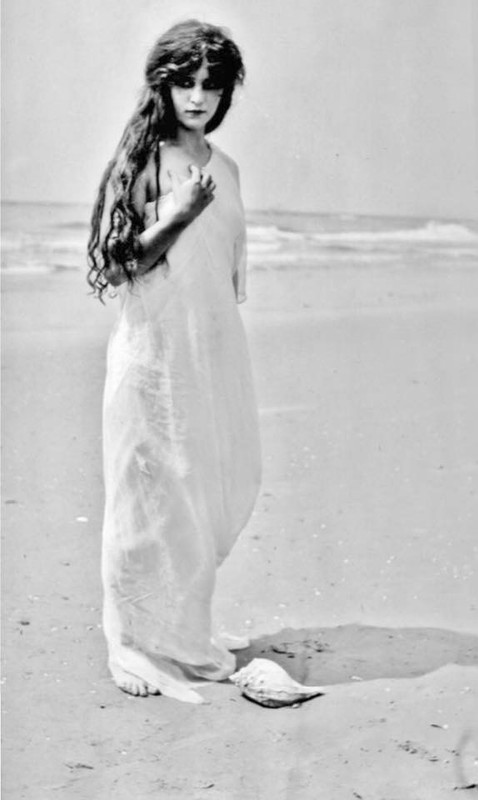 Her natural beauty, charm and easy going confidence quickly turned heads and she soon found work as a successful model before graduating to the stage where she appeared in supporting roles for a couple years in touring companies. She gained no starring roles but at some point she made friends with fellow Canadian actress Mary Pickford who encouraged her to try her luck in the new medium of film in 1909 at Biograph Studios. After a few bit parts she caught the eye of DW Griffith who cast her in supporting roles in several films including "David Copperfield" and the romantic drama "Enoch Arden". However Griffith already had a stable of similar looking fair-haired female stars including Pickford, Blanche Sweet, the Gish Sisters and his own wife Linda Arvidson so La Badie was stuck in supporting roles in one or two reelers with Griffith and Biograph.
"ENOCH ARDEN" (1911);
Directed by DW Griffith
CAST; Wilfred Lucas, Linda Arvidson, Robert Harron, Florence La Badie
"Enoch Arden" was one of Griffith's early attempts at longer, more ambitious films. Based on a Tennyson poem in which Enoch, a sailor is lost at sea and his wife Annie remains faithful to her husband, Enoch, for many years. Finally her grown children (played by Florence and Robert Harron) convince her to marry Philip, her former suitor. Enoch is rescued from the deserted isle where he has been stranded, and returns home. He discovers Annie's new life, and decides not to interrupt her happiness. He goes of an dies alone with Annie and his family being unaware. The lead role of Annie went to Linda Arvidson, who was also his wife in one his fruitless attempt to make her a star. Florence plays the daughter and the brother is played by future Griffith star Robert Harron.
Florence made about thirty films with Biograph, mostly shorts, but with there being little chance of a lead role for her at Biograph she decided to sign with new rival Thanhauser studios where owner Edwin Thanhouser welcomed her as a potential star and she would get at last get some starring roles in films as in a version of "Cinderella".
"CINDERELLA" (1911);
CAST:
Florence La Badie & Harry Benham
The story is well known by now from the later Disney animated feature which follows the same basic plot; Cinderella is the downtrodden maid to her snooty Mother and Step-Sisters and when they get invited to the Prince's Garden Ball she gets left behind until her Fairy Godmother casts a spell which allows Cinderella to go to the Ball in style where the Prince falls in love with her. But the spell ends at midnight forcing her to rush home until the Prince finds her and chooses her over her sisters. The short length doesn't leave as much time to set up the story and establish the characters but that was still common in the 1910's and we are fortunately well acquainted with both thanks to Disney so that's not a fatal problem. Director Nichols is pedestrian but the story is coherent and the scenes with Fairy Godmother are fine although Prince Charming looks rather too old and doughy compared to Disney's bland dreamboats. As for La Badie she has a naturalistic style compared to her more hammy co-stars but she doesn't really have much to do here other than be pretty and charming and she easily handles both tasks although she is given a little too much white pancake makeup. One wonders if she took note of the irony of La Badie, an adoptee, playing perhaps the most famous adoptee of fiction, albeit one with a very different relationship with her parents. This would become an oddly persistant theme in her film career.
This was her first starring role and got positive reviews and was followed up with more roles with the backing of Edwin Thanhouser as she would eventually become the studio's biggest star. Thanhouser Studios was similar to Biograph in specializing in churning out two reel dramas quickly and cheaply, usually relying on the same troupe of actors. Unlike Biograph where Griffith had assembled a roster of popular stars as well as having an ambitious director and writer willing to push the conventional film boundaries, Thanhouser developed few notable stars of their own aside from Florence whose beauty and naturalistic style quickly stood out. However it seems to have taken a while to figure out what to do with her and find her suitable lead roles as in most of her early Thanhouser films she was usually little more than an attractive supporting player. Florence would however remain loyal to Tanhouser almost up to her death. The next notable surviving film would have her in a supporting role but at least in a high profile film with the first version of horror classic "Dr Jekyll & Mr Hyde".
"DR JEKYLL & MR HYDE" (1911);  
Cast;
JAMES CRUZE ~ DR JEKYLL
FLORENCE LA BADIE ~ ALICE (JEKYLL'S GIRL)
HARRY BENHAM ~ MR HYDE
The story follows the original story and play reasonably closely albeit simplified to allow for the one reel twelve minute time-length which forces the exclusion of several characters. There is use of multiple realistic sets including outdoors although the camera angles used are all essentially the same. The transformation scenes simply dissolve from the Jekyll to Hyde characters with no in-between scenes. Even including extras the entire cast only numbers about a half dozen. The film's running time seems to be missing several seconds at the beginning and end including the credits, however it's doubtful this would change much from the story. Once again Florence is given little to do here but be pretty and charming and her character wasn't actually even in the original novel.  
James Cruze was Thanhouser's most popular leading men and would appear in several films with La Badie but he was not an especially charismatic figure and it was long rumoured that the Mr Hyde character was actually played by another actor not listed. In 1963 Harry Benham revealed (or claimed) to be that actor. At this point this is impossible to verify (Cruze had died in 1942) but it is now generally considered to be true. The actor playing Mr Hyde does indeed appear to be a completely different person from Cruze with dramatically different facial features even taking into account the obvious stage make-up. Hyde is also notably shorter than Cruze although some of this is due to his hunched posture. Cruz was a contract player for Thanhauser Studios and is typical of leading men of the age; tall, distinguished and blandly handsome.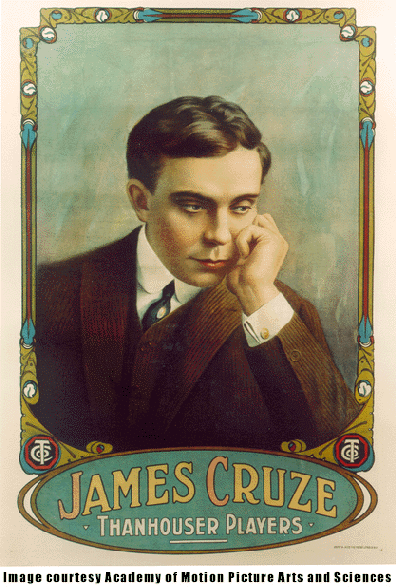 Harry Benham (1884 - 1964) had already had a stage and film career including a lost film called "The Mummy" (about which little is known) and the aforementioned "Cinderella" (as Prince Charming) along with various Dickens adaptations. He would make films into the 1920's before retiring.
====================================
"THE STAR OF BETHLEHEM" (1912);
Cast; Florence La Badie, James Cruze, Henry Benham
This is obviously a perfunctory Christmas film about the nativity shot and acted in the pious and leaden manner expected of such films and is entirely forgettable. Florence plays Mary of course and literally all she has to do is look virginal and reverent which she does. She at least looks more real than the rest of the po-faced cast.  
    =======================================
"THE VOICE OF CONSCIENCE" (1912);
Cast; Jean Darnell, Francis X Bushman, Florence La Badie
PLOT; This story features a romantic triangle and a murder attempt when a teen girl (Jean Darnell) is left an orphan by her wealthy father's death and adopted by a friend of her fathers (Francis Bushman) whom she falls in love with. Eventually they are visited by another friend bringing his attractive young ward, Fannie (La Badie) who Darnell becomes jealous of as she notices Sherman is enamoured of the pretty Fannie. Later the trio go on a driving trip where they have an accident and both girls are seriously injured and sent to a hospital where they share a room. Sherman visits and Darnell notices that he is showing more attention to the more seriously injured Florence so she decides to eliminate her rival by tampering with the dosage of her medicine. However the doctor notices and instead of turning her in decides to teach her a lesson by faking Florence's death. Darnell then feels guilty and is haunted by accusing visions of Florence. Months later Fannie and Sherman (who are unaware of the murder attempt) visit Darnell in the hospital where she is still recovering and plagued by guilt. Seeing Florence she breaks down and confesses her crimes begging forgiveness. The Doctor confesses his ruse and she promises to repent and be a better person.  
Once again La Badie plays an ornamental support role and spends half the film unconscious as the lead role goes to Jean Darnell, one of Thanhouser's other players. She would appear in a few other Thanhouser films including a version of "Carmen" and opposite La Badie in "Cymbeline" but she seems to have retired from the screen in 1913 and would later take a job as a publicist for Thomas Ince, she died in 1961. More famous at the time was Francis X Bushman who was a well known leading man in big budget epics "Ben Hur" and "Romeo & Juliet" and would later become a director on sci-fi b-movie classic "Phantom Classic" (1961) and appearances in "Peter Gunn" and "Batman" before dying in 1966. Besides the absurd plot the film has a double irony in that not only is Florence once again playing an adoptee but she is seriously injured in a car accident foreshadowing her eventual fate.
======================================
"THE EVIDENCE OF THE FILM" (1913);
Cast; Florence La Badie, William Garwood
PLOT; A Stock Broker (William Garwood) who has been embezzling funds is being threatened into returning the missing funds so he sends a package via a young messenger boy. However he plans to intercept the messenger boy which he does while the boy is distracted by a film crew (from Thanhouser Studios) who are filming a scene in the streets. While the boy is watching the filming he is jostled by the Broker who switches the envelopes for an empty one without being noticed. The boy continues on and delivers the envelope but when it is opened and found to be empty he is accused of being a thief and arrested. From the police station he calls his older sister (La Badie) who is a film editor at Thanhouser who rushes down but is unable to convince the police to release him. She returns to work where while going through the footage of the day's shoot she discovers that the camera had inadvertently filmed the Broker's theft of the envelope. She rushes down to the police station and shows the police the evidence and the Broker is brought down to the station where he breaks down and the boy is released.
This film is a minor short but it is worth seeing for its behind the scenes portrayal of a 1910's movie set and editing suite. As this film was almost certainly shot at the actual Thanhouser studios it gives an invaluable view of what their editing suite and process actually looked like (and presumably every other studios) and it's also worth noting that almost the entire editing staff are shown to be women which was probably also basically true to life, in fact it's entirely likely the extras in the scene are Thanhousers actual editing staff. Ironically later that year a fire at Thanhouser Studios would destroy these same facilities.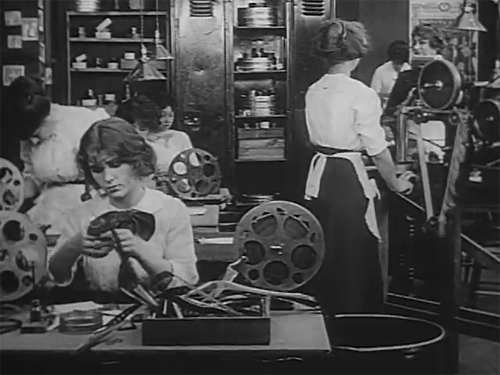 ========================================
Thus far aside from the short "Cinderella" La Badie has mostly been used in supporting roles, better than she had been given with Biograph but still no memorable lead roles, at least among those of her films that survive as dozens do not. Thanhouser were a prolific studio but unlike rivals Biograph or Imp they lacked any particularly noteworthy stars or directors aside from Florence, Marguerite Snow and James Cruze and they were slow to develop a star system even though unlike Biograph they did list stars names in their ads. In 1912 Thanhouser was bought by Mutual Films and cut a distribution deal with Pathe presumably leading to more money to spend on promotion including eventually on the photogenic Florence.
"THE PORTRAIT OF LADY ANNE" (1912);
Cast; Florence La Badie, William Russell, Henry Benham
This is a supernatural romance in which Florance plays two roles. Lady Anne is a vain and jealous aristocrat in the 1770's who is having a large portrait painted. She is engaged to be married to Paul, an army officer. However she gets into a jealous spat with her fiancee and rejects him to marry another and Paul goes off to war where he is killed in battle leaving her a farewell letter. She goes ahead and marries the second suitor and has a baby but is plagued by remorse and guilt over Paul's death and haunted by images of him is struck down by a heart attack and dies. Jumping ahead to 1912 and Lady Anne's descendent (also played by Florence) is also engaged to be married and is throwing a party wherein the ladies dress up in 1700's gowns with the younger Anne wearing the same dress as Lady Anne in her portrait which still hangs in the Hall. Like her ancestor the younger Anne is jealous and possessive and gets into a fight with her fiancee at the party and spurns him, shutting herself in her room as the party goes on. The spirit of the first Lady Anne comes to life and emerges from her portrait and resolves to reunite the couple. As the Annes look identical and are even wearing the same dress she joins the rejected suitor at the party and pretending to be the younger Anne apologizes and the two return to the dance. Meanwhile the younger Anne is sulking in her room but decides to spy on the party below where she sees her fiancee and  Lady Anne dancing and kissing. Distraught, she returns to the hall where she discovers that Lady Anne's portrait has vanished leaving an empty frame so she figures out that Lady Anne's ghost has returned. In the pocket of Lady Anne's gown the younger Anne discovers Paul's letter and she repents of her selfishness and returns to make up with her fiancee while Lady Anne's spirit returns to her portrait satisfied that she has atoned for her the sins of her previous life. Finis.
This time Florence gets to play not one but two lead roles although they are effectively the same character. Once again she is fine and has a natural ease although like most Thanhouser films this film was still a short and would have been better served if it had added another reel and fleshed out the story and characters as both have promise and this story could have worked as a feature. Also typical of Tanhouser the rest of the cast is nondescript and the direction is rote. The supernatural image of the portrait coming to life and stepping down from her frame would be put to much more dramatic (and creepy) effect in the odd 1915 Polish film "The Portrait", an adaptation of a Gogol story by director Ladislas Starevich and the two German horror films "The Student Of Prague" in 1913 with Paul Wegener and 1926 with Conrad Veidt. Note that for some reason the servants in this film are clearly in blackface which is a little odd as it is set in 1770's Europe.
~~~~~~~~~~~~~~~~~~~~~~~~~~~~~~~~~~~~~
"THE MARBLE HEART" (1913);
Cast; Florence La Badie, Marguerite Snow, James Cruze, William Russell
"The Marble Heart" is another vaguely supernatural romantic triangle in which Florence plays yet another orphan who is taken in by a widow and her adult son Raphael who is a sculptor (James Cruz) who she falls in love with. However Raphael is in love with a society woman Marco (Marguerite Snow) who he is commissioned to make a statue of. He is warned by his friend (Russell) that Marco is too cold-hearted and will never love a man beneath her social status but he persists not knowing that she is also being wooed by a wealthy older man. Raphael has a dream in which he is a sculptor in Ancient Rome who is hired by a wealthy Patron (who appears to be the same man who is currently wooing Marco) to make a statue of a woman. The sculptor also has an adoring servant girl (played by Florence) who he ignores. As he works on the statue he falls in love with it and refuses to hand it over to the Patron leading to a dispute in which the philosopher Diogenes proposes that the statue decide between love (Raphael) and money (the Patron). Raphael awakens and attends a party with Marco but she leaves with the wealthy man and Raphael finds them together leading to a confrontation in which he strikes the older man and she orders him away. He returns home and collapses  and is nursed by Florence but he has a breakdown during which he destroys the statue and collapses. Florence and Russell carry him to bed where he dies. Marco visits the studio to find the wreckage of the statue then enters his room to find him dying in the arms of Florence and Russell. Finis.
Once again this film has the usual Thanhouser cast and is a bit longer than "Portrait Of Lady Anne" with a slightly more detailed story but this time Florence is merely a supporting character who is under utilized to mostly look winsome and her character is an afterthought which is odd given that she introduced with the implication that she will be more important to the plot. However the character of Raphael's friend actually gets some of the supporting scenes that probably should have been written to go to her. She (and the story) would have better served if the Russell character had been left out entirely or if she had simply been given the role of the social climbing Marco but presumably that would have played against her wholesome Nice Girl persona and Marguerite Snow was that this point the main leading lady for Thanhouser. She does however get a couple of near closeups for the first time to show off her Gibson Girl features, something that Thanhouser's pedestrian films had previously seen little of. By contrast Snow as the Femme Fatale doesn't actually get any closeups at all which is just as well as Florence is clearly far prettier.
~~~~~~~~~~~~~~~~~~~~~~~~~~~~~~~~~~~~~~~~~~~
Most of Thanhouser's films were shorts and two reelers that were done quickly and cheaply without any notable artistic ambition but in 1912 Edwin Thanhouser retired and handed the running of the studio to Charles Hite who started making longer and more ambitious film features. Including some based on Classical motifs as they became more ambitious.
"TANNHAUSER" (1913);
CAST;
JAMES CRUZE  ~  Tannhauser
MARGUERITE SNOW  ~  Princess Elizabeth
FLORENCE LA BADIE  ~  Venus
WILLIAM RUSSELL  ~  Wolfram
Plot Synopsis (spoiler alert); Tannhauser, a Minstrel/Knight competes for the affections for Princess Elizabeth with Wolfram, another Minstrel/Knight  at a contest held by her uncle the Margrave of Thuringia in Germany. Wolfram, a local Knight is considered the favorite but just as Wolfram was about to be declared the winner, Tannhauser a travelling Minstrel/Knight arrives and performs a song winning the contest and Wolfram graciously congratulates him. Elizabeth falls in love with Tannhauser but Margrave has promised her in marriage to Wolfram which Tannhauser accepts and sadly leaves the kingdom. As he wanders through the forest he comes across the pagan goddess Venus who is frollicking with her nymphs. He plays a song and Venus is infatuated, casting a spell on him leading him to stay for a year entertaining them. Eventually he becomes homesick and prays for release from Venus' spell. Meanwhile Elizabeth has told Wolfram that she loves Tannhauser and asks to be released from their marriage vows and Wolfram graciously agrees. Having fled from Venus and her nymphs Tannhauser returns to the Kingdom where Wolfram tells him Elizabeth is free to marry him. Tannhauser is invited to play for the Court but is bewitched again by Venus and his song comes out as a ballad for her. The Court is outraged by this blasphemy and he is chased out by a mob along with Elizabeth while Wolfram defends them. Tannhauser is told he must make a pilgrimage to Rome to ask the Pope's absolution. Tannhauser travels to Rome with a group of monks and along the way he is tempted by a vision of Venus but he is also visited by a vision of Elizabeth and after praying for strength he continues his journey. They arrive in Rome but the Pope is outraged by Tannhauser's blasphemy and refuses absolution saying that his Papal staff will come to life and sprout leaves before Tannhauser's sin will be forgiven. Tannhauser once again is left to wander alone to the wilderness. One of the Monks returns and Elizabeth is told about Tannhauser's fate so she preys for him to be forgiven. As she prays the Pope's staff comes to life and he declares Tannhauser forgiven then Elizabeth falls ill. Tannhauser is tracked down and informed of the Pope's absolution and he returns home to find Elizabeth has died thereupon he falls dead at her side. Finis.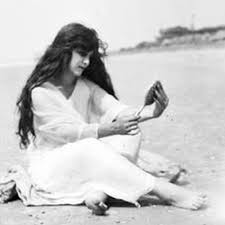 This is a major production by Thanhauser standards. This genre of Classical themed epics were influenced by the popular but stiff and formal Italian classical epic films of the era which were the first major film productions and were considered the epitome of high film art at the time. This one is based on the Wagner opera which was in turn based on a Medieval German legend and is a four reeler feature with elaborate sets and costumes, a large cast with dozens of extras and features the biggest stars in the Thanhouser stable in Florence, Marguerite Snow and James Cruze (from "Dr Jeckyl & Mr Hyde"). If the viewer isn't already familiar with the story the details of the storytelling are perhaps a little hard to follow and there are perhaps a few too many scenes spent watching the Nymphs frolic. The direction as usual is pedestrian as was usual in this entire genre of Classical Epics. The female lead role goes again to Marguerite Snow who gets more range than Florance who is given little to do here but wear diaphanous gowns and be ethereal which she does easily enough. Marguerite Snow (1889-1958) was Thanhouser's other main female lead at this point and had been a stage actress since about 1906 before being recruited by Thanhouser in 1911. At the age of 33 she was by this time a veteran and had appeared in dozens of films including some with Florence and James Cruze including a minor role in "Dr Jekyll & Mr Hyde".  
======================================
"CYMBELINE" (1913);
Directed by
Cast; Florence La Badie, James Cruze, William Russell
Based on one of Shakespeare's more obscure plays and set in ancient Britain, Cymbeline, the King of Britains, has had his sons kidnapped by a former courtier and they have been raised as woodsmen living along a remote seashore cave. He also has a daughter Imogen who has defied him having chosen Leonatus, a poor (but worthy) warrior for her husband. Cymbeline instead plans to marry Imogen to a suitable noble but she refuses and secretly marries Leonatus. Her stepmother the Queen informs one her and Cybeline banishes Leonatus, who goes to fight for Rome and while in Rome has boasted to his another soldier Iachimo that Imogen would never betray him. So Iachimo, determined to make a bet to prove him wrong, travels to Britain where he begins to ingratiate himself with Imogen and King Cybeline. However she rebufs him and Iachimo instead steals a bracelet as a trophy and returns to Rome where he brags to Leonatus that Imogen has betrayed him and so he returns to Britain in a rage and summons Imogen who has discovered that her bracelet is missing but does not know of Iachimo's lies. Still banned by her father from meeting Leonatus, she disguises herself as a male page and goes to meet him in a remote seashore. Leonatus confronts her over her suspected betrayal and vows to kill her and himself but backs down when she denies it and he instead sends her away. When she wanders the coast she comes across the cave dwelling used by the Woodsman and his adopted sons who she does not know are her brothers as neither do they know her especially as she is still dressed as a page however they welcome her and give her food and shelter. Meanwhile the Romans have invaded Britain and King Cybeline raises an army to resist them. The Woodman and the two brothers go off to join Cymbeline's army as does Leonatus while Imogen attempts to return home but is captured by the Romans whose army includes Iachimo. As she is still in disguise she is put to work as a page for the Roman General. In the resulting battle the Romans are defeated and the General captured along with Imogene and they are brought to Cymbeline as are the Woodsman and the two sons who have saved the day in the battle. The Woodsman confesses his deception to the King about his sons and Cymbeline pardons him and welcomes his son's return. Iachimo has been captured and he also confesses his lies about Imogene returning her bracelets. Leonatus vows to kill himself but Imogene reveals herself to both him and King Cybeline who now relents of his banning of their marriage and the entire royal family is reunited and she and Leonatus will be wed. Finis.
This film has more plot than Thanhouser's previous attempt at a classical epic but that doesn't mean it's a better movie than "Tannhauser". The story is convoluted and makes little sense, The budget is too small and the sets and costumes are drab compared to the previous film and the battle scenes are hopelessly inept and lacking in energy as is the direction. Florence at least does get to do more than in the previous film where she was little more than a muse including getting to play up her tomboy image by dressing in drag although she would have been better served if her character had taken a less passive role and been able to do some scenes in which she rides horses and perhaps engages in some sword play herself which Florence was capable of doing. As a bonus drag was also virtually the only acceptable way an Edwardian actress would get to show off her knees. For the most part however the barbarian costumes are just not as flattering as the diaphanous gowns of "Tannhauser". The previous film also had a more attractive dreamy look alternating between regal Renaissance palaces and fey meadows compared to this film's outdoor sets of windswept coastlines and disused quarries. The rest of the cast includes the usual Thanhouser players including James Cruze and William Russell who had appeared in "Tannhauser" and "Dr Jekyll & Mr Hyde".
1914 and 1915 would be pivotal years for Thanhouser Studios and Florence. By all accounts she and Edwin had been fond of each other but she rarely had good lead roles under either Edwin or Charles Hite. Thanhouser's leading lady was usually Marguerite Snow, however in 1913 Snow was thirty-three and a new mother after marrying James Cruz, the studio's main male star and by 1916 both were making films at other studios and Charles Hite was dead, ironically in a car crash in 1914 three years before Florence would have her own fatal crash. A studio fire in 1913 had destroyed most of Thanhouser's film library but Hite had been able to swiftly rebuild but now with Hite dead Thanhouser rushed back from to Europe to take charge of the floundering studios and from that point Florence would be the studio's biggest, if not only, bankable star.    
========================================
"CROSSED WIRES" (AKA "A Telephone Tragedy") (1915);
Cast; Florence La Badie, J Morris Foster, Boyd Marshall, Ernest C Warde
This two reeler is a crime drama in which a wealthy elderly woman, Mrs Angell (Inda Palmer) makes out a will leaving the bulk of her estate to her niece and nephew Flo and Will (Florence and J Morris Foster) and an amount to her Maid Susan (Ina Hammer). Later she quarrels with Will on an unrelated matter who storms out, the Maid tries to convince Mrs Angell to write him out of the will but she does not. That night when Will calls to apologize the scheming Susan poisons Mrs Angell who is locked in her room. Before she dies she calls the police but the call is garbled causing the police to believe she named Will as the killer. However the call is also misdirected by the operator to another man (Morgan Jones), hence the title "Crossed Wires", who does not understand its meaning. Will is arrested and after Susan lies in court is convicted of murder and sent to prison. Flo is upset and goes to the country to recover where she meets and is attracted to a man who turns out to be the same man who received the misdirected phone call earlier and after she tells him her story he understands its significance. They race to tell the police and a sting is set for Susan in which Flo will disguise herself as Mrs Angell and when Susan arrives at the Angell house that night to retrieve the will Flo confronts her pretending to be the ghost of the dead Mrs Angell. The terrified Susan breaks down and confesses, Will is released and reunited with his sister Flo who in turn goes off with Morgan. Finis.
Finally we have a Thanhouser film which is actually well directed; the camera work is more varied, the directing more kinetic and the pacing is brisk although the script is both simplistic in it's premise and overly complicated in it's story relying on unlikely coincidences. The plot twist where Flo masquerades as Mrs Angell's ghost could have been shot better to be spookier. Florence at first seems to be wasted in another one of her pretty supporting roles although she later turns detective and saves the day and gets to be the heroine although the juicier role goes to the villainous Maid. Once again Florence's basic image however ruled against her playing the villain and she was the obvious choice to play the plucky heroine.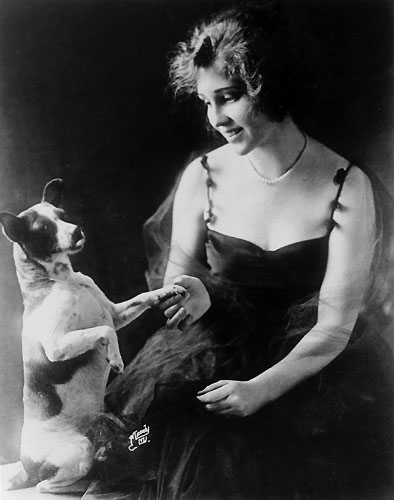 ======================================
Up until now Florence has been a fairly typical Edwardian supporting actress, more naturalistic in her screen presence but not notably different from the Gish Sisters, Blanche Sweet or many other pretty blonde actresses around this time after literally dozens of movies in which she was under-utilized Thanhouser finally stumbled discovered on to the quality of Florence that was truly distinct; her athleticism. In 1914-15 she was the featured star in an adventure serial "The Million Dollar Mystery" which was Thanhouser's entry into the new genre of female action/adventure cliffhangers.
1914 saw the release of wildly popular "Perils Of Pauline" starring Pearl White started in 1914 and followed by another series "The Exploits Of Elaine" and a number of other similarly named action/adventure romps in which Pearl rode horses and speeding cars, jumped on and off trains, hung off cliffs and dove into rushing rivers. Pauline quickly had a rival in Kalem Studio's identical "Hazards Of Helen" series starring first Helen Holmes and then Helen Gibson which began in 1914 and ran for three years. Canadian actress Nell Shipman made her self produced series of realistic wilderness romps starting in 1915 until financial losses shut down her studio in 1924. So it's not a surprise that just as Tanhouser had made entries into the Classical Epic genre with "Tannhauser" and "Cymbeline" they would quickly jump on the new plucky female cliffhanger genre and the pretty and sporty Florence was perfectly suited for the role. The rest of the cast includes the usual Thanhouser players in Snow and Cruze.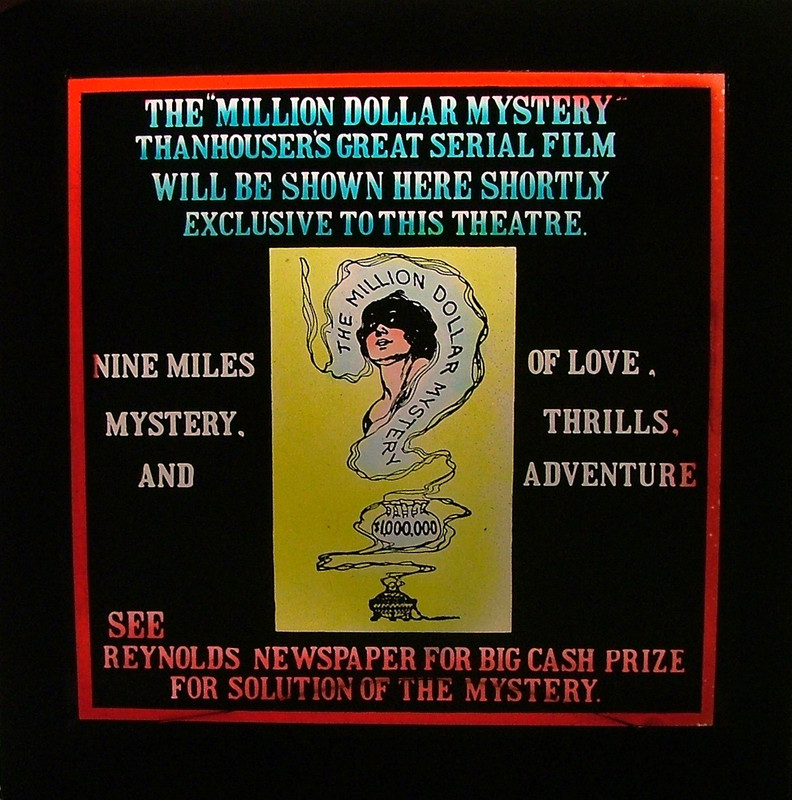 "Million Dollar Mystery" has unfortunately been lost but was apparently a major production with twenty-three chapters full of the usual daring exploits from previous cliff-hangers including going one better by having a fight on a hot-air balloon. For her part Florence reportedly did her own stunts at least if we can believe the often not exactly honest studio press accounts. In fact Pearl White also originally did her own stunts until she was badly injured in one film and a male stuntman in a dress and wig was then used for many of her stunts. This substitution was kept secret from the public until one of her doubles died while jumping from a bus in 1922 whereupon she moved to more dramatic roles in an unsuccessful attempt to change her image. But we can assume Florence did at least some of her stunts and indeed she was reportedly injured herself during filming. Also in the cast as usual were Marguerite Snow and James Cruze and he is actually the featured face in some of the extant poster ads although Florence had top billing. Although it is often said that Florence was Thanhouser's biggest star it's probably only around this time that this became true. In fact Thanhouser attempted to follow up the success of this serial with "Zudora", an Arab adventure starring Snow and Cruz but it was considered a failure and soon Snow and Cruz were gone. It's possible that "Zudora" was originally planned for Florence but reportedly she was injured while doing a stunt during "Million Dollar Mystery" and so wasn't available.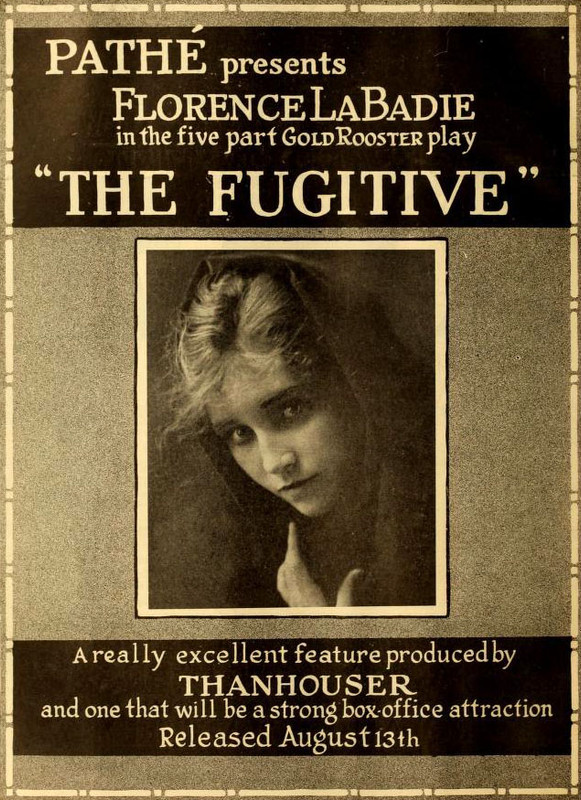 In the previous few years Florence had in fact already appeared in some apparently similar but now lost adventure fare including a four part serial "Jess" which included chapters entitled "Through The Boer Lines" and "Jess; The Avenger" which certainly suggest a spy story and "Under Two Flags", based on an 1867 novel of French Foreign Legion desert romantic adventures and which would later be remade in 1916 with Theda Bara (also lost) and again in 1922 and 1936. The "Million Dollar Mystery" serial was a popular success and led to casting Florence in a number of other action/adventure films over the next few years judging by titles such as "A Debut In The Secret Service", "A Leak In The Foreign Office", (both more likely spy stories) more desert adventures in "A Mohammedan Conspiracy" and "The Fall Of Khartoum" and the less clear but still likely adventurous "The Smuggled Diamond", "Duel In The Dark", "The Fugitive" and "The Pillory" among others which are all now lost and thus we can not be certain of their genre (or length) but the titles are certainly suggestive and we do know that she was now being touted for her athletic skills and daring do along with her wholesome beauty and had been dubbed "Fearless Flo".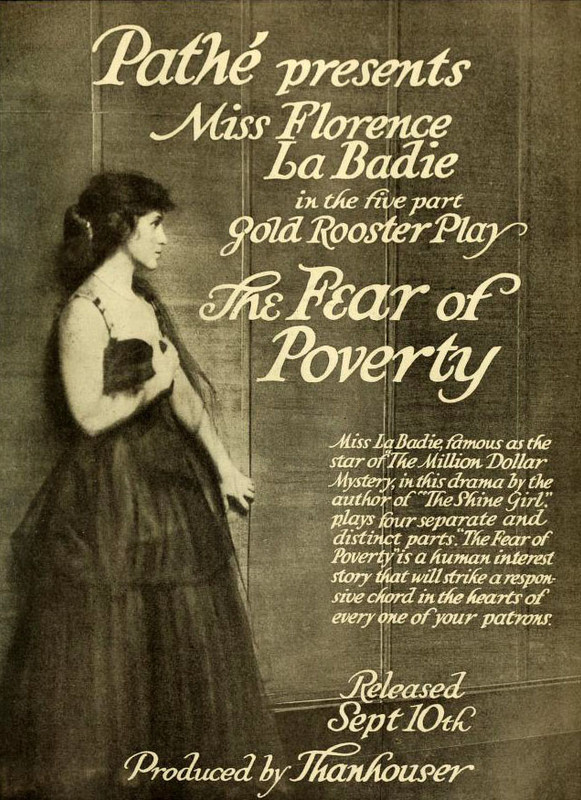 These were far from the only films being made by Florence of course. In fact during the next three years she made about sixty films (including the twenty three part serial) which was an exhausting schedule but that's actually less than the almost a hundred films she made in 1912-1913 since joining Tanhouser, although almost all of those would have been shorts. Among the film titles she made in 1914-16 included "Adrift In A Great City" a weepy melodrama in which she played another one of her orphan roles as a poor blind girl of the streets, "When Love Was Blind" another weepy melodrama where she plays yet another blind orphan girl, "Fear Of Poverty", which in spite of it's weepy title was actually a crime melodrama with Florence marrying a wealthy cad and being framed for murder which sounds promising. Then there's "Cardinal Richelieu's Ward" and "Master Shakespeare; Travelling Player" (presumably period romances) the possible supernatural tinged romances "Reincarnation" and "The Somnambulist" and the frankly puzzling "A Disciple Of Nietzsche". Pearl White had worried about being typecast (prior to "The Perils Of Pauline" she had been a slapstick comediene) and eventually tired of cliffhangers but it would seem that Florence was still playing different roles and avoiding typecasting.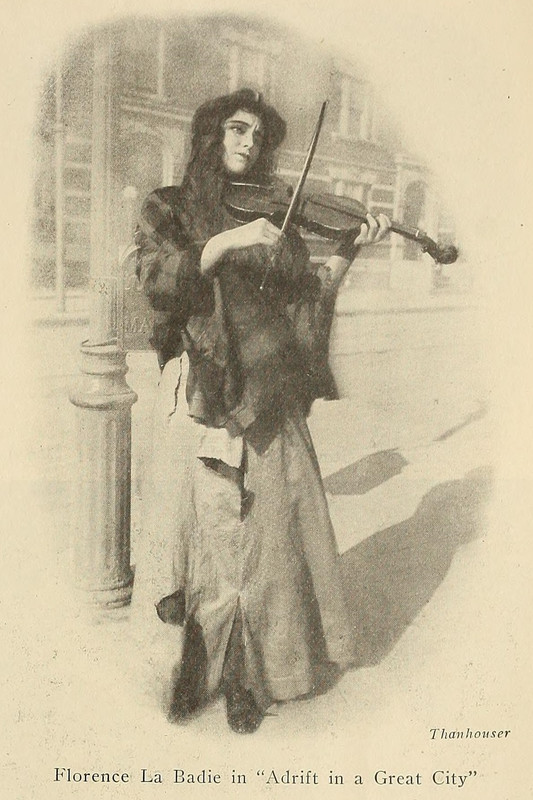 Aside from the serials of the almost two hundred films Florence made, virtually all were one or two reelers until about 1916 by which time feature films of an hour or more became standard. This explains the drastically fewer number of films she made in her last two years. From the time she signed with Tanhouser in 1912 to 1915 she averaged over fifty films a year, clearly all one or two reelers. In 1915 she made half that number although that includes the 23 chapter serial made in 1914-15. In 1916 she made only eight and in 1917 five in eight months and from known details we can assume these were all feature length films. The titles suggest they were mostly dramas however while only one of her pre-WW1 features actually appears to have survived it is a notable title based on a then famous (or notorious) Victorian novel and play which Thanhouser had previously filmed with Marguerite Snow.
~~~~~~~~~~~~~~~~~~~~~~~~~~~~~~~~~~~~~~
"THE WOMAN IN WHITE" (1917);
Directed by Ernest C Warde
CAST;
FLORANCE LA BADIE  ~  Laura Fairlie/Ann Catherick
RICHARD NEILL  ~  Sir Percival Glyde
GERTRUDE DALLAS  ~  Marian Holcombe
ARTHUR BAUER  ~  Dr Cuneo/Count Fosco
WAYNE AREY  ~ Walter Hartridge
JH GILMOUR  ~  Fredrick Fairlie
Plot Synopsis; Set in Edwardian Era England, a pretty young woman dressed entirely in white (Florence La Badie) escapes from an asylum in a rural area. She runs across Walter Hartridge (Wayne Arey), a young artist who is driving past who she begs him not to turn her in then she runs off. When the pursuing authorities show up he brushes them off. Hartright is on his way to new job as a private art tutor on Blackwater Park, an estate owned by Fredrick Fairlie, a wealthy, elderly widower who has become a bitter recluse and his two nieces; half-sisters Laura Fairlie (also played by Florence) and Marian Halcombe (Gertrude Dallas). Walter notices that Laura bears an uncanny resemblance to the Woman in White he just met.
Over the next few months Walter and Laura fall in love however Marian warns him that Laura has been promised in marriage to Sir Precival Glyde, a doctor, who has been out of the country but just sent a letter to Laura informing her that he will be returning and expects her to marry him. Laura does not want to marry him but her uncle insists and Precival refuses to release her from the arranged marriage and Walter agrees to leave. Precival arrives and signs a financial wedding arrangement with Fredrick Fairlie by which Precival will inherit Laura's share of the fortune she will inherit when she is married if she dies without a child. The Woman in White has been hiding on the estate grounds and has seen Percival's arrival and recognizes him as the man who committed her to the asylum. At night she slips a note under Laura's door warning her not to marry Precival but she is unclear about her reasons. Laura shares the note with her sister Marian and Percival who brushes it off saying that he once committed a mentally ill girl, named Anne Cathrick who had recently escaped and who was delusional. Walter writes a letter to Laura but Percival has the letter intercepted and arranges for Walter to be offered a job as an illustrator on an expedition to Central America and believing he has been rejected Walter accepts the job and goes off on his expedition. In turn Laura, believing she has been rejected, sets aside her misgivings and marries Percival and they go off on an extended honeymoon to Italy.
    When the couple return to Blackwater Park they are joined by Dr Cuneo, a friend of Percival's who will be staying at the estate for an extended time. Anne, who is also still living at Blackwater, is happy to see her sister but is suspicious of Percival and the creepy Cuneo as is Laura. The next day as Laura goes for a walk on the estate Anne Cathrick approaches her and tries to warn her about Percival but she is frightened off when Precival, who is out for a morning horse ride, approaches and Laura flees as well. Cuneo has also been spying on them and warns Percival that the women have met and are talking about him. A weakened Ann staggers to a house in the woods where she is taken in by an old woman however  Cuneo has followed her and convinces the woman that he is a doctor and can take care of Anna but leaves her in the cottage. Cuneo returns to the estate to tell Percival what he has found and they talk on the veranda where they discuss similarities in the looks of both Laura and Anne and how they can switch the two women and fake Laura's death to gain her inheritance. Marian has been eavesdropping on their discussion by hiding on the outside balcony above but she gets locked out in a terrible rainstorm before she can climb back through a window. When she does she is soaking wet and catching a serious flu collapses in her room where she is found the next day. Dr Cuneo is summoned and when Marian tries to warn about the plot against Laura he dismisses her as being delusional from her high fever and she passes out and Cuneo prescribes sending her away to recuperate. So that she can not talk to her sister Laura is not informed of this and instead told that Marian has taken a trip to London for several days. With Marian out of the way Percival and Cuneo plot to fake Laura's death by switching her with the gravely ill Anne who is brought to the estate where she dies and is placed in Laura's bed. Laura is then identified as Anna and sent to the asylum in her place. When she tries to tell the asylum authorities her name Cuneo convinces them she is delusional. Percival tells the bedridden Marian her sister has died and she at first believes him but as she remembers the conversation sheb overheard and when she recovers she goes to the asylum and asks to see Anne/Laura and when the sisters are reunited they recognize each other. However Cuneo has once again been following her and he and Percival arrive at the asylum where they convince the authorities both women are delusional and Laura is kept in custody. With the authorities being no help Laura escapes the asylum with Marian's assistance and they hide out in a cottage.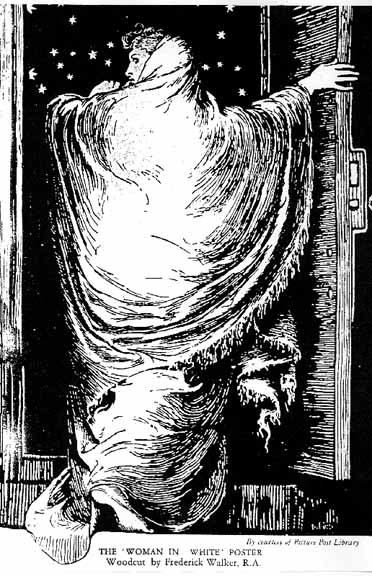 Meanwhile Walter has returned from his expedition and learns of Laura's death in the paper amd decides to visit her grave. Laura and Marian have decided to flee the country but before visiting their Mother's grave they run into Walter who is there to visit what he thinks is Laura's grave and they tell him their story. Walter promises to investigate the affair and the women return to their hideout. In the meantime Percival has inherited Laura's fortune as Uncle Fredrick signs it over as per the will. Later Walter has discovered that Cuneo is a fugitive fraudster on the run from Brazil and brings along an agent from the Brazilian Secret Service to tail Cuneo. They track him to an opera house where he is watching the show. He has already squandered his portion of the fortune. Walter and the Agent arrest him and toss him into a waiting car where they force him to confess the scheme. Cuneo writes a note to Percival telling him that he has been caught and that he needs to destroy some evidence in the form of altered birth and death records that hide the fact that Precival was born illegitimate and not entitled to the estate.  First he returns to the cottage where Anne had previously hid out and it is revealed that the old woman was in fact Anne's mother who had had and affair with Laura's father and thus the two girls were in fact half sisters thus even if Laura continues to be seen as Anne she will still be entitled to some of the fortune. Percival rushes to the church where the birth records are kept to destroy them. Laura, Anne and Walter have also tracked the case to the old woman's cottage where at first mistaking Laura for her daughter Anne tells them her story and that years before Anne had overheard Percival and Cuneo plotting and changing the birth and marriage records to gain the Glyde fortune. They in turn spotted her as she raced back home and they confront Anne and her Mother who convinces them that Anne is harmless as she is weak minded and won't be believed. Percival had then Anne committed to the asylum and intimidated the Mother into silence. Walter, Laura, Marian and the Mother then rush to the church to retrieve the documents that will prove Percival's fraud but he has already arrived and is burning the evidence. When the group arrive at the church and bang on the door Percival panics and knocks over a lantern causing the fire to spread out of control and trapping him inside and he is overcome with smoke. Villagers arrive and break down the door carrying him back to the old woman's cottage where he dies but before dying he confesses. Laura and Walter can now be together. Finis.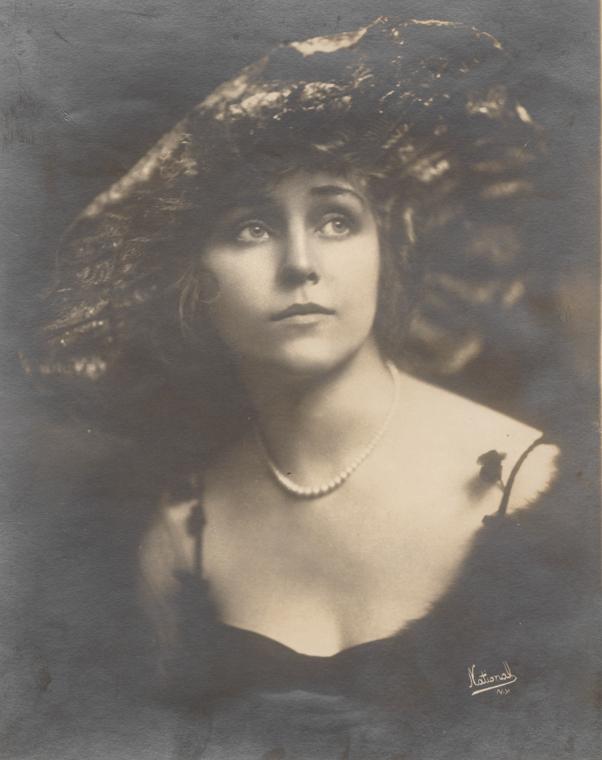 ~~~~~~~~~~~~~~~~~~~~~~~~~~~~~~
"The Woman In White" was one of the first and most important examples of a Mid-Victorian literary genre referred to as Sensation Novels. Wildly popular in the 1860's and 70's, and seen as successors to both the classic Gothic Romances and lurid Penny Dreadfull crime rags these were melodramatic crime stories that dealt with shocking themes of murder, adultery, insanity, seduction, bigamy, fraud, mistaken identities, incest, disappearnces, amnesia, illegitimacy, kidnapping and forgery, often all in the same novel. The plots ranged from the confusingly complicated to the hopelessly labyrinthine and had plot loopholes you could drive a Hansom Cab through relying on such contrivances as highly unlikely coincidences and characters conveniently overhearing important plot points which happens several times in this movie. These latter points make Sensation Novels seem clunky and unbelievable to modern readers but were seen as daringly modern compared to the earlier Gothic Novels with which they are often compared to but with which they have clear differences. Gothic Novels usually had supernatural themes, involving lesser members of the idle nobility living in isolated castles in some vaguely pre-industrial era. By comparison Sensation Novels were set clearly in contemporary Britain, involved the upper middle classes and rejected any supernatural themes in favour of purely human frailties. In addition while Gothic Novels were full of sexual content it was veiled and romanticized escapism while Sensation Novels were much more lurid and messy presented without any moralistic message. Due to their sexual themes these novels were controversial but became wildly popular with the more liberal middle-classes and particularly women who appreciated their frankness and that women were usually main characters taking actions on their own and could even be the heroine. It is notable that several of the most popular writers were women.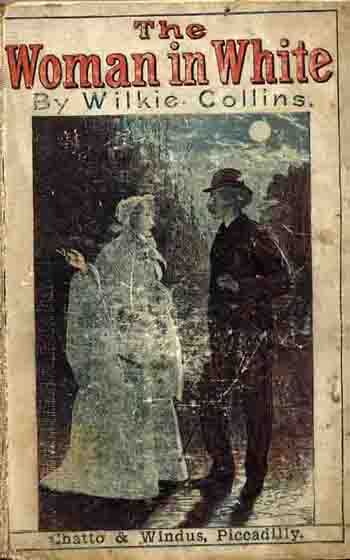 "The Woman In White" was written by in 1860 by Wilkie Collins and was hugely popular and kicked off the genre that would include "East Lynne" (1861 by Mrs Henry Wood), "Lady Audley's Secret" (1862 by Mary Braddon), Charles Dickens' "Great Expectations" (1860) and "The Mystery Of Edwin Drood" (1870) and some of the novels of Thomas Hardy. Some of the later novels that were also influenced by the genre includes some of Arthur Conan Doyle's Sherlock Holmes, especially "The Hound Of The Baskervilles". The genre was well suited to the stage and all of the above novels were adapted and became successful plays in the 1880's and 90's and by the 1910's film techniques had developed to the point (and films became long enough) where it became possible to tell the complicated stories even though the novels themselves had fallen out of fashion in favour of the more sophisticated novels of Henry James and Joseph Conrad.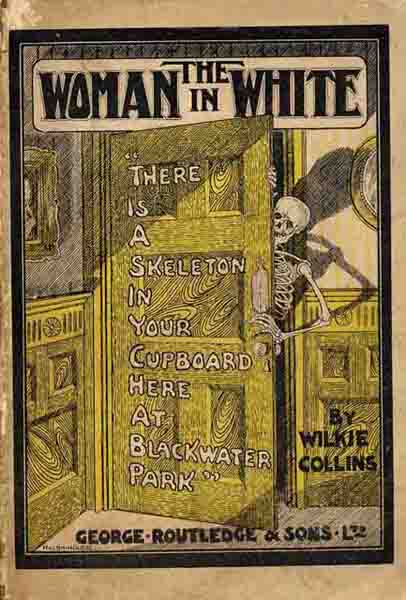 Among important Sensation Novels made into films in the silent era "East Lynne" was made at least four times including once with Theda Bara (1916) and again with Alma Rubens (1925). Lady Audley's Secret" was made three times (again with Theda Bara in 1915) and "The Mystery Of Edwin Drood" and "Great Expectations" twice each. "The Woman In White" turned out to be the most popular being adapted no less than six times with the inevitable Theda Bara version being planned but never filmed. Thanhouser had actually already tackled the story in a 1912 two reeler starring the equally inevitable Marguerite Snow and James Cruze, but not oddly not Florence. This film is considered lost but was known to be a quickie production rushed out to beat a version made by rival Gem Studios so given it's rushed schedule, a runtime too brief for such a complicated plot and the typically mediocre quality of Thanhouser films in the early 1910's we can probably assume it's noticeably inferior to the 1917 version but it would be interesting to be able to compare them. Unlike most Thanhouser films this 1912 version is actually not lost and a copy does exist in the Library of Congress but is not currently available.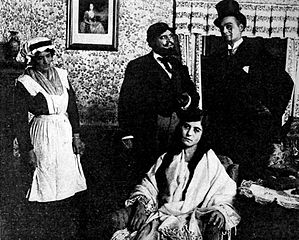 THE 1912 VERSION WITH MARGUERITE SNOW
As for the 1917 version we finally have a proper full length Thanhouser feature as well as a juicy lead role for Florence and both prove themselves up to the challenge. Like most Sensation Novels the plot is complicated and difficult to follow and the version here is actually simplified, dropping some characters and subplots. In the novel the character of Anne Cathrick's mother is no innocent dupe but a willing conspirator who sells her daughter to Percival and in the film Cuneo seems to escape while in the novel he is killed off. These changes are somewhat regrettable but understandable in the interest of moving the story along. Stylistically this is the first Thanhouser film that is actually directed with some visual flair. British born director Ernest C Warde had started out as an actor (he had appeared with Florence in "Crossed Wires") before graduating to directing for Thanhouser including a version of "Silas Marner" from a George Eliot novel so he had experience in adapting a novel to the screen. Most of the scenes are straightforward and display no particular sense of style but there are a few standouts such as the scene where Anna stands outside in the dark passing a note to Laura, each silhouetted in the glass door, the scene of Marian hiding in the dark listening in to Percival and Cuneo while lightning flashes and she is caught in a torrential downpour is nicely Gothic and the inside shots of the burning church and the trapped Percival are surprisingly realistic. One odd note is how Warde deals with scenes where Laura and Anne confront each other since both are played by Florence. The usual technique would be to use a double exposure which was standard by this time but which never looked entirely convincing so Warde simply arranged to shoot them so that one Florence always had her back to the camera allowing him to use a double although this means we never get to actually see the two Florence's face to face. Warde clearly knew how to do a double exposure because there are a couple in the film when characters are remembering someone so perhaps he just felt it was a technique better suited to portray dreams and visions. This film also has common feature of the time in mixing aspects of different eras as while most of the time the film seems Victorian and characters use carriages and hansom cabs while at other times they drive modern cars, some characters clearly have electric lights while others use oil lamps (allowing for the climatic fire which is included in the novel) and nobody seems to own a phone meaning they have to rely on letters and telegrams which can intercepted as also happens in the novel.
The two villains are played with mustache twirling relish but the main attraction is of course Florence. In most of her earlier films (at least the ones that survive) little was asked of her but as the lead here she gets to play not one but two roles (something she had already done in two-reeler "The Portrait of Lady Anne") and she does a solid job including the always difficult task of making the two identical characters distinct. As Anne she is more fragile and even somehow smaller, an effect aided by seemingly having the stand-in playing Laura in their scenes together be taller, and we can easily tell them apart. She also gets to project a greater span of emotions and does so without histrionics even though this is an overwrought melodrama. As a side note continuing on with a recurring theme this time Florence plays not one but two orphans. Directorial techniques had also progressed from only a few years earlier and frequent closeups were now standard which allowed for more use of one of Florence's strengths, her finely sculpted girl-next-door face and expressive eyes. This is not a brilliant film but it is a solid effort for the time and easily the best of Florence's surviving films. Warde would go on to direct Florence in two more features.
One note; The existing copy of the film is entitled "An Unfortunate Marriage" whereas the film was originally billed as "The Woman In White" which was also the title of the Wilkie Collins novel and play as well as the 1912 Thanhouser film. This change was made when the film was reissued in the 1920's after Thanhouser went out of business and retitled, probably to add as second feature in matinees as if it were a new film. It's also entirely possible that edits and cuts were made from the original which was fairly standard practice at the time although the story seems more or less complete. Annoying as this may be it's actually fortunate that this film was reissued as it's likely the only reason it survived at all as most Thanhouser films were destroyed in the studio fire or disposed of when they went out of business.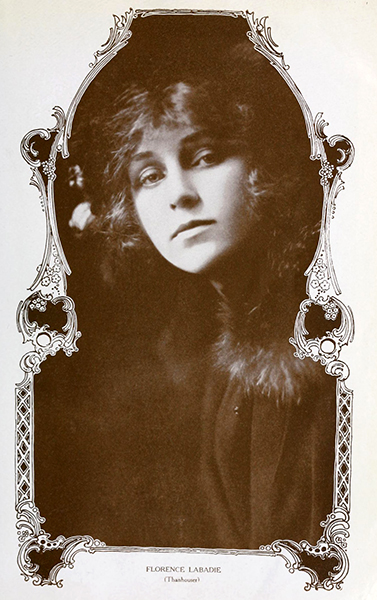 ==================================
PERSONAL LIFE & POLITICAL STANCES;
Unlike some her sisters like Olive Thomas, Clara Kimbal Young or the French actress Gaby Deslys who were known for their hard partying and even scandalous private lives Florence resembled her friend Mary Pickford in being a homebody and even continuing to live with her adoptive mother in a New York apartment until her own death and while keeping a heavy work schedule. In fact given the sheer number of films she made for Thanhouser along with some modelling shoots she must have been working pretty much every week with little time off to get up to any hijinks even if she were so inclined aside from her hobbies of riding horses and fast cars. She was engaged for a time to a Cadillac dealer until they broke up when she would be engaged to Daniel Goodman, an author and screenwriter who had worked for Thanhouser and Griffith although not on any of Florence's films. Goodman became the subject of some controversy when one of his novels "Hagar Revelly" ran afoul of the Comstock Laws regarding censorship. However no whiff of scandal attached to Florence's name at least not while she was alive, a subject we will have to revisit later.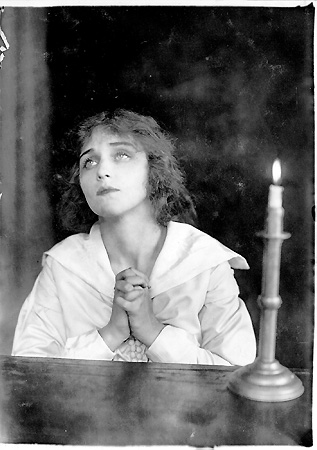 Besides her talents La Badie was also intelligent, being one of the very first movie stars to become politically active. In 1900's few stage and screen stars made any sort of political statements at other than being vaguely patriotic, it simply wasn't done, but La Badie became a prominent anti-war activist during the Great War to the extent of doing a speaking tour that included reading letters from traumatized soldiers and a magic lantern slide show of the horrors of trench warfare. Pretty much the only other notable anti-war Hollywood star was Alla Nazimova whose first film was "War Brides", based on an anti-war play she had previously done on stage, but even she didn't go as far as La Badie had in making public speeches. Taking such a controversial stand was risky in such a conformist age especially after the America entered the war and the Alien & Sedition Act literally criminalized anti-war dissent leading to boycotts, censorship, newspapers being shut down and even arrests and deportations of leftist political leaders like Eugene Debs, Emma Goldman and the Wobblies. If La Badie and Alla had maintained their anti-war stances they would likely not have faced arrest or deportation in spite of being foreigners but they certainly would have faced boycotts led by outraged "Patriotic" groups like the American Legion, the Daughters Of The Revolution and the Klu Klux Klan who had real power in 1910's America. Especially since both were foreigners with Alla being a Russian Jew and La Badie a French Canadian Catholic. Thus it's not surprising that even the strong willed Alla and Florence quickly dropped their anti-war stances with Alla's film "War Brides" being pulled from distribution and her studio piously saying stating that the public might "misunderstand" the film's message when the real fear was that they would understand it all too well. Sadly it has now been lost. The difference between the two is that Alla's political stance had been expressed abstractly through a film parable and could thus be distanced from easily enough especially given her exotically regal persona while La Badie's political stance however had been explicit and publicly expressed, not obliquely through the screen but personally through speaking tours, so it would have taken a more explicit campaign to walk back from.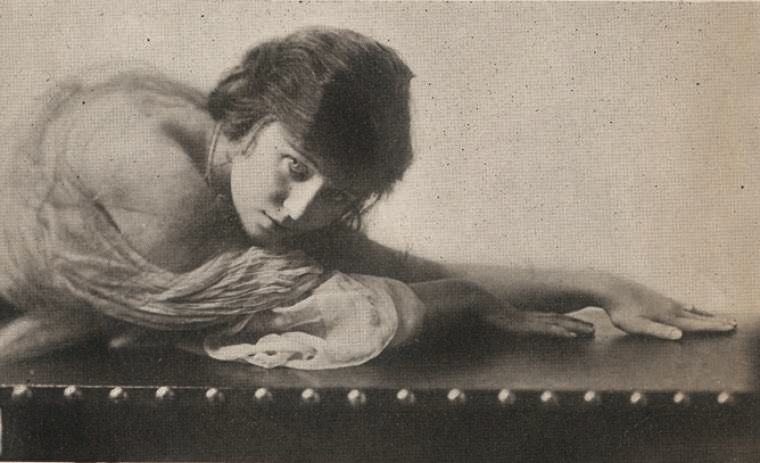 The Great War was the first major war fought after film became a popular mass medium (the also true of the infant record industry) and the reaction of it's stars was uniformly to support the war effort. French comedian Max Linder enlisted in the French army (where he would be wounded) and before war had even been declared in America actor/director William Desmond Taylor had rushed to Canada to enlist in the Canadian army. Band leader James Reese Europe (considered a pioneering figure in pre-Jazz black music) would enlist along with most of his band and form a military band (which included popular song & dance man Noble Sissle) that would be credited with introducing Jazz (or at least proto-Jazz Ragtime) to Europeans. Pro war movies (either explicit or implicit) were made starring the likes of Charlie Chaplin, Douglas Fairbanks Jr, Mary Pickford, Lon Chaney, Lillian Gish, Robert Harron, Henry Walthal and Eric Von Stroheim with directors Cecil B Demille, Thomas Ince, DW Griffith and the first modern animator Winsor McKay. Griffith and McKay were notable as both had also been strongly anti-war. Besides making propaganda films, Mary Pickford, Charlie Chaplin, Douglas Fairbanks, Wallace Reid and Mae Murray among others went to work doing fundraising and recruitment rallies.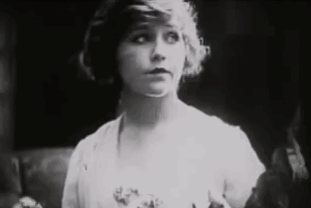 Florence's attitude can only be pieced together and implied as America declared war in April of 1917 while she died in October of that year after her car crash in August had left her in hospitalized in critical condition leaving only a four months for her to take any public actions at all but it would appear that once America entered the war she was willing to put aside her opposition and support the war in some public fashion. The New York Public Library lists a photo titled "Florence La Badie helping out the war effort" (although I couldn't find the actual photo) suggesting she may have involved herself in the sort of fundraising activities as her friends Mary Pickford, Douglas Fairbanks and Charlie Chaplin, although she may just have been supporting the Red Cross as many conscientious objectors did. There is also an unconfirmed report of her making appearances in support of the troops in Canada and given that Canada had been in the war from the start in 1914 this probably happened even before America entered the war and it conversely may likely also be on this trip that she received the anti-war letters from soldiers that she read as part of her speeches before 1917 so it's impossible to know at this point what her real attitude was and how much it changed in 1917. Given all this it's probably significant that her last two films "The Man Without A Country" and "War & The Woman" (both in 1917) were patriotic pro-war melodramas. "War & The Woman" was a pro-war spy potboiler featuring Florence as a young woman whose husband goes off to war leaving her to deal with an enemy invasion resulting in exploding bombs, plane crashes and plenty of flag waving action giving Florence a chance to make use of her athletic skills and daring-do. Unfortunately the film appears to be lost so we have to rely on contemporary accounts. The other film was loosely based on a then well known 19th century jingoistic novel and does survive.
  "THE MAN WITHOUT A COUNTRY" (1917);
Directed by Ernest C Warde
CAST;
FLORENCE LA BADIE  ~  Barbara Norton / Miss Rutledge / Lady Liberty
HOLMES HERBERT  ~  John Alton / Lt Philip Nolan          
GEORGE MARLO ~ TOM NORTON
ERNEST HOWARD ~ PHINEAS BLAIR
CAREY HASTINGS  ~  MRS BLAIR
CHARLES DUNDAN ~ POP MILTON
========================================
Plot Synopsis; Barbara Norton (Florence) and Tom (Marlo) are orphans whose father died in war and have been raised in the country and. While staying with their wealthy Uncle Phineas (Howard) and Aunt in the city Barbara meets John Alton (Herbert), a wealthy heir and the two begin dating and he proposes marriage. Uncle Phineas is the leader of a pacifist league which holds regular meetings to oppose America's joining the ongoing Great War, John is also a pacifist and while Barbara is ambivalent she loyally assists in the meetings. John Alton is also a pacifist and declares he will oppose the war. Phineas approves of the match however brother Tom sees opposition to the war as an insult to their father. While boxing at his athletic club Tom is mocked for his uncle's pacifist views and threatens to punch the heckler. At his meeting Phineas gives a speech advising turning the other cheek and gives out buttons that say "Peace At Any Price". John Alton takes one of the buttons and wears it. Tom and Barbara do not however doning patriotic flag pins much to the fury of Phineas who threatens to grab the pin and strike Tom who reminds him that he is a pacifist. Phineas announces to the meeting that Barbara is engaged to marry John but as the meeting is going newly raised troops are in the street below marching to training camp and rushes off to watch the parade. John dismisses tham as play acting but Barbra defends them telling John he must choose between their engagement or supporting the war. When he remains silent she returns his engagement ring and leaves Phineas' house volunteering to be a Red Cross nurse. John tries to convince her to return to him but she declares that anyone who does not put country first is an enemy and leaves for France. As the country moves closer to war Alton finds himself shunned at his club. As he sits there he learns that war is to be declared and he leaves. In Europe the war is becoming and an exhausted Barbara is being ordered back to America for some rest. She finds that she misses Alton. Back in America Tom enlists in the Army and asks Alton to join him but he shamefacedly declines. Back at his club he discovers that all the military aged waiters and members have quit to join the Army leaving only the elderly who openly snub him. Elderly club member and friend of the deceased Norton father Pop Milton (Duncan) tries to convince Alton to join up but an angry Alton dismisses him saying "Damn the United States, I wish I may never hear of the United States again!". Pop sadly accuses him of treason and predicts he will live to regret his words. Alton stalks out of the club and goes to Phineas' house hoping for news of Barbara but along the way he meets Tom who is now in uniform who tells him that the ship Barbara was one was sunk by a German U-Boat. Tom vows to get to France and fight as soon as possible. A dejected Alton returns to the club and has a vision of Barbara stranded in the ocean. Pop finds him there as his own son is going off ton enlist. He gives Alton a copy of the novel "The Man Without A Country" urging him to read it. Brother Tom returns home in uniform before leaving for France and asks for his Uncle's blessing. Phineas relents and says that now that war has come it is the duty of all to support the government and the war effort. Back at the club Alton has been reading the novel and falls asleep, in a dream he is visited by Barbara as Lady Liberty who takes him back in time to illustrate the novel's story. Set in the 1800's the book's main character , Lt Nolan (also played by Herbert), is revealed to be Alton's ancestor who is involved with Aaron Burr's bizarre attempt to make a deal with Spain to seize parts of the Southwest independent and is thus tried for treason. During his trial he has an outburst in which he damns the United States and declares that he wishes he "may never have to hear its name again". The Judge then sentences him not to prison but instead his life sentence is to be served on board a ship that will never touch shore and he will be allowed no news from home. As the years go on he becomes lonely and homesick. At a dance Nolan spots a beautiful young woman he used to know (also played by Florence) and dances with her but when he asks for news of home she leaves him. He repents on his deathbed as the United States is wracked by Civil War, he has decorated his cabin with the American flag and a portrait of George Washington. Begging for news of home he urges others to remember their duty to the flag. The next morning Alton throws away his "Peace At Any Price" button and enlists in the Army. He is sent to a training camp where he meets Tom who tells him Barbara has survived the sinking ship and has returned home and he rushes to meet her before he and Tom are sent off to France. Barbara, Phineas and their Aunt see them off to their ship and proudly wave goodbye. Finis.  
~~~~~~~~~~~~~~~~~~~~~~~~~~~~~~~~~~~~~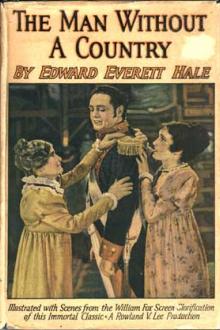 The original novel was written in 1863 during the Civil War by Edwin Everett Hale and was explicitly meant to stir patriotic fervour for the war against slavery and to preserve the Union and there are significant differences between the original novel and the film. Changing the timelines of the book to the modern era not only changes the timeline to the contemporary but also its respective wars, political context and intended audience. Hale's novel was written during the Civil War which everyone agreed (well almost everyone) was a just war for a just cause while the movie is set during the Great War which had (and has) no such consensus. The Great War was a clash between rival empires which had gotten wildly out of control leading to horrific slaughter and there were plenty of Americans (and Canadians) who opposed the war or thought it a tragedy for a variety of reasons that could hardly be called "treasonous", whether they be isolationist, anti-British, Socialists, Anarchists or Christian pacifists. In the novel Nolan, by involving himself with Burr's conspiracy actually was a traitor and deserved a sentence whereas in the film Nolan was simply a pacifist. As we've seen Florence herself had been one of the film world's most vocal opponents of the war on basically pacifist grounds. The film also stacks the deck by making the pacifist characters Alton and his Uncle insufferably smug and arrogant, not to mention hypocritical as the Uncle is shown losing his temper and threatening to strike Tom, at least until they see the light, then they are proud patriots. The other pacifists at Phineas' meeting are effete and flabby where Tom is shown as good natured and fit while boxing at the club. The novel is patriotic but is not wildly jingoistic or specifically pro war, Nolan is pointedly never actually told about the Civil War at all. The film however is virulently anti-German with them being described as "Huns" and "Barbarians" and shown torpedoing a hospital ship which was a common atrocity accusation dating back to the sinking of the Lusitania in 1915 that would have been well known to all viewers.
This film is overtly pro war nationalist propaganda and as such is preachy, strident, humourless and dour as are most of the performances. Florence gets to play three characters and as Barbara and Miss Rutlidge she is charming and natural as could be expected under the circumstances and her Lady Liberty resembles her blandly ethereal spirit from "Tannhauser".The film was once again directed by Ernest C Warde who given the nature of this film probably shot it quickly however he does show a few flashes of actual stylishness. There is a brief tracking shot used in a street scene which while not unheard of was still not a common technique and showed that Warde was paying attention to current trends while the short battle scenes are well done. Shot at night and using the light from cannon shots and burning buildings they are vividly striking compared to the grey gloom of much of the film and if he had been able to basically junk this whole novel and just make a proper war movie with Florence as a nurse he had the skill to do it and they would have been better off.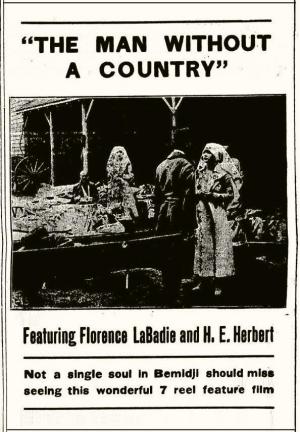 Given this film's strident, heavy-handed jingoism one wonders what Florence thought of it. Did she have a change of heart once war was declared and decided to rally around the flag? It's certainly possible as plenty of others did so including future war hero Sgt Alvin York, past Presidential Candidate and anti-war leader William Jennings Bryan, liberal journalist Walter Lippmann, writer HG Wells, some (but certainly not all) suffragettes and for that matter President Woodrow Wilson himself. Some would respond to Wilson's call for a "War Make The World Safe For Democracy" as a just war. However the grim stridency of the film which cruely mocks views Florence herself had publicly expressed only recently can not have made her entirely comfortable. By contrast while Alla Namizova's anti-war film "War Brides" was withdrawn and she then kept away from the subject she did not however go out and make a pro war film. On the other hand Winsor McCay, the cartoonist and pioneering animator who had drawn anti-war cartoons would make propaganda cartoons including the searing "Sinking Of The Lusitania" and HG Wells would also write propaganda works. Florence may have also simply swallowed whatever reservations she had and fell in line to avoid what could have been a career ending scandal as artists who publicly opposed the war could easily find themselves unemployed and their works picketed by "patriots". If so this film should have accomplished that goal if nothing else but like most propaganda it hasn't aged well. Unlike "The Woman In White" there would be no appetite for reissuing after the war it but it was thought important enough at the time to have enough copies made that it has survived unlike the rest of her feature films. At any rate this dour, hectoring film which is so unrepresentative of her work, screen persona and known beliefs ends her career on a downbeat note as she would die before it even made it to the screens.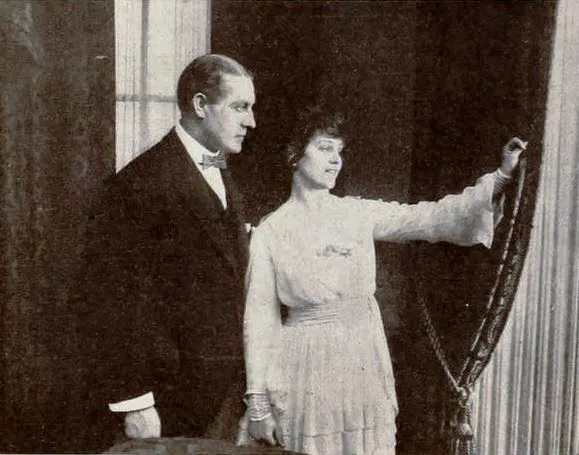 The film was her last and she would never get to see it as in fact when it was released in September of 1917 she was already in the hospital near death. Florence had always had a taste for fast cars and on August 28 she was at the wheel driving with her fiancee Daniel Goldman in upstate New York when the brakes failed and the car plunged down a hill and overturned. In 1917 cars were fragile machines with cloth roofs and no seatbelts and both suffered serious injuries with Goodman's including a broken leg and collar bone while Florence's condition was more serious. Her injuries included a crushed pelvis and internal injuries. She spent over a month in the hospital in terrible pain before dying of sepsis on October 13.
~~~~~~~~~~~~~~~~~~~~~~~~~~~~~~~~~~~~~~~~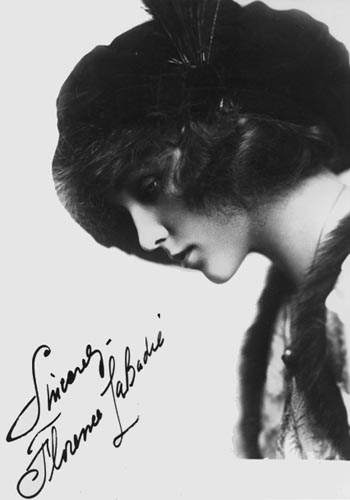 When Florence died she was 29 and at the height of her career and whenever an artist dies young it is natural to speculate on how her career would have developed. For silent film stars we see this in the personas of Rudy Valentino, Olive Thomas, Mable Normand, Barbara La Marr, Alma Rubens, Gaby Deslys, Wallace Reid, Max Linder, John Bunny and directors Thomas Ince and William Desmond Taylor as well as some contemporary stage actors who just missed out on trying their luck on the new medium particularly Maurice Barrymore, Sir Henry Irving and Richard Mansfield. LaBadie's beauty only adds to such speculation, locking her in an eternal promising youth. However her actual record makes this a difficult question to answer. At the time of her death she was a fairly big star but unlike her contemporaries Mary Pickford and Theda Bara she didn't have an iconic role or a sharply defined persona.
Florence is cursed in that of the notable stars of her era her surviving film legacy is probably the most misleadingly thin. Although at first glance her surviving film legacy seems more generous compared to some of her most famous contemporaries of the 1910's and early 20's the reality is more sparse. While about a dozen of her films are extant as we have seen almost all of them are shorts or two reelers and in most of them she only plays a supporting role leaving only two feature length films in which she plays a significant or lead role; "The Woman In White" and "The Man Without A Country". Of these the last is a shrill propaganda film (through no fault of hers) leaving only "The Woman In White" which can really be considered a fairly good film with a proper story and a juicy role. By comparison Theda Bara has only three feature movies ("A Fool There Was", "East Lynne" and "An Unchastened Woman") plus a comedy short and a few fragments from "Salome" which is not much to judge her on especially since two of those films are mediocre but at least we have in "A Fool There Was" her first feature and the one that established her Vamp persona and iconic screen presence. Alla Namizova also only has three films currently extant ("Red Lantern", "Camille" and "Salome") but these are also her most important and show off her peculiar sense of style. Olive Thomas has even less to work with but again her classic film "The Flapper" does show her infectious charm. (note; I am aware that all three each have a couple more films stuck in vaults somewhere but since we can't see them they don't count). With Florence however we can only guess at what her trademark adventure films that earned her the name Fearless Flo were actually like. It would also be nice if we had one of her more tragic melodrama roles such as "Adrift In The Great City" to see what kind of range she actually had.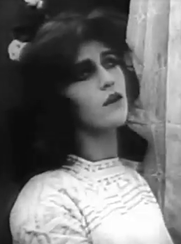 Although she had made over two dozen films for Biograph and over a hundred for Thanhouser until 1914 most if not all of them were shorts in which she was required to do little more than be comely and charming, and in many of those she was not even the lead actress. It was not until that year's success with the "Million Dollar Mystery" and the weepy melodramas "Adrift In A Great City" and "When Love Was Blind" (all now lost) and several similar adventure and romance films that followed over the next two years that she found real stardom. It is often said that Florence was Thanhouser's biggest star but that is probably only true from 1914 onward. Previously she was not even Thanhouser's most notable leading lady with Marguerite Snow getting the lead role in several films Florence appeared in as a supporting character. That James Cruze appears in many ads for "Million Dollar Mystery" in spite of the fact that she was the lead also implies that he was at that point still the bigger name and as we've seen when Thanhouser filmed another serial he went with Marguerite Snow as the lead although that would all soon change. But if her career had been a little slow in finding the right persona her final two years of films showed a possible future for her. After years of much promise but mostly supporting roles in shorts of varying quality she was finally getting starring roles in features and had even settled on a possible bankable screen persona, or two really, either as a plucky heroine in adventure tales and serials or in romantic melodramas or a combination of both.
La Badie was different from Pickford in another way. Mary Pickford by this point was largely in charge of her career, had a clear view of her screen persona and chose appropriate roles and would soon be one of the founding members of United Artists Studios along with husband Douglas Fairbanks, Charlie Chaplin and their old boss DW Griffith. Alla Namizova also acted as in effect her own producer choosing her own roles and having a specific artistic vision for her elaborate Art Nouveau sets and costumes and she would also end up joining UA. La Badie on the other hand was simply a working actor with no other apparent larger artistic ambitions. Since she clearly did not lack brains or energy nor was she a frivolous party girl it would seem that acting was just not all that important to her as it was to Pickford and Alla. They had been acting since childhood and had built their lives around their personas. La Badie had started acting seemingly on a whim, enjoyed it and found enough quick success to keep doing it but had other interests and hobbies and was about to be married so she seems to have had a more casual attitude about acting. Unlike Pickford she was never a producer, unlike Barbara La Marr she was not a writer and unlike Alla she was not an artiste with a compelling vision. She had simply been a model with some natural talent who stumbled on to some lucky breaks and had been fortunate in having supportive friends like Pickford and Thanhauser who helped her up the ladder. It had all been remarkably easy.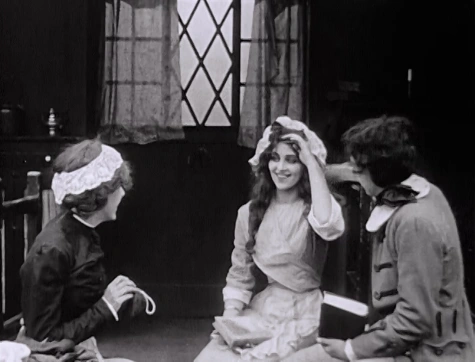 After being signed by Griffith the one time she seems to have taken a firm career decision was when she left Biograph to sign with Thanhouser whom she then stayed loyal to despite rarely being given the sort of starring vehicles she really deserved especially given her obvious potential and apparently getting along well with Edwin Thanhouser. Just before her death it was announced that her contract with Thanhouser had ended for unexplained reasons although this was apparently by mutual consent. Thanhouser was effectively shutting down it's major productions (they closed for good in 1920) so he was actually doing her a favour by letting her move on. If she had not died in 1917 it is entirely likely that her old friends Pickford and Griffith would have happily taken her on at UA and she had enough name recognition and by now a more clear screen persona to work with if she wanted it. This is in contrast to Theda Bara whose contract ended in 1919 but could find little other work. Whether there would have been a place for La Badie in the post War Twenties is yet another question. At the time of her death she was only 29 compared to Theda's 34 when her contract ended but it's hard to see her as a Roaring Twenties Flapper like Gloria Swanson, Clara Bow or Colleen Moore. Even Pickford would struggle through the new decade trying to reconcile her essentially Victorian wholesome image with the Jazz Age. La Badie's image was less defined but thus more flexible with her main attributes being young, pretty and sporty so she would easily have been making genre films like the romantic adventures she was specializing in by 1917 (it's also easy to see her in a Western) as a sort of distaff version of Douglas Fairbanks. How much of an audience there would have been for this is unanswerable. The Canadian woman actor/director/producer Nell Shipman had made a series of wilderness adventure films but her company went bankrupt in 1925 while Williams S Hart's critically acclaimed westerns also ended in 1925  but there were other factors in ending their careers. Shipman financed her own films which made her vulnerable to any financial setbacks while Hart ended his career with an extended lawsuit with United Artists over the disappointing sales of his last film "Tumbleweeds" as his particular brand of gritty realism was falling out of style. By contrast the more fun and flashy Fairbanks and western stars Tom Mix and Ken Maynard among others would carry on into the talkie era so potential La Badie romantic adventures could have done the same assuming they were reasonably successful and not terribly expensive to make. Her best starring features ("The Woman In White" & "Million Dollar Mystery" and possibly a few of her lost films) were solid and competent but not more than that largely due to mediocre direction, scripts and supporting casts. Such films would not have been terribly fashionable or artistically ambitious and they would probably not be well remembered today but they could have sustained a respectable career throughout the silent era, beyond that into the sound era one can barely guess at as by that time she would have been in her forties and would have have been likely only cast in supporting and character actor roles if at all assuming she was still game.  
Florence's death ended up on another confounding note as her long lost birth mother suddenly reappeared and took legal action insisting that Florence be buried in the Russ family plot. At the time of her death Florence had still been living with her mother Amanda with whom she apparently had a good relationship with but in the end Florence was laid to rest in the Russ plot. However no headstone was bought by either Russ (who may not have been able to afford it) or La Badie and it wasn't until 2014 that Ned Thanhouser the grandson of Edwin Thanhouser arranged for one to be laid paid for through a fundraising campaign on what would have been her 126th birthday. The stone lists her under the name of La Badie rather than Russ and includes the nickname "Fearless Flo, Silent Film Star".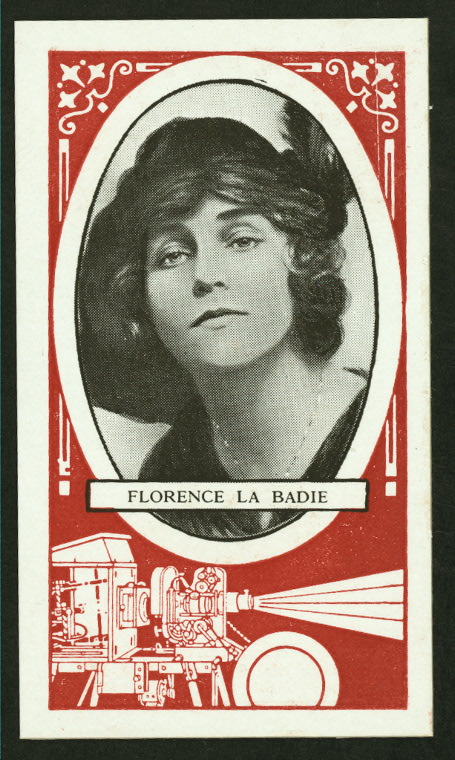 Edwin Thanhouser would shut down Thanhouser Studios for good in 1920 and went into the securities business. He managed to avoid being wiped out in the 1929 Wall St Crash and turned to art collecting. He died in 1956. Marguerite Snow's career petered out by the end of Silents but James Cruze would have a longer career and continued acting through the Silent Era and graduating to directing into the sound era. Among his films would be "The City Gone Wild" (1927, a lost Louise Brooks film), "The Mating Call" (1928 with Renee Adree and Evelyn Brent produced by Howard Hughes), "The Great Gabbo" (1929 with Erich Von Stroheim) and "I Cover The Waterfront'' (1933 with Claudette Colbert). Marguerite Snow and James Cruz would be divorced in 1923 with Snow claiming the former leading man was in fact a drunken, abusive wife beater. Snow would remarry Neely Edwards, a minor film and vaudeville comic whose career would also end with sound and would spend the thirties fighting in court with Cruze over property. She died of complications from liver surgery in the Motion Picture Country Home, a retirement home for former actors down on their luck, in 1958 aged 68. Cruze would also remarry to actress Betty Compson only to divorce again in 1930. By the late thirties his drinking had made him unreliable and he had drifted to directing low budget westerns for poverty Row studios. Soon that work dried up as well and he lost his legal cases with Snow and ended up broke and unemployed, killing himself in 1942 aged 58. Daniel Goodman would also go on to become a director including working for William Randoph Hearst's Cosmopolitan Pictures including making films for his mistress Marion Davies. Goodman, who was also a licensed doctor, was one of those on board Heart's yacht on the notorious cruise when director Thomas Ince died under unexplained circumstances. Goodman as the only doctor on the scene attempted to treat the stricken Ince who died before reaching the hospital and always dismissed the conspiracy theory that Hearst had murdered Ince over Marian Davies affections, most infamously propagated by Kenneth Anger in his anti-classic book "Hollywood Babylon''. Goodman would marry another tragic Hollywood figure in the doomed, beautiful and mentally unstable Alma Rubens from 1923 to their divorce in 1925 before another brief failed marriage drug and alcohol addiction would take her aged only 31 in 1931. Goodman would return to writing and died in 1957 aged 75.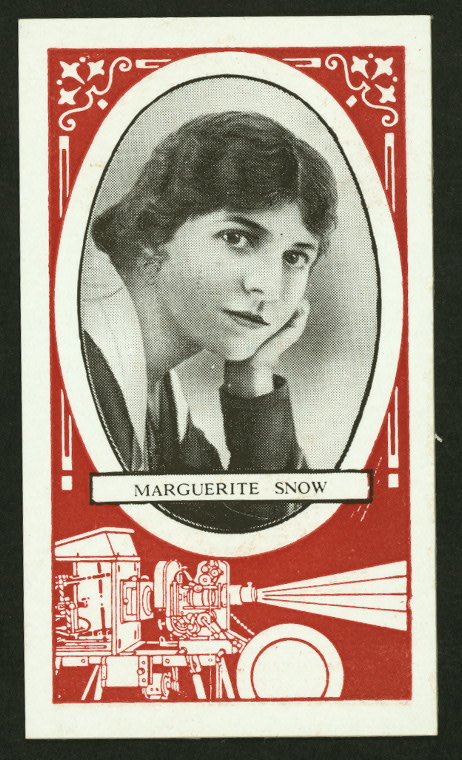 ~~~~~~~~~~~~~~~~~~~~~~~~~~~~~~~~~~~~~
We do have to end regrettably but firmly on a messy note. As we've seen with Marilyn Monroe, sudden deaths of a celebrity, especially a pretty young woman, often brings out the conspiracy theorists and Florence would be one of the first targets when many years after her death a sleazy rumour about her came out. In a 2000 a writer named Charles Foster published "Stardust And Shadows", a book about Canadian stars of silent film which claimed in a chapter about Florence that she had been forced into an affair with President Woodrow Wilson in 1914 and became pregnant, gave birth to a child and that Wilson later had her killed to cover this up and that the child also disappeared. Obviously this is scurrilous nonsense which all Wilson biographers, even those who are critical, of which there are many, have either dismissed as absurd or not even deigned to mention it at at all and film historians have dismissed or ignored it as well and in fact this conspiracy was so well hidden that nobody even thought to mention it until Foster did by which time all of the principles allegedly involved were long dead. I'd be tempted to ignore it as well but in our age of conspiracies it has made the internet rounds (none of which I am going to provide links for) including a mention in the New York Post.
Foster's claim was that he had heard the story from Valentine Grant (1881-1949), a former opera singer turned actress who appeared in films from 1915 to her retirement in 1918 and who he interviewed in 1943. According to Foster she claimed that she and Florence had been close friends and Florence had confided in her about the affair and her fear of Wilson. Grant died in 1949 and Foster had then sat on the story until 1993 when he interviewed 93 years James Baird, a former cub reporter for the "New York Telegraph" who claimed he had found Florence's death suspicious and investigated and uncovered proof of the affair as well from a former La Badie family maid leading to his uncovering an equally suspicious birth registered under the name of George Woodrow Smith in 1915 who was the illegitimate baby born from the affair and who mysteriously disappeared. As part of the theory Edwin Thanhouser himself had encouraged the affair in exchange for favours from Wilson who had also been Governor of New Jersey where the studio did much of it's filming, since 1910. According to Foster via Grant and Baird, Florence was so shattered by the affair and kidnapping of her baby and in fear of Wilson that she all but retired from film until Wilson had had her murdered to cover up the whole matter.      
The tiny grain of truth is that Wilson was actually the first President who could be called a film buff. While his screening of "Birth Of A Nation" would become notorious he previously had other films screened as well including the Italian epic "Cabiria" as the former history professor was apparently a fan of historical epics and had reportedly toured the Thanhouser Studios as New Jersey Governor and may have met Florence then. However everything else here is utter nonsense. Wilson's movements as Governor and President are quite well documented. Not to mention this is all wildly out of character for the shy, straightlaced Wilson. Whatever his personal shortcomings, being a reckless and murderous sexual predator was certainly not one of them. I would also like to know how Wilson managed to stage manage a car crash in exactly the right way and place to kill Florence (but not Goldman for some reason) and have her die six weeks after the crash. But here we have one of the hallmarks we've by now come to expect of conspiracy theories of today in never knowing where to stop. Saying the two had an affair would be one thing, it's almost certainly not true but not impossible to picture, powerful men having affairs with pretty actresses is not exactly unheard of and impossible to disprove at this point, but Foster couldn't stop there and had to expand to a sinister conspiracy involving rape, murder, kidnapping and corruption at the higest levels of government because of course he did. Foster also shows another mark of conspiracy theorists, not bothering to do even basic fact checking before rushing into print.
For example; He gets Florence's age and birthplace wrong claiming she was born in Montreal in 1893 making her 24 at death when she was born in New York in 1888 and was 29. He also gets her birth mother's name and the date of her adpotive father's death by several years. The records on all this are clear and publically available to any actual researcher.
Foster claims Florence was summoned to the White House in December 1914 because Wilson had become obsessed with her since his earlier studio visit and went along at the insistence of Edwin Thanhouser in exchange for favours from Wilson but the White House visitor records and Presidential schedules for the time and diaries of various officials, all of which survive (bureaucracy never forgets) show no such meetings or holes in Wilson's schedule which besides being busy was also lacking in social calls as in December of 1914 he was mourning the death of his first wife. Of course the conspiracist mind will simply say the records were altered or destroyed but it turns out that Edwin Thanhouser himself was also out of the country in Europe from 1912 to 1915 and had turned over running of the company to Charles Hite until he died suddenly in 1914 with Tanhouser returning the next year so he couldn't have sent her there or anywhere else. Foster also doesn't say what possible favours Wilson did for Tanhouser in order for him to in effect pimp out Florence as an inducement and it's hard to see how there could possibly be any. Governments are usually quite happy to do favours for film studios simply for a photo opp, there is no need to offer up actresses as bribes, especially one of his biggest stars. It's around this point it should be obvious that Foster's story is both distastefully sleazy and fantastical.    
Foster claims that Florence was so emotionally shattered that she made only five films in 1915 then had to take a six month sabbatical when records clearly show she actually made twenty three films and worked through the year. He claimed this sabbatical was announced in trade papers but no such announcement has ever been found.
Foster fleshes out his claims that she was also so devastated that she couldn't bear to hear the name Wilson without breaking down and refused to see him again but amazingly for Foster it turns out that the supposedly semi-retired Florence along with Thanhouser and a number of other film figures were actually with Wilson at a banquet at the Biltmore Hotel in 1916 for members of the film industry at where he gave a speech on the importance of film. This event was even reported in the newspapers. Foster's research was so lazy and shoddy that he even missed the one time Florence and Wilson were provably in the same place at the same time and actually could have met, however briefly but not only did he miss it but the timeline ruins his already threadbare narrative. Just ace researching here really.
Foster also claims that Florence was finally so upset that she announced her retirement in 1916 (which he again claimed made the papers) and dropped out of sight until her death when there was no such announcement made in any trade papers anywhere and in fact she actually worked right up to her death making eight feature films in 1916 and five in 1917. It is true at a first glance that looks like far fewer films than she usually made in a year until you remember that these were all feature length while her previous films had been mostly shorts and two reelers. Plus she only worked for half of 1917 due to her car crash. It's also true that she did announce she was leaving Thanhouser but that was by mutual consent as the studio was winding down its operations anyway. She was not retiring, that would have made the trade papers and probably the mainstream press as well as she was rather high profile by that point. In fact, as I mentioned above, one newspaper mentions the supposedly reclusive Florence also did some sort of fundraising event for the war effort or the Red Cross in 1917.
Foster claims her car accident occured in April of 1917 and finds it suspicious that it took six months to die of her injuries when the accident took place in August (she was still filming in April) and she died in October six weeks later rather than six months with her injuries and the time and cause of death being clearly listed on the death certificate and press reports which also still publically exist.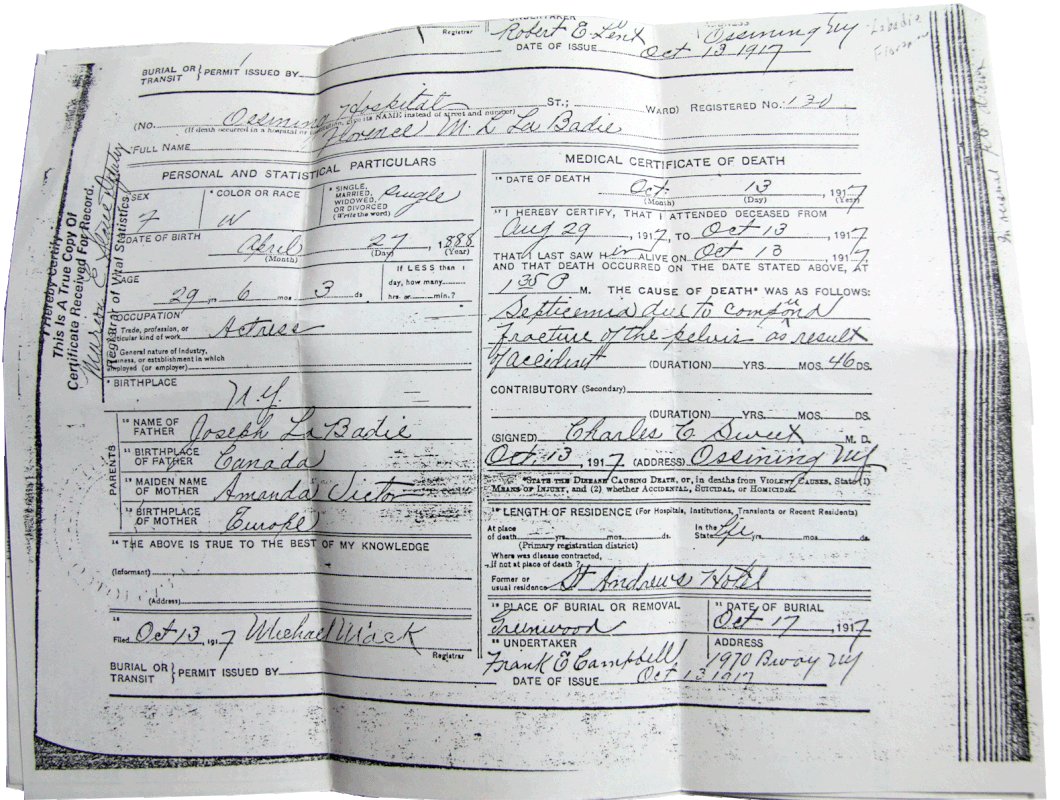 FLORENCE'S DEATH CERTIFICATE
Foster claims via Baird that a mysterious man was seen fleeing the scene of the accident but police reports say no such thing and clearly state the cause of the crash as a brake failure on a rural road so what this implied hitman would have even been doing there is anybody guess especially since he left both Florence and Goodman still alive anyway.
Foster claims via James Baird that Florence's funeral was sparsely attended as friends stayed away out of fear while contemporary new reports describe "throngs" of mourners including friends and floral tributes.
Then there are Foster's reported sources. There is no evidence that Valentine Grant was friends with Florence of that they even knew each other, certainly they never worked together as Grant never worked for Thanhouser or Biograph and did not work in film at all until 1914, prior to that she had been a touring singer on the West Coast which Florence only visited once with a group of Thanhouser players to check out the new film colony (which she was apparenly unimpressed with compared to cosmopolitan New York and Montreal). Grant spent much of her film career filming on location in Florida and Ireland with director and husband Sidney Olcott while Florence spent virtually all of her time in New York and New Jersey aside from the occasional trip to Montreal. Even if the two women (who otherwise seem to have had nothing in common aside from acting) had met it's hard to see how they would have had the time to strike up a close relationship let alone for Florence to confide a terrible secret to Grant instead of the other friends she is known to have had including the powerful Mary Pickford. Grant died in 1949 as did Olcott and Foster has no credible reason for supposedly sitting on such an explosive scoop for the next fifty years, long after every principal named who could possibly have refuted it and possibly sued had long since died.
Foster's second source claimed was James Baird who he interviewed in 1993 while he was in his nineties and who claimed he was a cub reporter for the "New York Telegraph" at the time but no record of his having worked there at the time can be found. Nor can Baird's claim of finding the La Badie family nurse be verified since she's never been found either and would most likely be long dead as well. Even Baird himself can't be questioned by this point as he is now also safely dead.
Foster claimed that Baird had found records of a baby being born from the affair registered under the name George Woodrow Smith but the baby then vanished. Needless to say no such birth record has ever been found either. Naturally a good conspiracist would simply claim that of course all the records have been destroyed or altered but it's also worth noting that not only was Florence doing a full working schedule during the time she was supposed to be in seclusion and giving birth to an illicit child and recovering (including some films that required stunt work) but some of her films and photos exist for that time and there is no indication she was pregnant nor did her autopsy record she ever had been. At his point I don't think we need to spend any more time on this drivel. Foster is clearly a sleazy fraud and so is Baird (whoever he was) and Grant assuming she actually started this gossipy slur and Foster didn't just make this all up.
Florence was by all accounts a normal, sensible, well liked, well-adjusted girl who died in a tragic and pointless accident. She doesn't deserve to be dragged through the conspiracy sewer. For that matter neither do Thanhouser and Wilson. Thanouser's grandson Ned, who had arranged for her headstone was outraged enough that he also took the time to thoroughly debunk Foster's book in a research paper which I will provide a link for
here
.
~~~~~~~~~~~~~~~~~~~~~~~~~~~~~~~~~~~~~~~~~~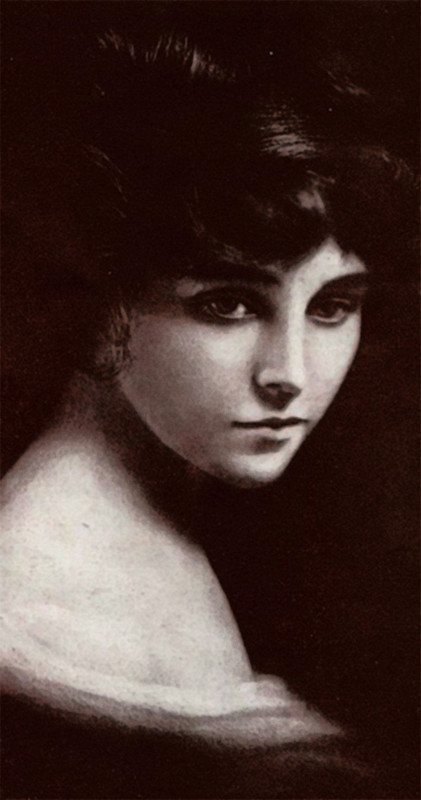 Florence was Hollywood's first tragic figure (although once she started acting she actually always lived in New York) but while her death just when she was finally achieving real success was a tragedy, the bigger tragedy is that the two things she is best remembered for today are dying young and a slanderous conspiracy theory decades after her death. Aside from some beguiling photos none of her films are well remembered nor is that likely to change even if a copy of "Million Dollar Mystery" is found. Florence had a genuine screen presence and a natural ease in front of the camera and had some potential going ahead but she never developed an iconic image of a Theda, Clara, Alla, Gloria, Asta, Greta or Mary Pickford and given her casual unpretentious personality she was not likely to. Nor was she in any real classic films as Thanhouser never made any. If she had lived she possibly could have navigated her way through the Jazz Age even though she clearly existed outside of it, partly through her more adaptable nature, avoiding type casting and possibly making films that while not exactly fashionable could still find a loyal audience but also the sheer good luck she had always had. Thus unlike some of her contemporaries such as Clara Bow, Alma Reubens and Barbara La Marr while Florence's death was a tragedy her life was not. While her birth as an abandoned child was potentially tragic she was lucky in being adopted by wealthy parents who gave her a good education and supported her desire to perform, she was lucky in being an attractive and charming young woman who turning heads as model and made friends like Mary Pickford who encouraged her to act and opened doors for her, she was lucky in being quickly signed up by Edwin Thanhouser and had steady work thereafter. She still had friends who no doubt would have been happy to sign her again after 1917. She had a happy and busy home life and was engaged to be married to a successful doctor and writer. One can not be exactly sure what her future might have been but she undoubtedly had one. She had been following a lucky star all through her life but in August of 1917 her luck simply ran out.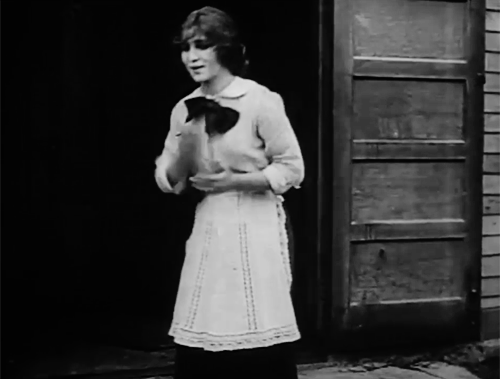 ================================
Additional side note; As mentioned Thanhouser studios suffered a fire in January 1913 which destroyed much of their film stock and held up productions for several months until Charles Hite could make arrangements to shoot and do production elsewhere while rebuilding. Showing commendable enterprise one of their first productions was a two reeler based on the fire starring their popular leading couple Marguerite Snow and James Cruze, by then freshly married and with a toddler who is also featured. The plot has some of the Thanhouser Players doing a location shoot while the fire breaks out forcing them to race back. While Snow and Cruze are the only billed players one of the location cast certainly appears to be Florence, then still being mostly used in supporting roles.
"WHEN THE STUDIO BURNED";