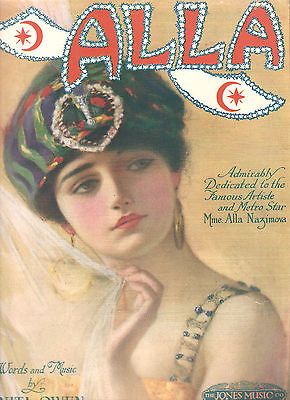 Alla Nazimova (1879 - 1945) was the first female film auteur. She was not the first female film-maker, the French director Alice Guay Blache, the American Lois Webber and the Canadian Nell Shipman had been making successful films for several years before Nazimova's debut. However Nazimova was different, she saw film not merely a vehicle for entertainment, an extension of the popular stage, but as a real work of art, equal to the legitimate theater or opera and ballet. From the start of her film career she pursued her vision with a dogged persistence in defiance of studio or audience resistance.
EARLY LIFE AND STAGE CAREER;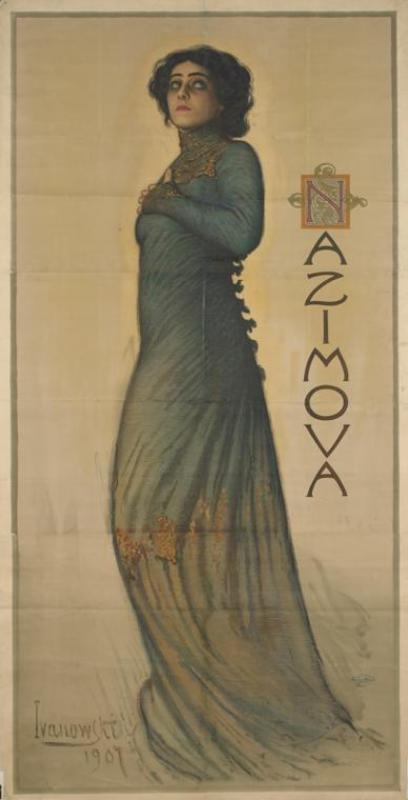 Born in Yalta in the Crimea in 1879 of a Jewish family, her real name was Miriam Edez Adelaida Leventon and her childhood was unsettled with her parents divorcing and Miriam being shuttled between various relatives and boarding schools. She did however get a good education, learning violin and ballet before studying acting and theater at Stanislavski's Moscow Art Theater adopting a stage name of Alla Nazimova based on two of her middle names and the surname of a character from a Russian novel "Children Of The Streets".
After graduating she quickly became a star of the Russian theater scene in Moscow, St Petersburg and Kiev. She was noted for her exotic beauty; statuesque and athletic with sensuous, vaguely Slavic features, large bright blue eyes and untamed hair. She was also haughty and charismatic, playing the role of the diva to the hilt, dressed in the latest in Art Nouveau fashions. As she became well known she would drop her first name and be billed simply as "Nazimova". With her training in both theater and dance she was noted for her grace and physicality. From the start she sought out serious roles, particularly in the plays of Ibsen and Chekhov, to rave reviews. Nazimova quickly became too big to be contained to Russia and she began a successful tour of Europe along with her lover, actor Sergei Golovin, which ended up in New York in 1906. She quickly discovered she could make far more money in America than in Russia and she elected to stay in New York. She managed to learn English in five months and would become a fluent speaker although never losing her accent. Golovin could not make the adjustment and returned to Russia. Nazimova was offered roles on Broadway where a theatre was named after her as she became a major star. She spurned the sorts of light comedies and maudlin melodramas popular at the time and continued doing the Chekhov and Ibsen plays to admiring reviews. Even the acerbic Dorthy Parker described her as the finest Heda Gabler she had ever seen.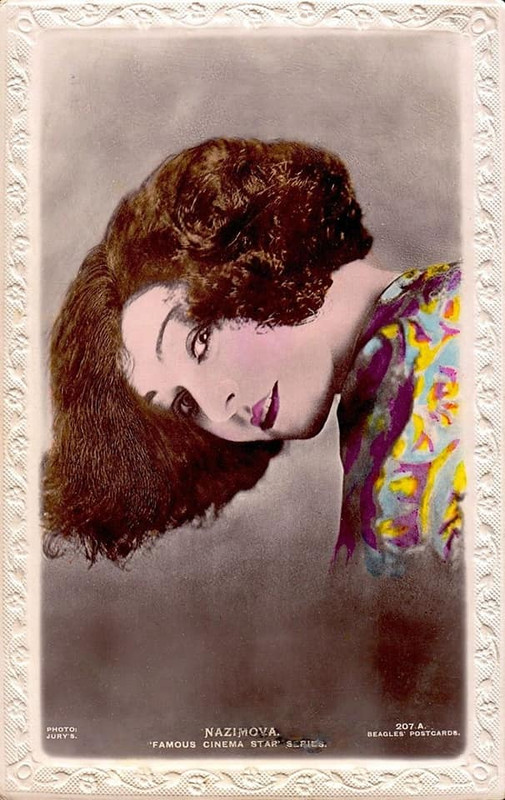 Although Nazimova played the imperious diva she was also determined to take culture to the masses by appearing on the vaudeville stage, which few serious stage actors would deign to do. For Vaudeville she took the scenes out of Ibsen or Chekhov and boiled them down to one act plays. She also did short one act plays specially written for her, often with a progressive political slant such as "An Unknown Woman" about 1914 which advocated for simpler divorce laws (and which met with protests and bans) and the pacifist play "War Brides" in 1915. Surprisingly the demanding audiences of vaudeville gave her another enthusiastic reception. Working class immigrant audiences were entranced by her other-worldly larger than life personality and beauty. Between her Broadway and vaudeville careers she became one of the most highly paid actresses anywhere.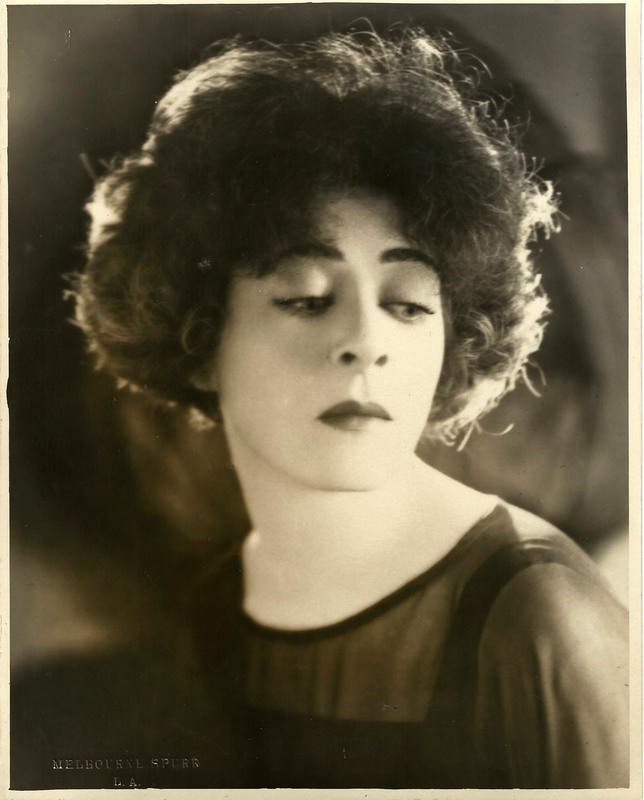 PERSONAL LIFE;
As one might expect the larger than life Nazimova led a scandalous personal life. While still in Russia she had lived with fellow actor and producer Pavel Orlenev even after she married another actor Sergei Golovin in 1899. She was rumored to have had a child with one of them in 1905. When she went on tour she took Orlenev with her and moved with him to America although he soon returned to Russia. In 1912 she married yet another actor, British actor Charles Bryant, even though she had never bothered to divorce Golovin.
The British born actor Charles Bryant (1897 - 1948) was a mysterious and contradictory figure. On the one hand he was widely rumored to be gay and it was always assumed that their marriage was one of convenience, designed to allow both to hide their respective sexualities. However as we shall see he would later leave Nazivoma, remarry and have children. Nazimova seems to have been genuinely devoted to him and gave him roles in most of her movies. More seriously he would also direct a few which would turn out to be a mistake since he was clearly less talented than she. Even more disastrous was that he acted as her manager and while he may have helped get her the creative control she sought his management of her money turned out to be ruinous.
CHARLES BRYANT;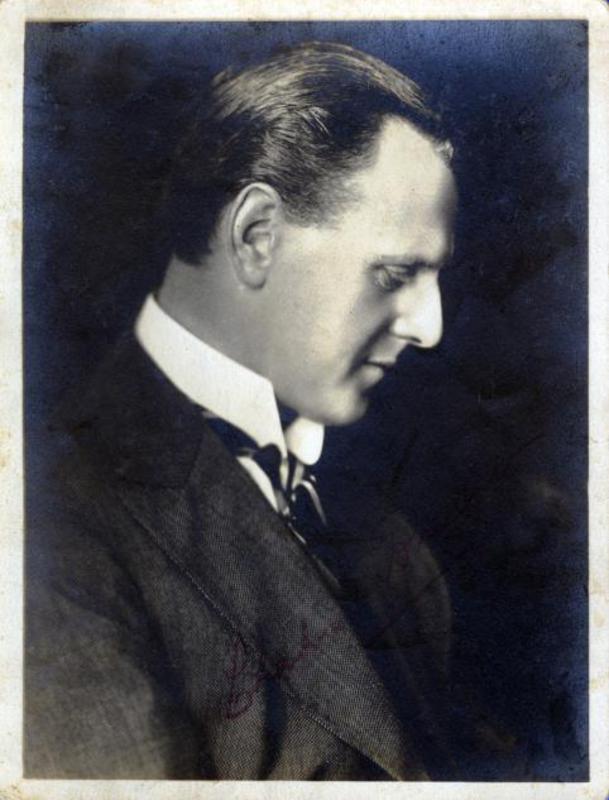 Bryant would later abandon her in 1925 and she would move in with her longtime girlfriend Glesca Marshall while still taking other lovers. In spite of the male lovers she took she openly preferred women and attracted a harem of female lovers she did not bother to hide, airily referring to them as her "sewing circle". Among those women believed to be romantically linked to Nazimova included designer Natacha Rambova, actresses Jean Acker, Patsy Ruth Miller and Eva LaGallienne, Mildred Harris (wife of Charlie Chaplin), Edith Luckett (mother of Nancy Reagan, who Nazimova would be godmother to), director Dorthy Azner, writer Mercedes de Costa, painter Bridget Bate Tichenor and Oscar Wilde's niece Dolly Wilde (Alla was always a big Wilde fan). Nazimova generally remained on good terms with her lovers after the relationship ended and would help some with their careers.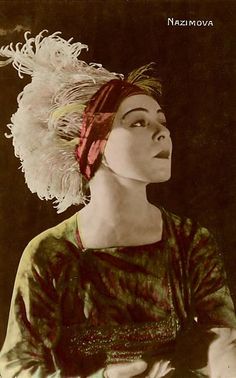 While other stars would have their careers destroyed by scandals seemingly smaller than open bigamy, promiscuity and bi-sexuality, Nazimova's public image as an exotic European sophisticate, her aloof charisma and her haughty indifference to criticism seemed to insulate her from any such attacks, at least for a time. She also remained popular with many other actors, artists, dancers and writers who she befriended and supported, helping many get jobs. She was especially supportive of women artists who she saw herself as a role model for. With her extravagant nature she was generous to a fault to her friends in need and ran through money at a shocking rate.
In 1918, after her film career had taken off, she bought a large estate on Sunset Blvd (then a dusty dirt track) and built it into a luxurious Art Deco mansion dubbed The Garden Of Alla, The Garden became notorious for it's lavish parties which included the cultural elite as well as those from Hollywood's royalty she felt were cultured enough to invite, along with plenty of openly gay male and female artists, writers, musicians and actors. Naturally when prohibition became the law of the land in 1920 Nazimova openly flouted her disregard of the law at her parties.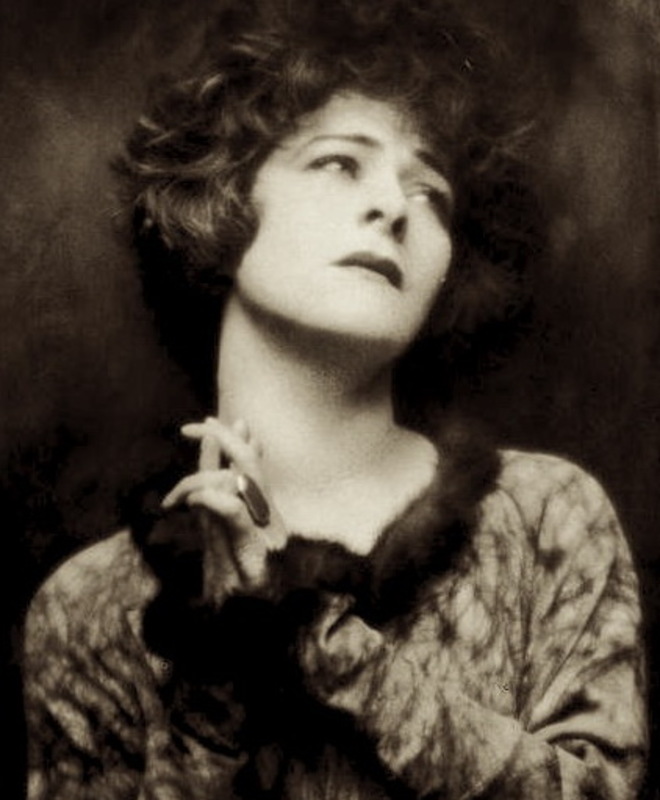 FILM CAREER;
Always ambitious and adventurous, by the nineteen-tens Nazimova was beginning to look at the new medium of film. Originally, in the 1890's, film was considered a novelty, a cheap entertainment for nickelodeons playing five minute gag reels and burlesque dances. By the mid 1900's film-makers had graduated to telling proper stories, including attempts at classical themes like DW Griffith's version of Tennyson's "Enoch Arden" and three films inspired by Edgar Allen Poe, then there were several Italian films based on classical themes including an epic 70 minute version of Dante's "Inferno" in 1911. A few proper classical actors had even made an attempt at films including Sarah Bernhardt, Eleanora Duse, James O'Neill, Mrs. Leslie Carter, and opera singer Mary Garden, usually with great fanfare and notable lack of success. Nazimova however had carefully studied their failures and decided the problem was that these established stage stars had not given enough thought as to how acting for the silent screen would differ from the stage. They had simply taken their established stage roles and did them using the same exaggerated gestures in front of stage sets and a static camera. Nazimova realized, as would other former stage actors like Mary Pickford and the Barrymores, that film was in fact a different medium entirely and would require a more intimate acting style. She developed a style that incorporate her dancer's grace, physicality and sensuality along with her expressive face for a melodramatic, emotional yet aloof persona.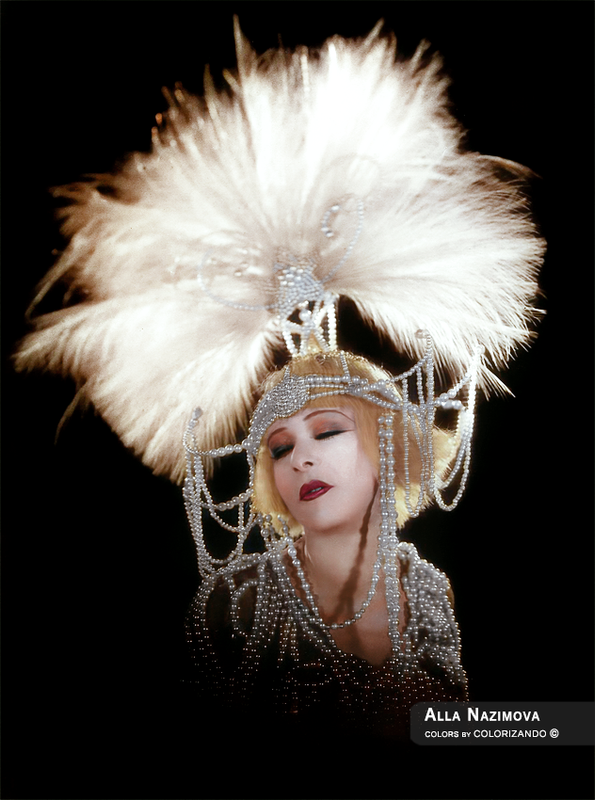 Nazimova had another advantage over the earlier generation of stage actors. By the time they had ventured onto the stage they were frankly too old to be seen as sex symbols. On the stage where the audience was far away age could be concealed easily and did not matter as much. But film was merciless in showing up sagging chins and wrinkles. Even though Nazimova was older than the usual screen ingenues she was at least a full decade younger than Bernhardt, Duse, Garden or Carter had been. Besides the trim and fit Nazimova looked like she was in her twenties anyway. She was looking forward to her close up. Finally; thanks to her vaudeville tours she had established a repore with the working and middle class audiences and was not seen as an imperious high class "proper" theater actor condescending to slum with the great unwashed.
EARLY FILMS;
ALLA ON "WAR BRIDES" SET WITH DIRECTOR HERBERT BRENNON (1916);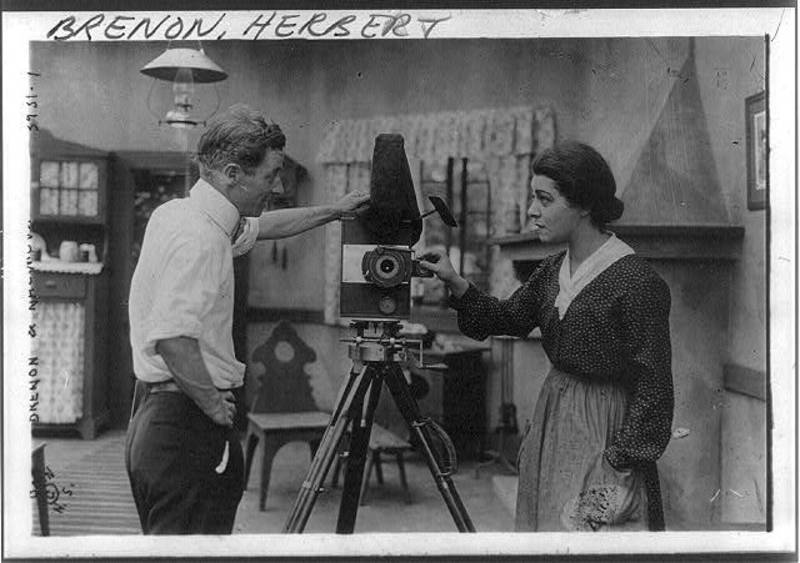 As World War One broke out in 1914 Nazimova began performing a short play called "War Brides" written by Marion Craig Wentworth. It was a thirty-five minute play which displayed her pacifist views. The short play was extended to to seventy minutes for a film version by writer and director Herbert Brennon, besides Nazimova the film would also star her husband Charles Bryant and a young actor named Richard Barthelmess who would later star in many films for DW Griffith. The story was based in a European country clearly meant to be Germany or Austria judging by the uniforms the soldiers wear. The plot involved a peasant woman whose husband and brothers are killed in war. She organizes an anti-war protest and is arrested by the king who decrees that all women should marry and produce sons for the army. She then kills herself in protest and following this the women of the kingdom take up her body and vow they will bear no more children until all war ends. The play created a sensation especially since the First World War had already broken out this was a topical and controversial theme and a daring choice for a first film. Film producer and fellow Jewish-Ukrainian immigrant Lewis Selznick decided to take a chance on the play and Nazimova and offered her a shocking $30,000 plus an additional $1,000 a day if the film went over schedule to lure her away from her busy stage schedule. she was also already well known enough, and presumptuous to insist on being billed simply as "Nazimova".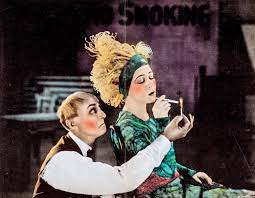 The resulting film, unfortunately now lost aside from a few stills, was a surprising hit especially since 1916 was an election year in which the war was the defining issue. However once America entered the war in 1917 it was quickly withdrawn from circulation as "unpatriotic", Selznick changed his mind and now stated that he "feared it might be misunderstood by unthinking people". More likely they feared it would be perfectly understood. Sadly no copies of this important film were saved.
PROMO POSTERS & ADS FOR "WAR BRIDES";
In spite of these controversies Metro Studios Louis B Mayer offered her an unheard of five year $13,000 a week contract which was $3,000 more than Mary Pickford, an already established star. Equally impressive for an actor with only one film to her credit Nazimova also got complete creative control, choice of scripts, directors and actors.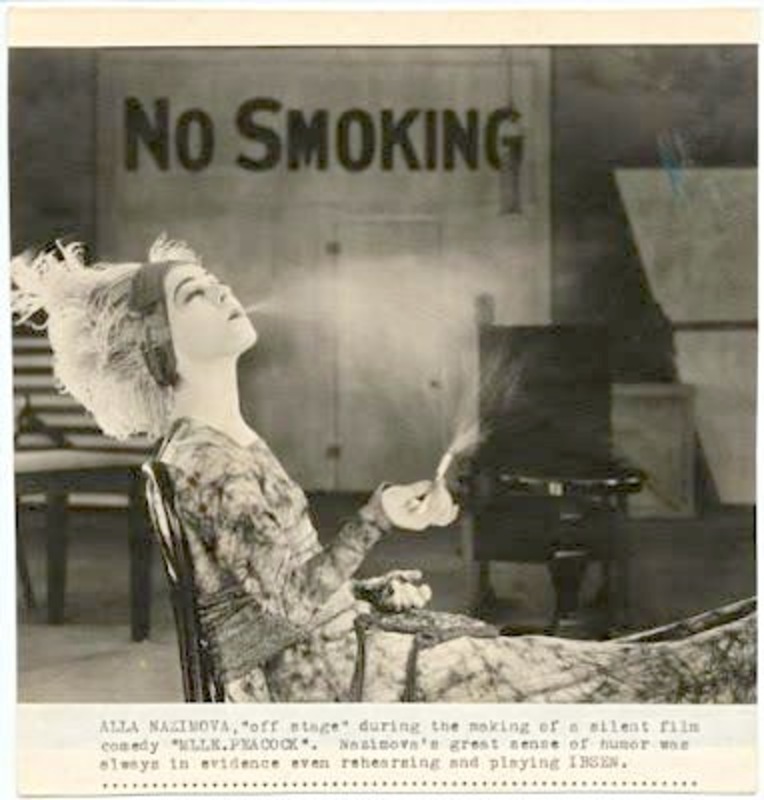 Her next film was was "Revelation" in 1915 again co-starring with her husband Charles Bryant, which would again have a war theme. She plays a cabaret dancer who becomes the mistress to a painter played by Bryant. Later after some religious imagery involving Nazimova and the Virgin Madonna (!) she becomes a Red Cross nurse and he joins the French army and gets wounded. They are reunited and marry at the end. A print of this film reportedly exists but is not currently available to the public.
PROMO PICS OF "REVELATION";
"Toys Of Fate" (1918) was an exotic romantic melodrama with a complex plot. Nazimova plays two roles; Hagar the wife of a Gypsy chief who she leaves to be mistress of a wealthy playboy and is then murdered. Nazimova also plays her daughter Azah who is also married off to the same playboy who is then murdered in turn. She is arrested and tried but acquitted and then marries her lover, played by Bryant. This film is now lost.
"Eye For Eye" (1918) was another exotic romantic melodrama. This time she plays a Arab princess who falls for a French officer and is banished to wander the desert and later becomes a dancing girl (of course). Written by June Mathis, who would work with Alla again. Another lost film.
PROMO POSTERS FOR "EYE FOR EYE";
"The Brat" (1919) was an ill-advised attempt at a comedy. In this Pygmalion-like story she plays a lowly chorus girl who is remade into a society girl by Bryant. This film was not a success and is now lost.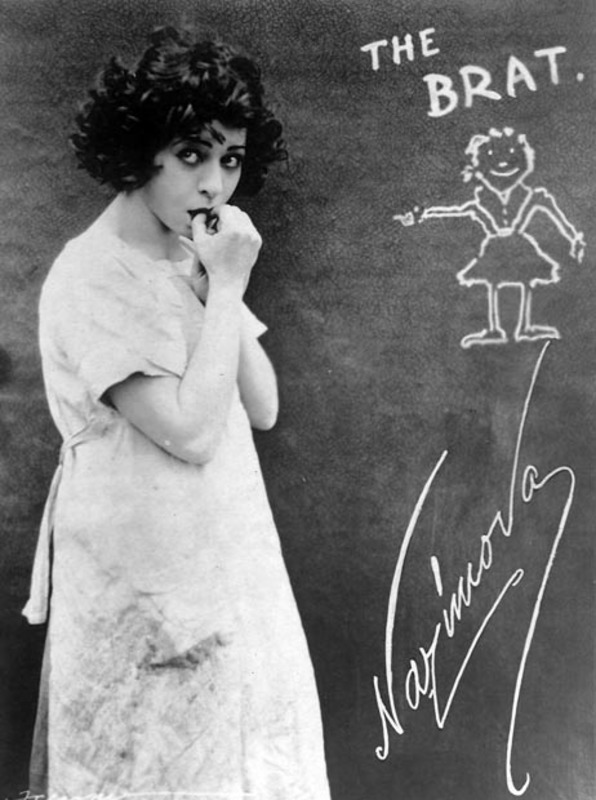 "Out Of The Fog" (1919) was a return to melodrama where she once again plays a dual role as a doomed mother and her daughter. This time however the action was not played out in some exotic locale but in a windswept lighthouse. Bryant again played her lover. This film is also lost.
PROMO PICS FOR "OUT OF THE FOG";
For "The Heart Of A Child" (1920) she again plays a dancer but this time she is a virginal waif who wins the heart of an English Lord played by Bryant who she marries. Plotwise this one sounds pretty dull but no doubt had some lively and elaborate theatre scenes. Unfortunately like most of her films this one is now lost.
"Stronger Than Death" (1920) has all the classic Nazimova ingredients; a dancing girl in an exotic locale (India), tragedy, romance, murder and a lover played by Bryant. Based on a novel with a screenplay credited to Bryant but probably actually written by Nazimova herself. And like most Nazimova's films it is now lost.
PROMO PICS FOR "STRONGER THAN DEATH";
"Red Lantern" is the one of her most important films. An epic costume drama set in China during the Boxer Rebellion with an anti-war and anti-racist message. Nazimova plays two roles; Mahlee, a half Chinese missionary who is cast out because of her mixed race, and her half-sister Blanche who at first does not know of Mahlee's existence. The film co-stars film heavy Noah Beery, her husband Charles Bryant, as well as the film debut of young Chinese-American actress Anna May Wong. At least two prints are known to exist and a DVD version is occasionally available in Europe.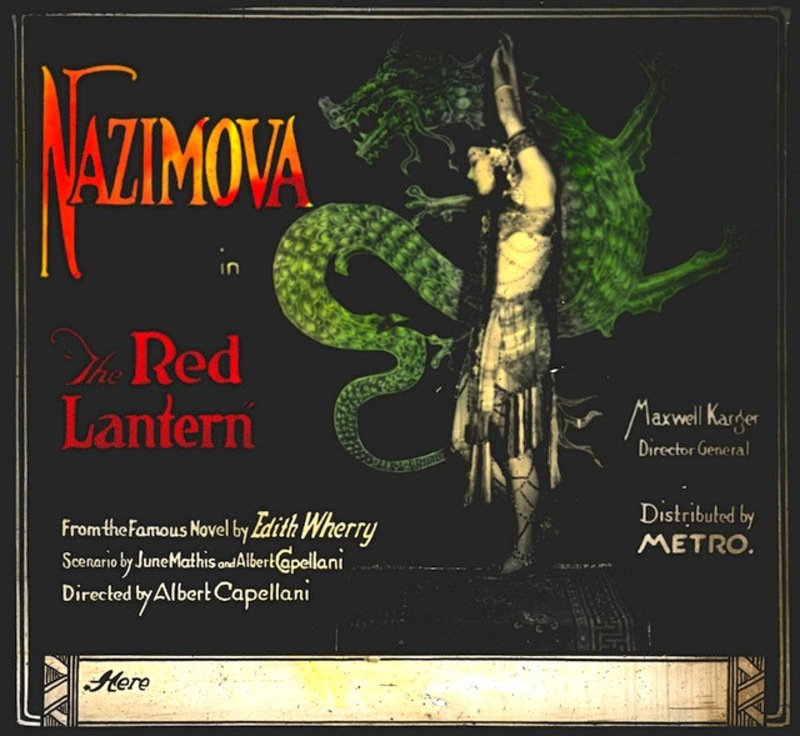 ===============================================================
"THE RED LANTERN" (1919)
Directed by Albert Capellani
Written by June Mathis and Albert Capellani from a novel by Edith Wherry
Cast;
Alla Namizova ~ Mahlee & Blanche Sackville
Noah Berry ~ Dr Sam Wong
Frank Currier ~ Sir Phillip Sackville
Darrell Foss ~ Andrew Templeton
Winter Hall ~ Rev Alex Templeton
Margaret McWade ~ Madame Ling
Virginia Ross ~ Luang-Ma
Mary Van Ness ~ Mrs Templeton
Edward Connelly ~ General Jung Lu
Harry Mann ~ Chung
Charles Bryant ~ US Soldier
Reginald Denny ~ US Soldier
Anna May Wong ~ Girl
==========================================
Plot (spoiler alert);
Mahlee (Alla) is a half Chinese Eurasian woman of unspecified age whose mother has died in child birth and her father is unknown by her as he had bought her mother from her grandmother, Madame Ling (McWade) who she now lives with in 1890's Peking. Before leaving her father, the wealthy Sir Phillip Sackville (Currier) left money for her upkeep with the proviso that her feet not be bound according to custom. He has never returned. Mahlee is an outcast from Chinese Being of mixed blood as well as for not following the ancient Chinese custom of having her feet bound. A soothsayer predicts that she will become a great lady before suffering misfortune. Mahlee brushes him aside. Her Grandmother Ling, elderly and ailing, awaits death. She is shamed by Mahlee's mixed blood and unbound feet.
Madame Ling is dying and reveals to Mahlee her mixed blood heritage and she begs Mahlee to adhere to custom and deform her feet. Mahlee first refuses but then later relents and agrees however Ling dies before she can as an owl outside the window hoots. A nearby Christian mission school is run by Dr Templeton (Hall), his wife (Ness) and young adult son Andrew (Foss). Andrew hers Mahlee cry out and busts in to find her passed out and he carries back to the mission. Sam Wang (Berry), another half-Chinese man is employed at the mission in an unexplained but important capacity, he is preparing to go on an extended trip to America. When Andrew shows up with the unconscious Mahlee Wang is smitten with her but Mahlee falls for Andrew leaving Wang resentful.
Three years later it is 1900 and Mahlee has converted to Christianity and works at the mission as a teacher. The Boxers, a violently anti-western group have staged an uprising in the north and are advancing on Peking having massacred many westerners and Chinese Christians. Andrew is at a mission up north and has lost contact with the mission in Peking and Mahlee is worried. Meanwhile Sam Wang has returned from America. He is still smitten with Mahlee but she again rebuffs him.He claims to be opposed to the Boxers. Andrew returns wounded explaining has only just managed to flee the boxers who are closing in on the city. Mahlee nurses him back to health (also reading to him from a book of Kipling's poems which includes the lines; "East is East and West is West and never the twain shall meet") while being spied on by the jealous Wang who confronts her and tells her that she will never be accepted by Andrew and his white society. Wang tells her of being snubbed while in America. Andrew starts to fall for Mahlee. Sir Phillip Sackville arrives from America with his daughter (and thus Mahlee's half sister) Blanche (also played by Alla) and are spotted by Chung, a spy who recognizes him and knows that he is Mahlee's father although Mahlee does not know this nor do she and Blanche know of each other. Andrew introduces them to Mahlee and Sir Phillip recognizes her although he does not say so. Wang suspects the truth. Andrew becomes attracted to Blanche forgetting about Mahlee who becomes jealous. Wang recruits her to join the Boxers. Rejected by Andrew and the Templetons Mahlee leaves the mission and joins Wang and the Boxers at their temple. Wang has come up with a plan to have Mahlee impersonate the Queen Of The Red Lantern and rouse the people to rise against the foreigners. Mahlee agrees to play the role and appears at a ritual in elaborate costume presided over by Wang where she blesses the Boxer cause. General Jung Lu, commander of the Imperial Chinese Army (Connelly) arrives to observe the ritual where he appears to support the Boxers
Mahlee returns home alone and begins to gave second thoughts. Wang arrives and tries to seduce her with threats. Mahlee tries to flees but is overcome. However she is rescued by Chung who takes her back to the Palace, knocking out Wang in the process. When he recovers Wang is summoned to meet General Jung at the Palace.Upon waking up Mahlee finds herself at the Palace as a prisoner of General Jung who demands she and Wang impersonate the Godess again in front of the Empress to convince her to join the Boxers. Mahlee is reluctant but agrees. Mahlee again plays the Godess and commands the Empress to attack the western missions. Meanwhile Andrew discovers her missing and becomes concerned.
The next morning the Boxers attack the mission district in Peking where the westerners have barricaded themselves in. The Soothsayer woman finds Mahlee at the Palace and tells her the Sir Phillip and Blanche are her father and sister. Mahlee runs to the mission to beg Sir Phillip to recognize her but he refuses. An angry Mahlee returns to the Boxers although Andrew tries dissuade her she pushes him away. Days later the Mission has not fallen and a relief column of western troops arrives to lift the siege defeating the Boxer army while Wang tries to rally them. General Jung blames the Red Lantern Goddess for the failure and she flees to Wang's mansion as the American troops rescue the mission. Wang and Chung shelter her but is shot by a sniper and dies. Before doing so he gives her a vial of poison. Mahlee orders Chung to take refuge at the mission with a message to Sir Phillip leaving her alone. he decides to take the poison while sitting on her throne. Chung delivers the note and collapses. The note is a suicide not in which she declares she wishes to go "Where there is no color, birth, nor creed". Sir Phillip, Andrew and Blanche rush to Wang's mansion but are too late. Mahlee is dying on her throne reciting the line from Kipling's poem; "East Is East". She dies as the owl outside hoots again. Finis.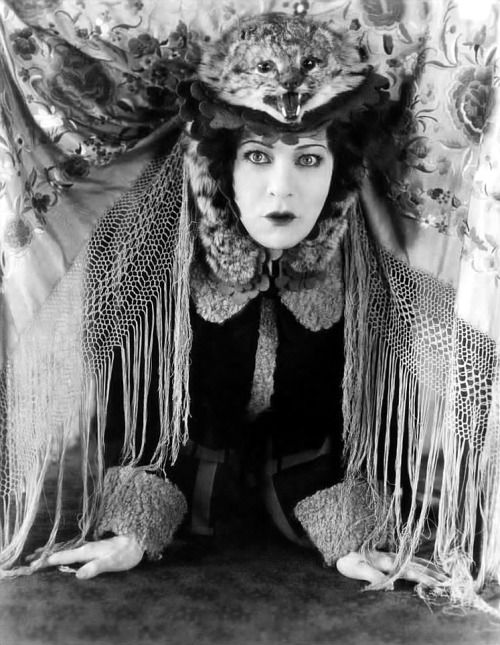 ===========================================================
This is an ambitious film, not only for it's elaborate sets, costumes and army of extras but also for it's theme condemning racism and the film is not subtle about this. It may be unique in films of the era (excluding those made by black filmmaker Oscar Michaux) in having none of the white characters be the heroes. Sir Phillip is selfish and cruel in abandoning Mahlee in the first place then rejecting her when she finds out the truth. He does repent at the end but by then it is too late. The Templetons take Mahlee in but also reject her when she falls for their son. Even her beloved Andrew also rejects her for her white half sister Blanche, although he also repents too late at the end. Blanche is the only white character who is blameless, she does not know they are sisters or that she is in effect stealing away Andrew although Blanche is given little screen time and is essentially a passive figure. Mahlee is repeatedly rejected by those in who she loves in white society. The same is true of Dr Wang who is a villain but is shown being snubbed while in America as the roots of his resentment. Even though Wang is malicious and sneaky he is in his own way loyal to Mahlee who he stands by at the end. Wang is also brave, trying to rally his troops and fighting to protect Mahlee unlike the devious General Jung who flees to the palace to blame the Boxer's failure on Mahlee and Wang. As for Mahlee, she is a tragic figure, rejected by both white and Chinese society as well as her family including her grandmother. Her jealousy, resentment and loneliness drives her to make a mistake in joining the boxers which leads to many deaths, including her own, but the audience can understand what drove her and for that matter even what drove Wang.
As so few of Alla's films survive we have to make many assumptions about her work based on film stills, lobby posters and film reviews but "Red Lantern" appears to contain all the themes associated with many of Alla's films; an exotic, tragic woman in an exotic locale wearing glamorous outfits tempting men but also being used or rejected by them and often meeting a bad end. This was a common fate for "Vamp" characters but Alla shows more depth and self-awareness than the likes of Theda Bara or Mae Murray and is thus a more sympathetic character. As we have seen besides being a better and more experienced actor than the other various Vamps, Alla was also smarter and having control of the movies she did and the characters she played. Since only three of her films are currently available and this is the earliest surviving one we can only make assumptions about what her acting style might have been like before this film but here she shows that while she does engage in some the typical stagey emoting of the era her skills went beyond that and was in fact quite naturalistic for it's time. Note her body language as Mahlee; at the beginning she is timid and hesitant, later as a teacher at the mission she is relaxed and happy, still later as the Boxer Goddess she attempts to be imperious but her unease is clear. In her dual role of Blanche she has little to do as she is in far fewer scenes and has little to do but her body language still has the virtuous confidence of the favoured white daughter and manages to look quite different from Mahlee.
One notable difference in Alla's film-work which we will see again is her generosity as an actor. She is willing to allow other actors room to dominate her in some scenes, notably Beery as Sam Wang and Margaret McWade as Madame Ling, if that strengthens the scene. Since one of Alla's trademarks was her love of elaborate costumes and in spite of the gorgeous stills and posters from this film is worth pointing out that for most of this film her costumes are actually fairly drab. As the outcast daughter she wears humble Chinese coolie pajamas. Later as the teacher she wears a chaste and formless dress with braided hair, neither is flattering. As Blanche she does get to wear a pretty but conventional Victorian dress and hats but only as the Boxer Priestess does she get to wear an ornate dress and headdress with pearls. This may have been by design to stress her humble origins and make her later transformation into the Boxer priestess more dramatic. Again her willingness to to allow herself to look fairly plain for much of the film is something a less secure and shrewd actress might not have approved of.
ALLA AS MAHLEE;
Veteran screen heavy Noah Beery as Sam Wang is a predictably strong presence here but while he is villainous, like the characters often played by Lon Chaney he is also a troubled and somewhat sympathetic character. He is clearly shown as a victim of white racism as well as being, like Mahlee, a lonely outcast from the white society he clearly wants to join as being rejected by Mahlee. Even as a Boxer leader Wang is not even fully accepted by the Chinese court who are clearly using him, something he is aware of as well. While the (presumably mostly white) audience does not want him to succeed in his plan to wipe out the whites or get his hands on Mahlee they can at least understand what drives him and he dies honorably enough protecting Mahlee.
Darrell Foss as Andrew Templeton is a bland presence with too little personality to be much of a romantic lead. As the character is introduced he is supposed to be a dashing figure in his pith hat and safari clothes but after that he becomes wounded and is the dull and mostly oblivious object of Mahlee's attentions. Although this is probably not by design in the scene where he first sees Mahlee and carries her to safety it is notable how awkwardly he does so, lugging her like a small carpet in a way Douglas Fairbanks or Rudolph Valentino would have found laughable. In fact there is another scene later on where Alla again has to be carried to safety by the two spies and it is marginally less awkward in that that character is not supposed to be a dashing leading man. Alla was not a large woman, standing about 5.3 with a fit body and as a former dancer she should have been used to being carried but Foss just seems too callow for the task. Foss had already appeared with Alla in "The Brat" and maybe he was better suited for light comedy.
Note that the casts also lists her husband Charles Bryant and future stars Reginald Denny and Anna May Wong in her film debut but it is unclear what roles they play. Presumably Bryant and Denny are among the American soldiers and Wong, who would have been only fourteen years old is reportedly an extra.
We must take note of a fact modern audiences would certainly notice, namely that none of the Chinese of half-Chinese characters are actually played by Chinese actors (although most of the extras seem to be) but instead by white actors in sometimes not very convincing makeup. The comparison with blackface is tempting but unfair in this case. Firstly unlike blackface none of the Chinese characters are played as degrading stereotypes to be held up to ridicule, Mahlee and Wang are fully realized characters. The other Chinese characters are less so but that is because they are supporting roles. None are cartoon characters or racial stereotypes. The lack of Chinese lead actors is not even necessarily the fault of the filmmakers. The fact is that there were probably few Asian actors with film experience to chose from in 1920. By that date films were being made in China, Japan and even Thailand, although not yet of credible feature film quality, but very few would have have made their way to the West and none would have been seen outside those Chinatowns large enough to have a movie theater. These Chinese enclaves would have had their own established Chinese theaters and opera houses but again few whites would have gone there and few Chinese performers would have had any interest in performing for white audiences anyway. The casting of white actors in the two lead roles of Mahlee and Sam Wang was always inevitable as there were no Asian actors with the film experience or name recognition to play the leads in a big budget film. However they probably could have found a couple Asians to fill out some of the supporting roles, it's doubtful anyone gave the matter much thought. Asian characters and themes were not common either in film or on stage and the use of white actors was considered standard practice and not viewed as being equivalent to black face minstrelsy which had been done since before the Civil War and had always been rife with racist tropes. During the vaudeville era "ethnic humour" targeting various groups was quite common; Jews, Italians, Irish, Scots, Mexicans, Chinese and Native Americans were openly mocked but none of that sort of "humour" is on display here.
ALLA AS THE RED QUEEN IN "RED LANTERN";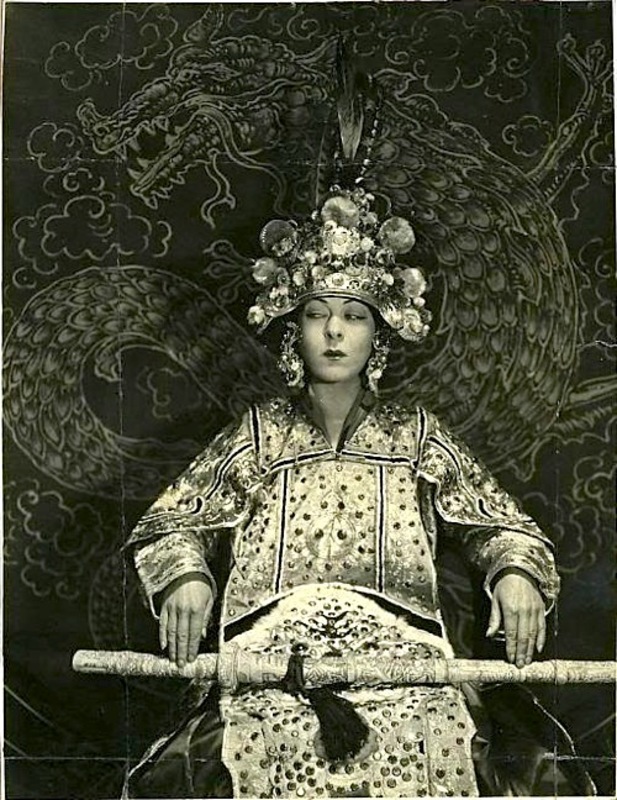 As a proper European sophisticate Alla was a devote of Art Nouveau design as can be seen in the promotional posters made even before this film and the Chinese subject matter was popular with the Art Nouveau movement who prized Asian art (along with Persian, Turkish and ancient Celtic) for it's languid lines, soft colours and sensual curves over the sober straight lines and symmetry of the Victorian west. Thus some artistic themes that would appear in her later explicitly Nouveau films can be seen here especially the giant round door of the palace bedroom and Alla's costume as the Boxer Goddess. It's worth admitting that while many of the elaborate costumes worn at the Imperial Court, including Alla's luxurious gown, are authentic enough to those actually worn at the Chinese court of that era (which was actually only twenty years before) Alla's later more skimpy costume is definitely not. The modesty of the Manchu court would never have allowed the Goddess to show off her bare legs and mid-drift and in fact at this point she looks nothing at all like a Manchu princess and instead has a striking similarity to the roles already made famous by Theda Bara as Cleopatra, Salome and Carmen and this is probably not a coincidence. This film is different from most of her films in that as a rule Alla seems to have preferred intimate stories rather than epics with large casts of extras and giant sets however the larger sets are quite detailed and well made although in the street scenes many of the extras seem to mill about aimlessly.
We should also note in passing that even though this film was made a mere twenty years after the Boxer Rebellion it is wildly inaccurate. Setting aside that there was no such thing as a "Boxer Goddess" the Boxers were a violently nationalistic paramilitary group and there is no way they would have accepted the leadership of two mixed blood Christians like Mahlee and Sam Wang. In fact they would probably killed them along with other westerners they got their hands on.
The director of this film; Albert Capellani was a Frenchman who had made his name making historical epics with versions of "The Hunchback Of Notre Dame" (1911, not the Lon Chaney version), "Marie Tudor" (1912) and "La Boheme" (1913). As well directing Alla in "Eye For An Eye" and "Out Of The Fog". Ironically he also did a version of "Camile", a film later made by Alla, in 1915 starring the scandalous Clara Kimbal Young. The screenwriter was June Mathis who would soon work with Alla again.
============================================================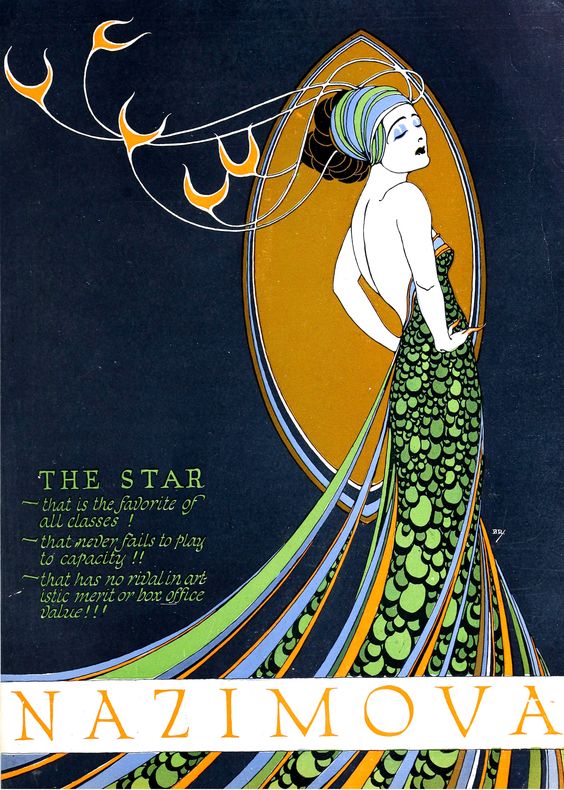 She was now known for big budget melodramas with Nazimova playing a tragic heroine or martyr and were noted for their lush sets and costumes and yet most still managed to make a profit. the 1919 popularity poll in "Photoplay" magazine she was ranked number four behind the likes of Chaplin, Fairbanks and Pickford. In fact when Fairbanks, Pickford and Chaplin, along with Griffith, set up their own United Artist Studios Nazimova went with them. UA would give her and other artists the creative control she craved. By 1920 however times were already changing. It was the start of the Jazz age and suddenly the character of the Euro-Vamp was suddenly seen as passe' and actresses like Theda Bara saw their careers go into decline to be replaced by the party girl flappers like Clara Bow, Corrine Griffith and Colleen Moore. However Nazimova's image was far more sophisticated than the average vamp and she was clearly smarter, and being on UA meant that she had more creative control for her next films which would be more ambitious and expensive while keeping to her image as an exotic tragic heroine. These would be the appropriately named "Madame Peacock" and "Billions".
PROMO POSTERS FOR "MADAME PEACOCK" & "TOYS OF FATE";
Both "Madame Peacock" and "Billions" would be written and produced by Nazimova herself and would feature her free-spending ways in the elaborate Art Deco sets and costumes. "Madame Peacock" was based on a short story and adapted by Nazimova herself in which she once again plays two roles as mother and daughter and she once again plays an actress. The mother character abandons her husband and daughter to pursue an acting career only to later have her then grownup daughter upstage her. Unlike many of her other melodramas this one had a Hollywood ending with the family being reunited and living happily ever after. By this point her films were becoming rather rote (except for the epic "Red Lantern") and this one was a failure. A single print of "Madame Peacock" is known to exist in Belgium but is not currently available aside from a short screen test clip which shows her usual sense of style.
ALLA SCREEN TEST FOR "MADAME PEACOCK";
"Billions" (1920) has another complicated plot with Nazimova playing a Russian princess who sponsors a struggling artist (played again by Bryant) until she loses her fortune in the Russian Revolution and they and up fleeing to America and living happily ever after. This film was another mediocre offering but it did start her collaboration Natacha Rambova who designed some impressionistic sets for a dream sequence. Unfortunately aside from a few stills this film has been lost.
PROMO PICS FOR "BILLIONS" & "HEART OF A CHILD";
Both these films were money losers, due partly to the lavish budgets. In the 1920 "Photoplay" poll she had dropped to number 20, still respectable but a clear slide. Nazimova had to take stock; changing her style and image was not really practical even if she had wanted to, her public image being too well defined. Besides she had witnessed attempts by the likes of Theda Bara and Mary Garden to modernize or soften their images only to be rejected by their audiences. Instead she would double down on her lush, exotic, melodramas. She planned an extravagant adaption of a version of a story based on the Greek goddess Aphrodite which was cancelled due to the studio censors concerns about it's sexual nature. Then she settled on Alexandre Dumas' novel "Camile" in 1921. This would involve a new star Rudolph Valentino and her greatest collaborator; Natacha Rambova.
NATACHA RAMBOVA;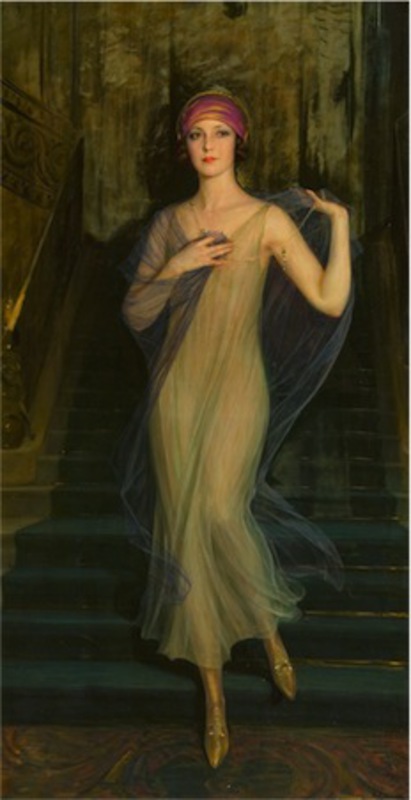 If Nazimova was a genuine classically trained European sophisticate Natacha Rambova was a carefully constructed persona. Her real name was the decidedly non-exotic Winifred Shaughnessy and she was born in the even less exotic Salt Lake City, Utah in 1897. Salt Lake City may have been a provincial frontier town but it was prosperous, and her parents were among the wealthiest and socially prominent and progressive in town. Her mother, Winifred Kimbal, was an interior decorator in a time when most women did not have careers and the daughter of a Mormon elder who would marry four times. Winifred's father Micheal was a wealthy mine owner who developed into a drunk and was divorced while young Winifred was a girl. The next two husbands were a prominent designer with the fourth being Richard Hudnut, a millionaire perfume manufacturer who would adopt young Winifred. Winifred got a good education and took a keen interest in art, literature, theatre and dance. She responded to the dislocation of her home life and the conservative atmosphere of Salt Lake City by becoming a rebellious and headstrong teen. Sent off to a private school she she was expelled for "conduct unbecoming" and was sent away even further to a boading school in London. There she would study ballet, learn French and then move to France to formally study ballet at the Paris Opera. As she set out on a career as a ballet dancer she broke off ties with her now disapproving family and changed her name to the far more exotic sounding Natcha Rambova, a name more fitting to a prima ballerina. She would sometimes also be billed as Natasha.
By this time the seventeen year old Natacha was tall (5ft 8in), slim, poised and gorgeous with perfect skin, luxurious dark hair and a noble face, the very image of Edwardian beauty. Unlike many other sex symbols of the age who look rather plain to today's eyes, she still looks striking in her photos. She started a scandalous affair with Theadore Kosloff (1882 - 1956) a leading Russian dancer and designer who was 32 years old, married with two children, with whom she toured Europe before World War One. As war loomed they came to America where Kosloff was given a contract by film maker Cecil B DeMille which besides acting and acting as choreographer included proposed set designs which he worked on with Natacha. It turned out that she was the more talented designer of the two. Natacha had developed a style heavily influenced by the Art Nouveau works of Aubrey Beardsley, Gustav Klimt, Alphonse Muchca, Arthur Rackham and William Morris along with the more modern Art Deco and Expressionist designs and an interest in ancient Egypt which she carried over to her elaborate set and costume designs.
NATACHA;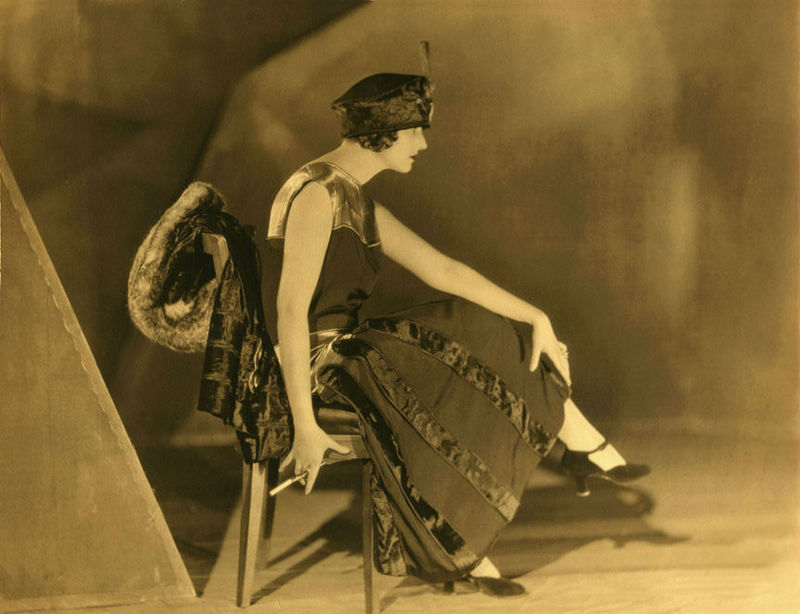 Unfortunately Kosloff turned out to be somewhat less than a gentleman. That Natacha had to tolerate his serial womanizing and temper tantrums which sometimes led to beatings was bad enough but she was furious when he took sole credit for set and costume designs for DeMille films like "Why Change Your Wife" (1920) which starred Kosloff opposite Gloria Swanson, on which Natacha had done the bulk of the work. Not surprisingly for the times, DeMille took Kosloff's side leaving Natacha little recourse until Kosloff agreed to design sets for Nazimova's proposed "Aphrodite" film project. At the time Nazimova had no idea that Natacha was the creative brains of the team but when she found out she immediately hired her as production and costume designer and fired Kosloff. Naturally this brought an end to the relationship between Natacha and the controlling Kosloff who reacted by beating her and then shooting her in the leg as she fled. Her wounds were not serious and she did not call the police. This also ended her career as a dancer. She had always been considered too tall to be a prima ballerina anyway and without Kosloff's patronage leading parts were not going to be coming her way. From this point she would devote herself soley to designing for films and stage along with fashion and jewelry augmented with some occasional modeling.
THEODORE KOSLOF;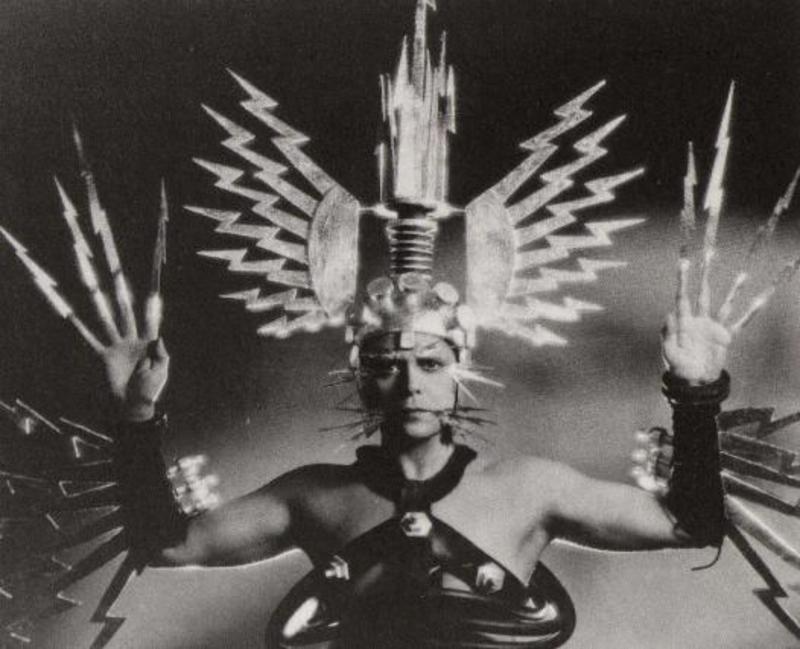 As might be expected Nazimova and Natacha hit it off right away. They had similar interests, tastes and personalities; Nazimova could almost serve as a role model for Natacha and Nazimova no doubt saw a younger version of herself in the beautiful and intelligent American. It has always been assumed, if never proved, that they had an affair. It would certainly be in character for both, Nazimova openly carried on affairs with many women and Natacha while more private and usually linked to men would be rumoured as being romantically linked later in life with former ballet dancer and art curator Stella Kramrisch.
NATACHA;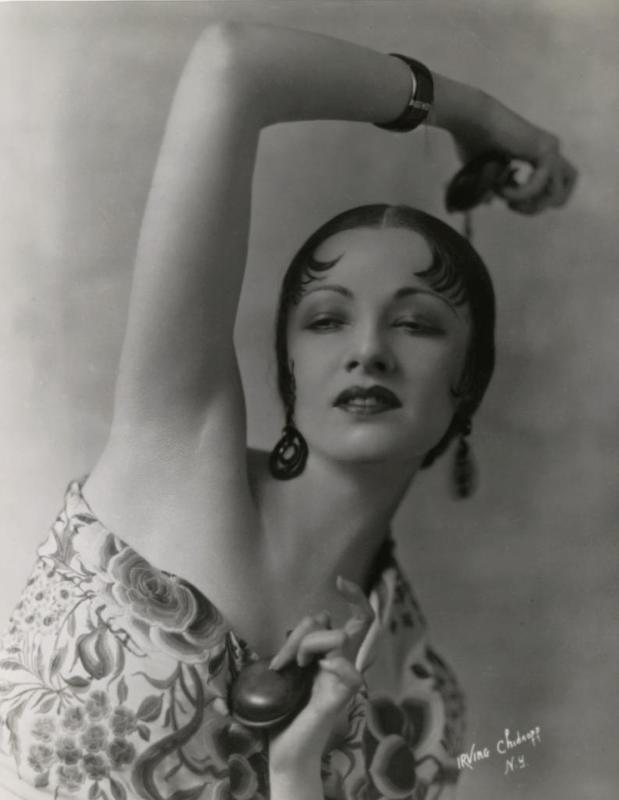 After the "Aphrodite" project was shelved the first film they collaborated on was "Billions" in 1920. This film is not currently available but productions stills show lush Art Nouveau designs typical of Natacha's work thus far. The next film would be an adaptaion of Alexandre Dumas' novel "Camille", a work that had been debuted as a play in 1852 in Paris and had been shown on Broadway the next year. The role had previously been played on film by none other than Sarah Bernhardt and Theda Bara. Nazimova would play the title role of a courtesan dying of consumption who is courted by a younger wealthy law student Armand. Set in a world of European wealth and decadence taking place in luxury hotels, casinos and apartments the sets would be their most extravagant yet showing the Art Nouveau and Art Deco influences Nazimova and Rambova shared in the elaborate and expensive sets and costumes. For the role of Armand Nazimova wanted someone more clearly European and sultry looking and younger than Charles Bryant and sent for a young actor who had recently come into much attention; Rudolph Valentino.
RUDOLPH VALENTINO;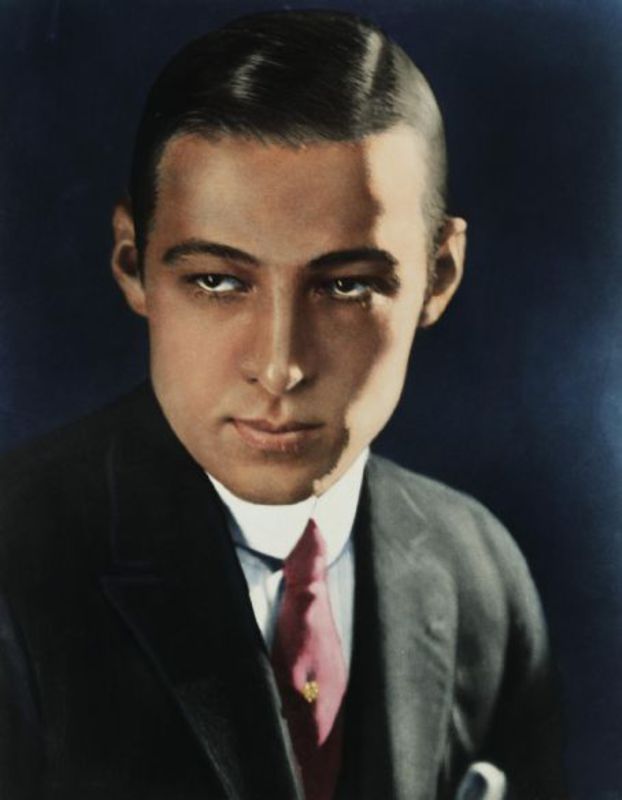 Valentino arrived in America in 1913 with no money, little education and speaking no English. He worked as a gardener and barber before making his way to Hollywood as part of a Latin dance troop that broke up leaving him stranded and sleeping on a park bench. By 1920 he had been scraping out a living appearing in small film roles and as a tango dancer for about four years. Popular leading man Milton Sills and respected stage and film actress Geraldine Farrar saw potential in him and encouraged someone to take a chance on him. Finally in 1921 screenwriter June Mathis cast him as the lead in a costume melodrama set in Argentina few had high hopes for called "The Four Horsemen", it was a shocking success and made him a star overnight as the archetypal latin lover. Mathis probably recomended him to Nazimova as Mathis was working on the screen adaptation for "Camile". Nazimova was at first resistant to cast him in the role of Armand the young student suitor and she was not in fact impressed with him, finding him crude, uncultured and ill-educated. She had to admit though that he had smoldering screen presence and was a great dancer. Rambova was similarly unimpressed with Valentino at first but began to take pity on him when she decided his unprofessionalism (lateness, not remembering his marks) and lack of polish was due not to rudeness but insecurity, loneliness and lack of experience. It helped that for all his screen presence as a dominant lover he was actually pliable and easliy led, especially for strong willed, intelligent and glamorous women like Rambova and Nazimova. He also came cheap in spite of his new found fame due to his terrible head for business and the bad contracts he had signed. Nazimova and Rambova would soon essentially took over his career and in fact his life in general, exploiting his Latin Lover image by dressing him in the latest European Art Deco fashions and tutoring him in poetry. Nazimova even played matchmaker deciding he needed an appropriately glamorous lover and thus setting him up with Jean Acker, one of her own "sewing circle" harem. Acker was a minor actress known as a beautiful if rather chilly flapper and Nazimova was no doubt looking to advance both their careers. Accordingly they were quickly married with Nazimova's encouragement. As it turned out she was a poor matchmaker. However much of the melodrama which would ensue would not become public until after the film was done.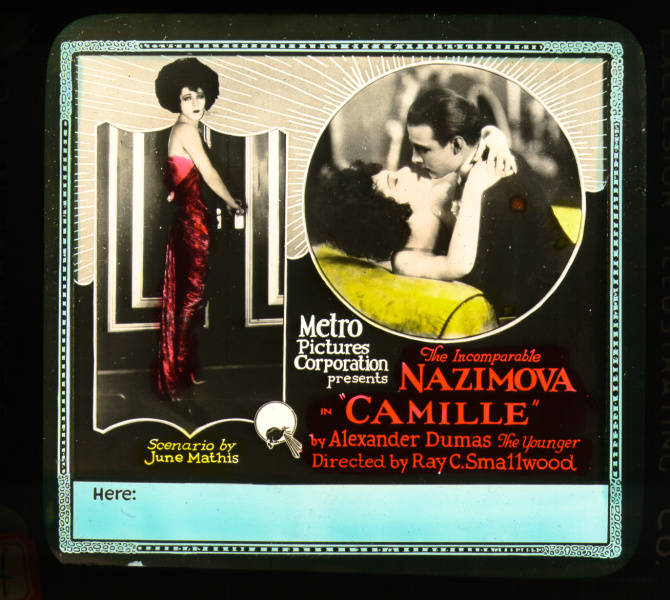 CAMILLE (1921);
Cast;
Alla Nazimova ~ Marguerite Gautier (AKA Camille)
Rudolph Valentino ~ Armand Duval
Rex Cherryman ~ Gaston Rieux
Arthur Hoyt ~ Count De Varville
Zeffie Tilbury ~ Prudence
Patsy Ruth Miller ~ Nichette
Elinor Oliver ~ Nanine, Marguerite's Maid
William Orlamond ~ Monsieur Duval
Consuelo Flowerton ~ Olympe
Directed By Ray Smallwood, Script By June Mathis adapted from Alexandre Dumas
Plot Synopsis (spoiler alert);
Nazimova plays Margarite Gautier, a courtesan living in Paris. She is constantly surrounded by wealthy (and mostly older) suitors who she entertains at expensive restaurants and her lavish apartment all of which are decorated in lush Art Nouveau/Art Deco styles. She is also hiding a secret, that she is terminally ill with consumption (AKA tuberculosis).
Armand (played by Valentino) is a young law student who sees her at a dinner while out with his friend Gaston (Rex Cherryman) and is smitten. Gaston is already acquainted with Margarite and he introduces her to Armand. At first she mocks Armand as crude and naive but she invites both students back a party at her lavish apartment along with another friend, Prudence (Zeffie Tilbury), an older woman who hangs around Margarite. There Margarite flirts with both students along with other suiters. Nichette (Patsy Ruth Miller) arrives, she is a young intimate friend of Margarite's from before her courtesan days. Gaston sees Nichette and is immediately smitten. Margarite at first scolds him for being too forward but then encourages the relationship after he is more respectful. Later Margarite retreats from to her room with a coughing attack. While the other guests callously mock her or continue with their increasingly wild party Armand alone is concerned and looks in on her. She reveals her illness as well as the origin of her nickname Camile which comes from a delicate flower called the carmella which dies if damaged. He tells her she needs to stop the party life before it kills her. She tells him that he should forget her but he begs her to let him stay.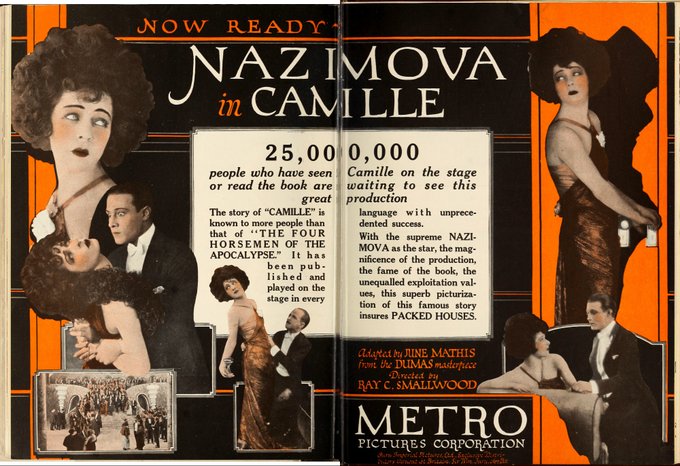 Later Margarite and Armand move to the country where he takes care of her and convinces her to leave her former life behind. They are shown having a picnic near a church where he reads to her from a book about an eighteenth century romance wherein a French nobleman gives up his title to elope with a disgraced courtesan. This is shown in a dream sequence in which Nazimova and Valentino play the couple. Margarite sees this as an omen that she will ruin his life. She does not tell him of this. Later she is visited by Armand's father who convinces her to break off the relationship so as to save the family name. She agrees and runs off to Paris in the dead of night through a rainstorm with a wealthy client, the older and arrogant Count de Varville, leaving Armand a perfunctory note. She does not reveal his father's role in her desertion or her illness.
Armand is stung by her rejection and sinks into the revels of the Paris nightlife, taking up with a slatternly young courtesan named Olympe (Consuelo Flowerton). When Armand sees Margarite at a casino he creates a scene and publicly insults and snubs her. He then storms out abandoning Olympe who immediately takes up with Count de Varville who abandons Margarite. Humiliated Margarite retreats from the nightlife scene and gives up her life as a courtesan. Her illness also becomes worse and she takes to her bed. Her fortune is depleted and she has her furniture and jewels repossessed all except for the romance book that had been a gift from Armand. Only her maid remains loyal. Realizing she is dying she sends a note to Armand willing him the book and proclaiming her love. Armand's father, feeling guilty gives him the note. Gaston and Nichette arrive at Margarite's apartment, they are now married. She is happy to see them but soon dies clutching Armand's book before Armand has a chance to return to her. Finis.
~~~~~~~~~~~~~~~~~~~~~~~~~~~~~~~~~~~~~~~~~~~~~~~~~~~~~~~
ALLA & RUDY;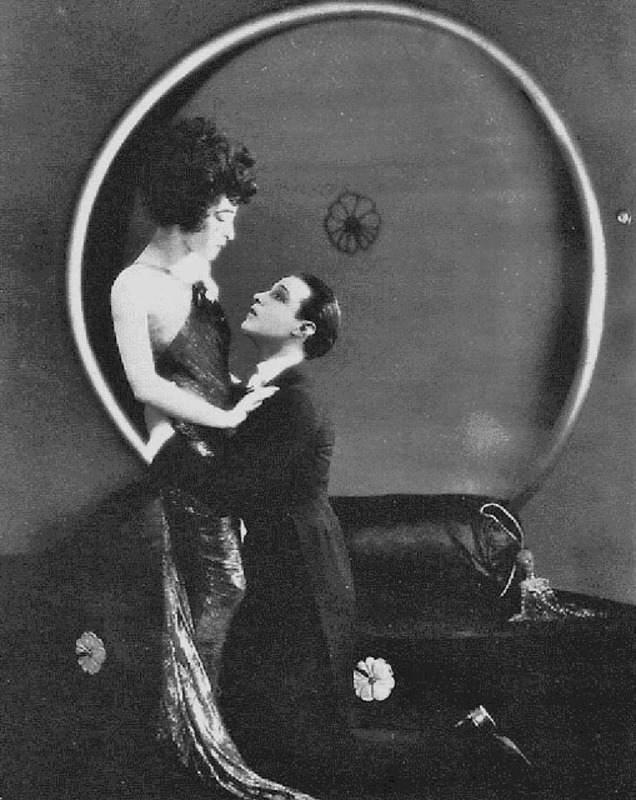 Plotwise this is a straightforward romantic melodrama with a story that is not too convoluted and a main cast that is not too big to keep track of. The acting by most of the cast is fairly natural with the notable exception of the scene at the casino where Armand confronts Margarite. Here Nazimova, Valentino and Consuelo Flowerton (as Olympe) engage in the kind of over-acting that seems phony to modern audiences. Otherwise Nazimova manages to stay just on the right side of emoting. She acts with her expressive face and fluttery arm movements to convey her vulnerability even in the early party scenes. Later as her character becomes weaker and more depressed her body becomes heavier, with slumped shoulders instead of the earlier over-eager gyrations. Valentino has obvious stage presence, although in his other films he would engage in some over-acting with flamboyant gestures, obvious posing and much eye rolling and leering, here he is more understated. He is actually far more believable as a sensitive and vulnerable youth than as a swaggering rake. The other actors are solid as well; the otherwise obscure Rex Cherryman (who had appeared in "Madame Peacock") is fine here as Gaston, smug and jaded in the beginning and ernest after meeting Nichette. Patsy Ruth Miller was a pretty young actress who was actually discovered by Nazimova herself. Patsy was a seventeen year old aspiring actress and writer from St Louis who attended one of Nazimova's Garden of Alla parties. Patsy is cute and perky as Nichette. Note that while Margarite and Nichette were supposed to be old friends Nazimova was actually almost twice Patsy's age. This is not obvious on film however. What is obvious was the lesbian subtext in their relationship, especially given Nazimova's known unconventional private life. Rumors about Nazimova and Miller surfaced but were not known by the public at large however and a possible scandal was averted. William Orlamond as Armand's father conveys the right mixture of stern disapproval and compassion in a role that could have been a stock villain. The exception is Consuelo Flowerton as Olympe who is slutty and overbearing in her one scene, but that may have been the intent. Still, she looks more like a Chicago gambler's moll than a Paris courtesan.
PATSY RUTH MILLER;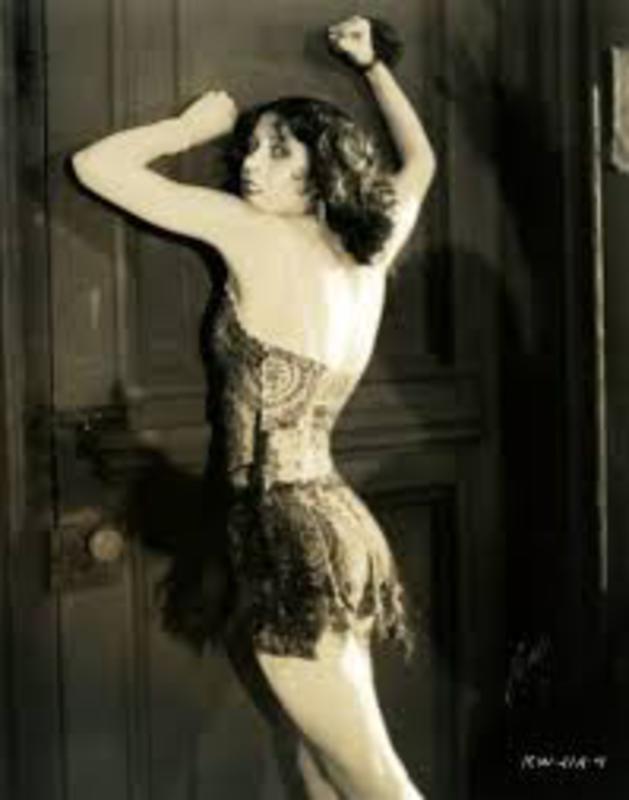 The director is listed as Ray Smallwood, who like all of Nazimova's directors, except Albert Capellani, was a journeyman of little note. The likelihood is that Nazimova largely acted as director herself, using the "directors" more as cameramen to get the shots and editing right rather than handling the actors. The camerawork here is merely competent rather consisting of either long shots to show off Natatcha's sets or close-ups to show off the attractive cast. The lone exception is the excellent sequence where Camile's car returns to Paris in the dead of night with the rain coming down in blowing sheets. There is no indication that Nazimova or Smallwood were paying any heed to the exiting ideas coming from the new wave of European directors with their kinetic moving cameras and odd angles. This is unfortunate since Nazimova would have been a natural for German Expressionism.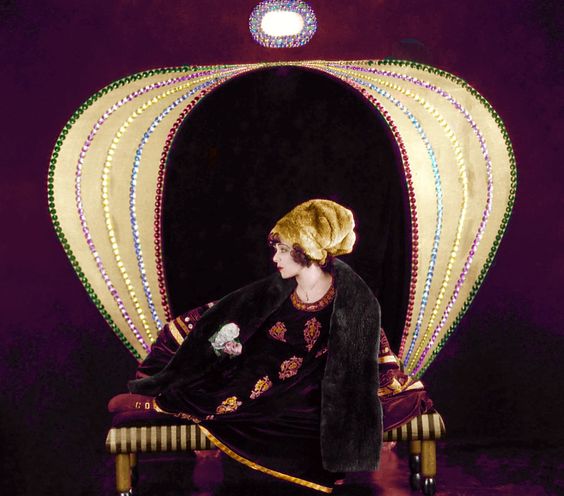 The art direction by Natasha Rambova is what really elevates the movie above the run-of-the-mill Hollywood melodrama. Noteworthy are the sets for three scenes; the luxury restaurant in the opening scene with it's spawling staircase, Margarite's apartment with it's large dome shaped glass bedroom doors and the elaborate casino. Natacha's style is usually described as Art Deco, mostly since Deco was the main decorative style of the nineteen twenties, and there are definite Deco influences to be seen here; the rooms are huge and airy and the walls are clean and unadorned by any Edwardian wall-paper or decorations. However the main influence for both Natacha and Nazimova was the Art Nouveau world of Aubrey Beardsley and Alphonse Muchca as can be seen in the overall designs with their languid flowing lines and atmosphere of sensuality and decadence as opposed to the more futuristic industrial feel of Deco. The luxurious staircase in the opening scene which seems to be made of equal parts enamel, bakelite, tinfoil and marzipan, is an obvious tribute to the works of architect Antonio Gaudi and sets the tone for the rest of the film. Next Margarite's apartment with it's huge dome shaped glass bedroom wall and doors and the circular window outside, where it is always either raining or snowing. Her entrance actually has a working indoor fountain. The only wall art in the apartment is the large cameo over the doors which looks distinctly like a Mucha piece. There is a similar clock in the bedroom. There are some posed shots of Nazimova and Valentino which are clearly meant to invoke Beardsley. The masterpiece of design however is the casino. The room itself is another sweeping Guadi design with three dome shaped entrances. The drapes over the two side doors have floral designs which show a William Morris influence while the center door has frosted glass doors covered with a spiderweb motif behind which dancing girls slowly frolic in silhouette again invoking Beardsley. The dancing girls wear dresses inspired by Josephine Baker as do the barmaids, these are definitely more Deco influenced than the rest of the room. It's worth noting that the vulgar Olympe character is also more clearly dressed in 1920's style instead of the oddly flowing robes favoured by Nazimova. Her own look is too idiosyncratic to be tied to a particular style unlike Olympe, the crass and modern gold-digger who pushes her aside. As for Nazimova herself; with her untamed hair, full lips, raccoon eyes and splayed footed ballerina walk she resembles more one of Egon Schiele's models than a sleekly lacquered 1920's flapper like Gloria Swanson.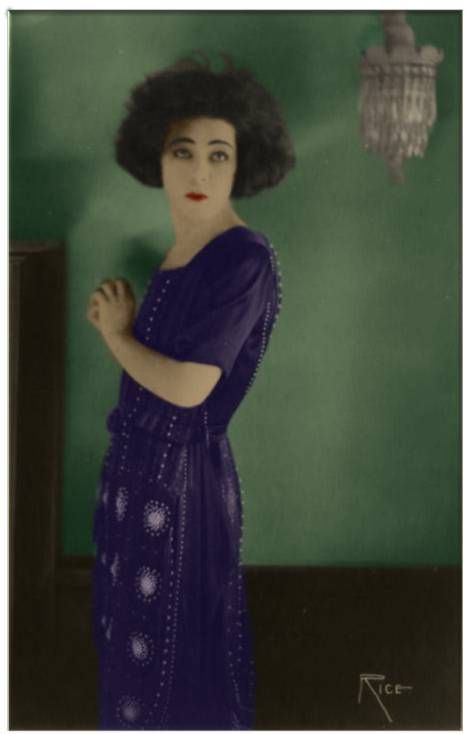 It's also worth noticing the scenes when the film departs from it's atmosphere of Nouveau decadance. When Margarite moves with Armand to the country her clothes are distincly more modest (at least for her) and her house, while comfortable and airy is respectable. Note that while the Nichette character is Camile's closest friend she dresses in a much more low key girl-next-door style to contrast with Camile's courtesan. The outdoor picnic scene with it's church and simple country people in their Sunday best almost looks like it belongs in another movie. Probably one by DW Griffith. The contrast is no doubt intended. In it's treatment of sensuality and decadence the Nazimova's film shares a sensibility with other transplanted Europeans like Eric Von Stroheim ("Greed", "Foolish Wives'), Ernst Lubitsch ("Three Women" "Rosita") and Paul Leni ("The Man Who Laughs") than with Americans like Griffith and Cecil B DeMille. The Europeans did not feel the need to distance themselves with moralizing or satire. True Camile does die, but her death is due to consumption, not to any fault of her lifestyle. That she dies without her lover is due to the hypocritical moralizing and immaturity of others. Her Camile is actually loyal and caring in her way. The only real villains of the film are Count Varville and Olympe and the nameless creditors who leave Camile in poverty on her deathbed, and there is no comeuppance for them. Maragrite is not shown as a figure of ridicule. For good comparison it would be useful to examine an American film of the same era done by the most successful American director of "decadence"; Cecil B Demille's "Why Change Your Wife", especially since this is a film that Natacha Rambova also did art direction for.
"WHY CHANGE YOUR WIFE" (1920);
Cast;
Gloria Swanson ~ Beth Gordon
Thomas Meighan ~ Robert Gordon
Bebe Daniels ~ Sally Clark
Theodore Kosloff ~ Radinioff The Violinist
Sylvia Ashton ~ Aunt Kate
Directed by Cecil B DeMille (with art direction by Natacha Rambova and Theodore Kosloff)
Plot Synopsis (spoiler alert);
Beth and Thomas Gordon are a young and bored couple who have been married for some years. Thomas is a happy-go-lucky sort who likes to dance to jazz records, play with his dog and lounge about in his private bar/wine cellar. Beth is a nag who is constantly trying to get him to quit drinking, keep the dog outside, read books and listen to classical music. She is well-intentioned but humorless, she also dresses plainly. He tries to get her to loosen up by buying her an expensive cocktail dress and tickets to a show. She does not like the dress and refuses to go. They fight and he goes without her taking Sally, a sales clerk from the dress store who he knows slightly. Sally takes him back to her apartment and tries to seduce him. He is tempted but returns home late. Beth smells Sally's perfume and is suspicious. They fight again and she kicks him out, later filing for divorce. Thomas takes up with Sally who he later marries.
Beth's Aunt Kate tries to cheer Beth up by taking her on a shopping spree to but new less dowdy clothes. At the dress store Beth overhears the dress shop girls gossiping about her broken marriage and mocking her frumpy dress. Beth is furious and decides to "play the game" by buying a new flashy wardrobe. Beth holds a recital for Radinioff, a pretentious classical violinist. He is so boring that most of the guests start to nod off. Aunt Kate convinces Beth to take a vacation at a luxury spa. Meanwhile Thomas has discovered that Sally is an even bigger nag than Beth, he begins to regret his choices. Sally also convinces Thomas to take her to the spa.
Beth is at the spa, no longer dowdy she is dressed in the height of flapper poolside fashion. All the eligible bachelors crowd around her including wealthy playboys, military and naval officers and even a pilot, all in full uniform. Beth is flattered by the attention but waves them off. She is there with Radinioff. Thomas and Sally arrive, he sees Beth and is surprised by her new look. They talk amiably. Sally sees Beth and is suspicious. Thomas is jealous of Radinioff who flirts with Sally who is flattered. Thomas and Sally argue. There is a party that night but Sally refuses to go, she nags Thomas to stay in as well which he does. From his window he spots Beth and they wave. Beth dances with Radinioff but finds him boring. She decides to leave the spa and return home. Thomas is unhappy and decides to leave as well, telling Sally that he has to return to work. Thoams and Beth end up sitting together on the train. They reconcile.
Upon the train's returning to town and while walking with Beth, Thomas slips on a banana peel and is knocked unconscious. Beth takes him to her home and puts him to bed. A doctor advises that he not be moved for any reason. Beth phones Sally to inform her of the accident and of Thomas' whereabouts. A jealous Sally returns home with a private ambulance insisting on taking the unconscious Thomas home to keep him away from Beth. Beth tells Sally of the doctors' warning and refuses to allow Thomas to be moved. A fight breaks out between Beth and Sally. Sally throws a lamp which breaks a mirror. Beth grabs a perfume bottle and pretends it's acid, she threatens to throw it in Sally's face. Sally backs down and Beth allows her to stay. Thomas awakes and Beth and Sally fight again. Sally grabs the perfume bottle and throws it in Beth's face, it turns out not to be perfume. Beth laughs while Thomas is shocked at Sally's behavior. Sally announces she only married him for his money and storms out vowing she will get a divorce with an expensive alimony. Thomas and Sally divorce, Thomas and Beth remarry. Sally takes up with Radinioff even though she finds him dull. Thomas and Beth remarry, they will live happily ever after now that both have indulged their wild side. Finis.
~~~~~~~~~~~~~~~~~~~~~~~~~~~~~~~~~~~~~~~~~~~~~~~~~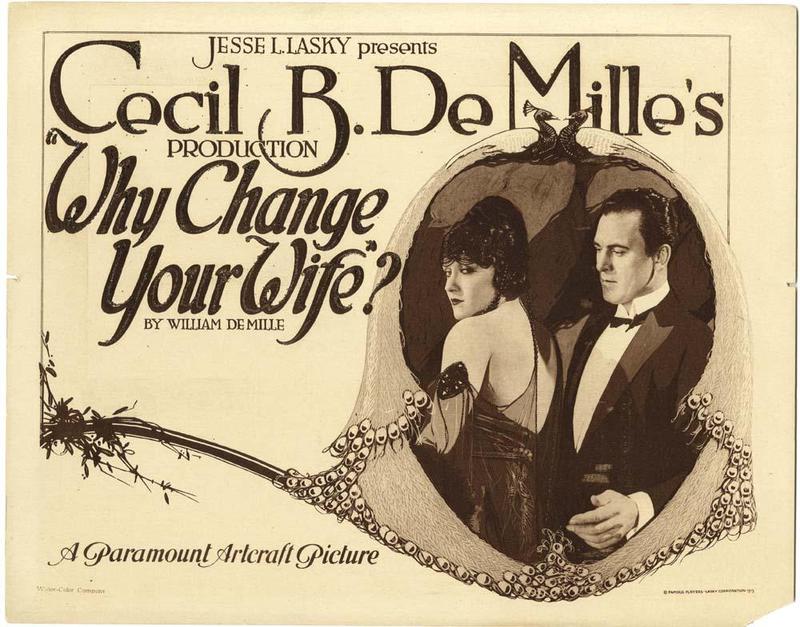 By the time of this movie Cecil B DeMille was already America's biggest film director having surpassed DW Griffith. DeMille's trademark themes were all in evidence here; an upper middle-class couple who flirt with decadence only to return home in the end, hints of sex without actually showing any, lots of lush sets focusing on bed and bathrooms, lots of shots of people in various states of undress and elaborate fashions for women. Gloria Swanson was DeMille's biggest star. She had actually been around for years starting as one of Mack Sennett's nameless bathing beauties where she was a tomboyish foil for the likes of Fatty Arbuckle. With DeMille she changed into working-class, Middle-America's idea of a sophisticate, taking lessons on poise and dressing in even more exaggerated versions of the most outre Art Deco fashions. Genuine Bohemians considered her a joke and Europeans found her cold and tacky but she became wildly popular with working class American women in a way that genuine Europeans like Nazimova, Pola Negri and Asta Neilson ever could because they identified with her. DeMille understood this and movies like this show this relationship explicitly. She starts the film as plain looking stick-in-the-mud with dowdy dresses, glasses and her hair up. Later she is transformed into the life of the party with the most expensive and elaborate clothes, her poolside outfit is especially over-the-top. By contrast Nazimova always stands out, she is never transformed, always an aesthete. At least in her surviving films and what we can gleam from accounts and stills from the rest. Nazimova was a figure to be admired from afar. In the early years of film audiences were happy with this, however by the twenties they had become used to personally identifying with screen figures and DeMille understood this better than anyone. Middle and Working class audiences wanted to live vicariously through the screen rather than admire it. Accordingly DeMille's protagonists are usually from the upper middle class rather than wealthy or pathetically poor. Typically in this film we never get a hint of what Thomas' job might be but he clearly has one, unlike Nazimova's idle rich loafers, and yet he has enough money to spend on decorating his home, buying fashionable clothes and taking nights out on the town. All aspirations shared by most working Americans in the Jazz Age without seeming completely out of reach. Similarly DeMille's married couples who flirt with the wild side before returning their mates was a recurring theme. DeMille understood the "seven year itch" of married life and encouraged audiences to live out their fantasies of one last fling in ways that would wrap up safely. Europeans like Nazimova and Von Stroheim by contrast offered pure decadent escapism with morally ambiguous endings. Similarly DeMille distances himself from any real decadence by using labored attempts at humour (mostly in the rather snide subtitles) and the transparent silliness of some the situations. Notice the scene where the newly glamorous Beth arrives at the pool side in her laughably impractical get-up. Immediately she is surrounded by a flock of admiring males who literally fall over each other for her favours. One is even a pilot still dressed in flight gear. Note also the ridiculous Grecian poolside dress of Radinioff. Even 1920 audiences probably found DeMille's plot contrivances also too silly to take seriously. To have both Beth and Thomas leave coincidentally on the same train is one thing but to have them seated next to each other without noticing is a stretch, even for Hollywood. As for having Thomas slip on a banana peel so Beth can take care of him? That's straight out of Mack Sennet rather than Ibson, Checkov or Dumas. No doubt Nazimova and Rambova rolled their eys at this transparent manipulation but DeMille would not have cared. Ultimately he knew his American audiences better than they. By comparison Nazimova has no apparent sense of humour at all, she takes her characters with complete seriousness. At least on screen, in life she was apparently a much nicer and more generous person than either the ego-maniacal DeMille or the brittle and temperamental Swanson. However on screen she is an unattainable tragic figure, her two attempts at comedies were failures. Swanson's acting style is much more realistic and restrained than Nazimova's posing and emoting and millions of American working class and lower middle-class woman identified totally with her, copying her sleek lacquered hairstyles and busy outfits. It is assumed that Natacha designed Swanson's outfits, especially the flapper swimwear, however it is noteworthy that her work with Nazimova is more restrained, less tacky and in-your-face as befits' the different personalities of Swanson and Nazimova. Swanson came from poor working class background in Chicago, she had to make a conscious effort to appear sophisticated, or at least the working class version of what that might look like. Nazimova however was an actual European Bohemian with full recognition as such, she did not have to try for such acceptance, she accepted it as her due. Swanson demanded to be taken seriously as a wanton aesthete, which she really was not. Her working class audiences identified with her however instead of the aloof European. As DeMille surely knew they would.
GLORIA SWANSON;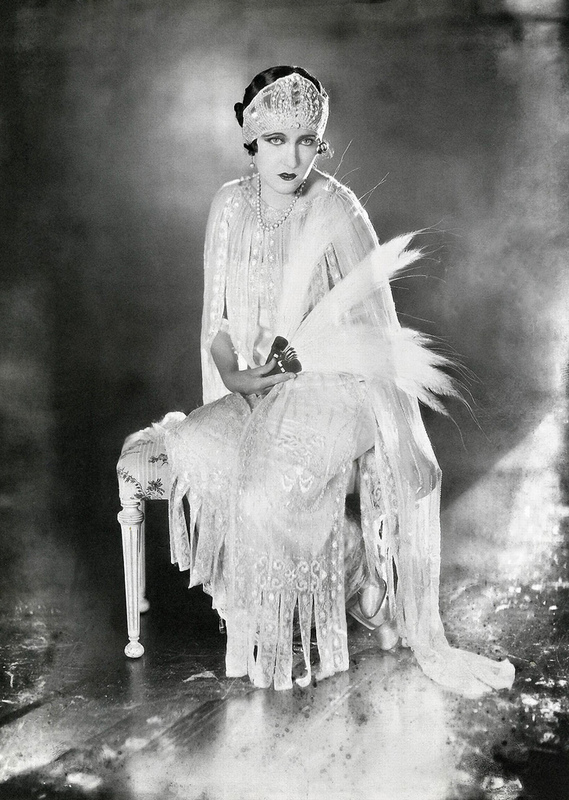 The look of the two films is noteworthy for both their similarities and differences. Natacha's influnce can be seen in the trademark sweeping staircases in a couple of scenes. The ornate bathroom has obvious Art Nouveau pieces as does the bedroom. The spa and pool are have the typical arched doorways and clean design as in the casino in "Camile". The differences however are equally important; "Camile" is clean and even spartan with no extraneous clutter, the walls are usually unadorned except for one tasteful piece. By contrast DeMille's movie is full of clutter with all sorts of bric-a-brac, some of it quite tacky, in every shot. Ever since Victorian times middle class families in fact displayed their homes in this way, using every wall space and horizontal surface to show off their possessions regardless of the clutter. Art Nouveau and especially Deco designers found this clutter gauche but while "Camile" is clearly more beautiful and looks more like an art exhibit it does not look lived in, DeMille's sets do. Contemporary audiences responded to this in way they they did not to Nazimova and Rambova's coolly perfect beauty although modern audiences may feel the opposite. DeMille movies look dated, like an eccentric aunt's house, while Nazimova's world looks like an exotic art exhibit.
GLORIA IN THE HOTEL LOBBY: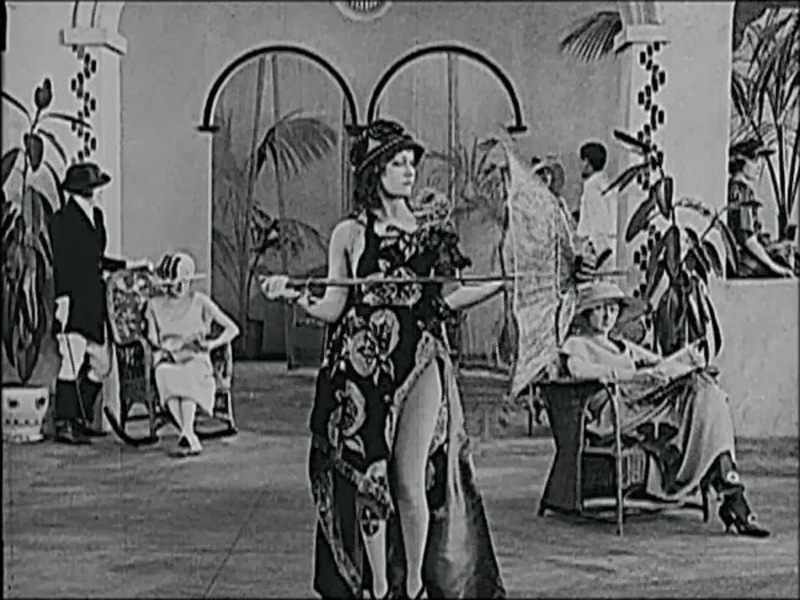 Another DeMille trademark was all the bathroom scenes. DeMille was the first director to have so much action there and at first this created a sensation which he emphasized by making those bathrooms as ornate as possible. These became such a popular part of any DeMille film that sales of imitation gold and marble bathroom setting skyrocketed in the twenties as a direct result. Nazimova's fantasy world doesn't even seem to have bathrooms, or kitchens for that matter. People do have dinner in her films, as here, but apparently the food just magically appears. There are bedrooms of course, since sex clearly exists in this world, but, like much of Nouveau and Deco design, they are dream worlds clearly not actually lived in.
Contemporary audiences responded to this by making DeMille the most famous director of his age. Bypassing Griffith and his Victorian attitudes as well as the no doubt more sophisticated, intellectual, artistic but remote and somewhat threatening Europeans like Nazimova, Stroheim and Pola Negri who would all see their careers go into decline. By contrast European audiences found DeMille rather vulgar and Swanson crass and oddly unerotic. Moderns will probably prefer the stark ethereal beauty of Nazimova and "Camile", they also might find it ultimately less patronizing than DeMille's smug moralizing.
GLORIA AND BEBE DANIELS;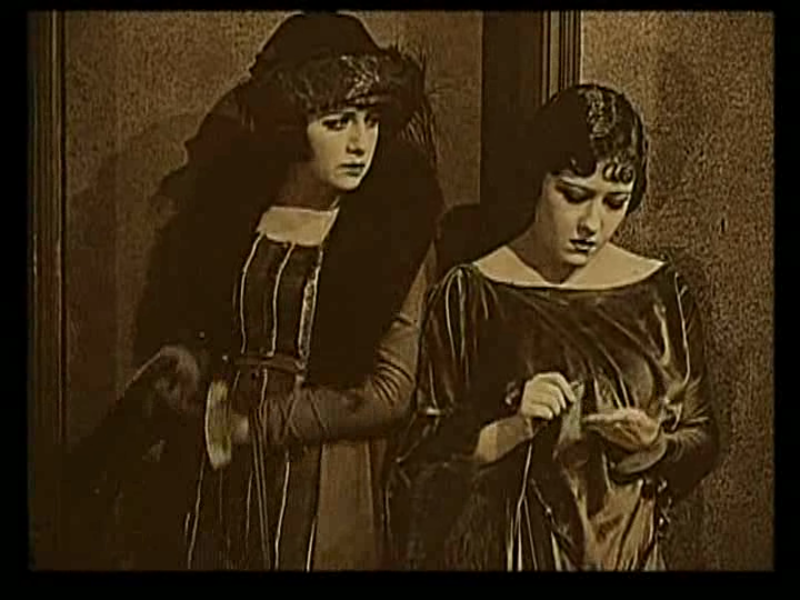 ~~~~~~~~~~~~~~~~~~~~~~~~~~~~~~~~~~~~~~~~~~~~~~~~~~~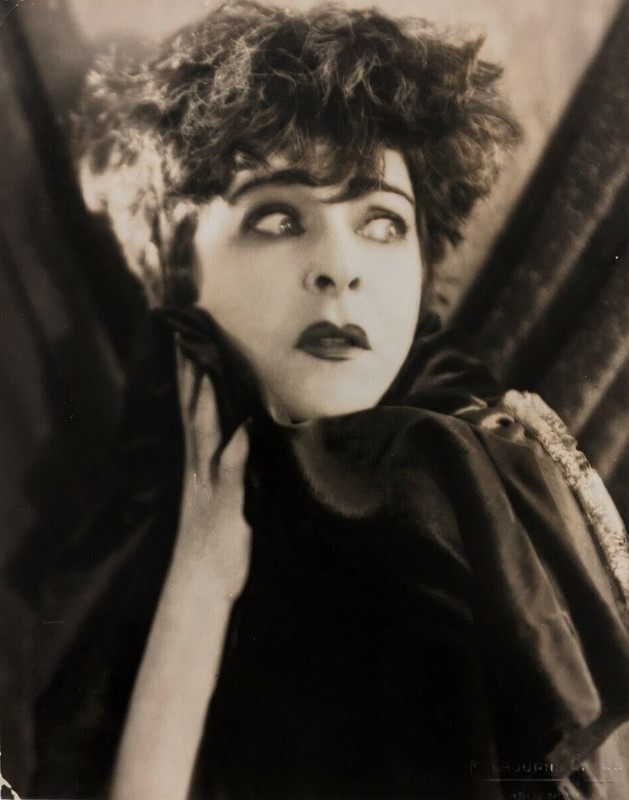 While Nazimova's previous last few films had not been successful "Camile" was a huge hit which gave her a career boost. It did even more for Valentino who quickly became a massive star making movies like the iconic "The Shiek" and becoming THE male sex symbol of the Jazz Age, a status he still holds.
For a change Nazimova's life was comparatively less dramatic. She apparently approved of the marriage of Rambova and Valentino and stayed on good terms with her (probable) former lover Rambova as was her wont. She was rumored to have taken up with Patsy Ruth Miller for a spell who would go on to appear opposite Lon Chaney in the even more successful "Hunchback Of Notre Dame" as the gypsy girl Esmeralda, her most famous role. Career-wise; after several of her previous movies (basically those after "Red Lantern") had done poorly "Camile" was a huge success and seemed to show Nazimova's star had not dimmed. In retrospect a big part of the reason for the film's success was no doubt due to the presence of Valentino, however Nazimova can be forgiven for making the assumption that there was still an audience for her take on European decadent art, so she and Natacha decided to make their dream project based on the works of two of their favorite artists, Oscar Wilde and Aubrey Beardsley in a version of "Salome", a role that had once again been played successfully by Theda Bara. Studio backers were dubious of what they regarded to be an ill-advised vanity project so she temporarily shelved it and instead reached back to her triumphs of a decade earlier with a somewhat belated screen adaptation of Ibsen's "A Doll's House".
"A Dolls House" (1922); Like "Camile" Nazimova would finance the film herself using Bryant as director although Rambova was apparently unavailable to act as art director due to being busy managing Valentino. The plot involves a woman, Nora, (played by Nazimova of course), who gets money to save her selfish banker husband Thorvald (played by Alan Hale sr) by getting money for medical treatment from a criminal, Nils. Thorvald survives to become bank director and Nils prevails on Nora to get him a job at the bank which she does. When Thorvald wants to fire Nils, Nora tells him the truth. A furious Thorvald accusing her of betrayal and insults her. She then walks out and leaves him. This film was not a success with many considering it an attempt by Nazimova to regain her lost youth at age 42 by playing a role from a decade earlier and is considered lost.
In spite of the relative financial if not critical failure of "A Dolls House", Nazimova and Natacha pressed ahead with their plans for "Salome". This ambitious film would be a complete break with any contemporary American films and would instead look to the new Expressionist films being made in Germany such as "The Cabinet Of Dr Caligari" and would be treated as a work of serious art akin to ballet or opera. Rambova would provide elaborate sets and costumes inspired by the work of Art Nouveau illustrator Aubrey Beardsley for an otherworldly atmosphere.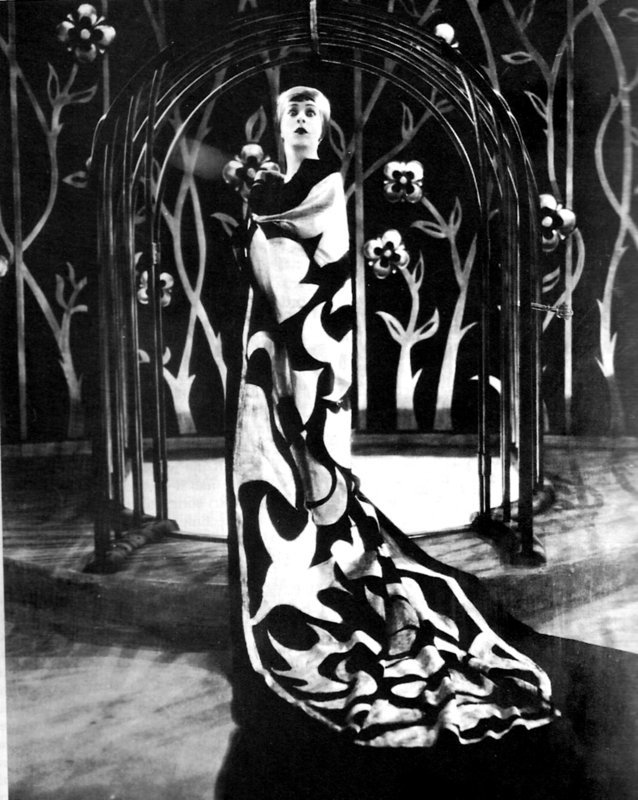 "Salome" (1923);
Cast;
Alla Nazimova ~ Salome
Mitchell Lewis ~ King Herod
Rose Dione ~ Queen Herodias
Nigel De Brulier ~ Jokaanan (John The Baptist)
Earl Schenck ~ Prince Naraboth
Arthur Jasmine ~ Herod's Page
Fredrick Peters ~ Executioner (?)
Directed by Charles Bryant, Produced by Alla Nazimova, Written by Natacha Rambova and Alla Nazimova (adapted from Oscar Wilde), Art Direction by Natacha Rambova
Plot Synopsis (spoiler alert);
Herod the King of Judea, is holding a banquet. Salome is his step daughter through his wife Queen Herodias. Herod lusts after the bored, spoiled and jaded Salome. Herodias is jealous of Salome and spends her time drinking, nagging him and flirting with a guest at the banquet. Prince Naraboth, Herod's chief bodyguard also pines over Salome but dares not act. His friend, a Page, begs him to forget her. At the banquet various wise men engage in animated but pointless debates which bore Salome. Herod drunkenly tries to appeal to Salome but is rebuffed as Herodias mocks him. Salome leaves the party and followed by Naraboth lingers at a courtyard where she hears a voice. She is told it is the prophet Jokaanan who has been imprisoned in a cell under a gilded cage in the courtyard. Salome demands to see him but the guards tell her that it is forbidden by Herod to speak to Jokaanan. When she orders a slave to bring Jokaanan to her the slave instead jumps to his death from the castle walls rather than defy Herod's orders. Salome notices that Naraboth has a key to the cage and asks for it. He refuses as the Page urges him to leave. Salome tells Naraboth he will earn her favour if he gives her the key, which he does. Jokaanan is freed and Salome tries to seduce him. He denounces her as a wanton sinner and returns to his cell as Naraboth kills stabs himself in front of Salome and dies.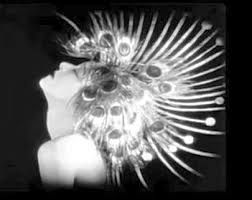 Back at the banquet Herodias has been mocking the king for his weakness. Herod sends for Salome and commands her to dance for him. When she refuses he offers her half the kingdom as his queen. Herodias is outraged. Jokaanan can be heard from his cell denouncing Salome as a wanton woman. Herodias calls for Jokaanan's death as he has long been insulting her as well. Worried about a public outcry, Herod refuses. Salome agrees to dance for Herod if her wish is granted, he agrees. Salome dances for the excited Herod. She then demands as her wish the head of Jokaanan. Herod at first refuses but soon relents when his honour is questioned by Salome and Herodias. Herod orders his executioner, a huge black man, to behead Jokaanan but the executioner refuses, instead bowing to Jokaanan. Salome then tries to get the Page to kill Jokaanan but he too refuses and runs away. Herod orders his soldiers to kill Jokaanan which they do, delivering the head to Salome who kisses the lips and declares her love for Jokaanan. An angry Herod orders his soldiers to kill Salome. Herodias tries to object but is restrained by a large slave. Several soldiers surround the defiant Salome who does not resist. The rest of the court, including the wise-men, slaves and guests flee the scene except for Herodias who is forced to watch as Salome is stabbed to death. Finis.
~~~~~~~~~~~~~~~~~~~~~~~~~~~~~~~~~~~~~~~~~~~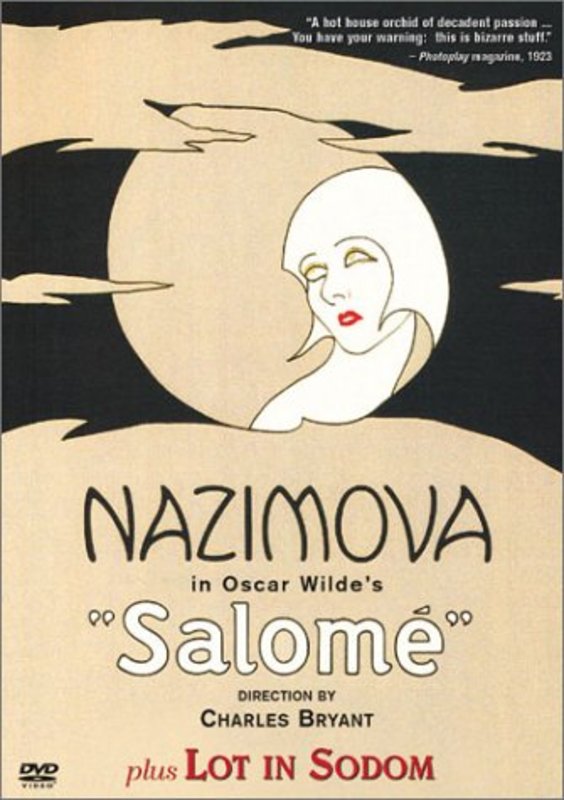 Today we are used to having "art films" and underground music as important parts of mass culture. Making an obscure artsy vanity project with no commercial appeal would not be considered unusual, in fact some filmmakers make it a matter of pride to do so from time to time. However in the 1920's there was no such scene to speak of aside from a very small circle of Dadaists and Surrealists like Hans Richter, Marcell Duchamp, Man Ray, Salvador Dali and Viking Eggeling who made a few experimental films. But those films were short and low-budget films not meant for the larger public including Alla herself who was probably unfamiliar with them. Nazimova treated her obscure vanity project as if it were a regular Hollywood melodrama that audiences would accept as such. This either took great courage, sheer willful stubbornness, a deluded ego or a complete disregard of common sense. Or a combination of all of the above.
This strange film met with universal derision with critics deriding it for it's glacially slow pace, outdated acting style and pretentious costumes. Audiences stayed away in droves. Even before the film was released the press was had been getting rumors of the odd goings on at Nazimova's studios. The film went wildly over budget even though there are only a couple of sets and a small cast of unknowns with fairly static camera work. Most of the money was spent on Natacha's costumes and sets which included real gold and silver and semi-precious gems. There were reportedly also wild cast parties which resembled orgies with the cast and crew rumored to be entirely gay. Some of these rumors were no doubt exaggerated by gossips and rival studios but it is generally accepted that much of the cast was indeed gay, certainly the characters of Naraboth and the Page are stereotypically gay and some of the female extras appear to be men in drag. At any rate the final price tag was about $350,000, an astounding sum for those days (worth at least several million in today's money) for such a small film. Setting aside all this controversy from today's standpoint the film, while still having many flaws, has actually dated better than many contemporary films by DeMille or Griffith. First the flaws;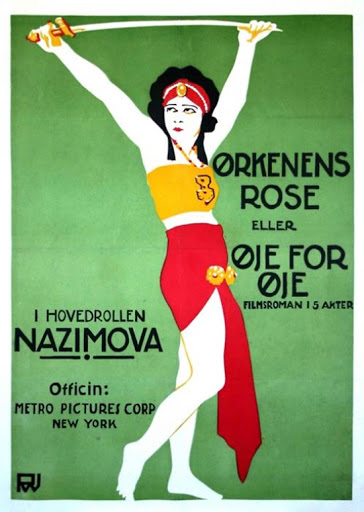 In the original Oscar Wilde version the character of Salome is supposed to be a teenager while Nazimova was by this point 43 years old. This point caused some ridicule at the time but since in the film Salome's age is not mentioned and Nazimova's trim dancer's body still looks youthful modern audiences are not likely to notice this very much. Besides there has always been a tradition of women playing much younger characters in fantasies, "Peter Pan" for example.
More seriously is the fact that the movie is indeed very slow moving with little action to speak of and the acting is oddly stilted, often amounting to little more than actors striking stylized poses. Sadly most of Nazimova's films have been lost but as "Camile" shows she could indeed act so her acting style here was obviously a conscious choice. It is often assumed that Nazimova was using her ballet training here and that is partly true but she was also probably thinking of an earlier tradition of staging "tableaus". Tableaus were a tradition on the Victorian stage in which a particular scene or soliloquy from a well known play or novel, typically Shakespeare, Dickens or Uncle Tom's Cabin would be performed. Often in a very "actorly" way with plenty of stagey posing and wide gestures towards the audience. In this way it was possible to present a proper play among a full vaudeville show for a working class audience that could be assumed already had some knowledge of the full play or novel. In the 1900's this tradition made it's way to the screen with stage actors doing short (five minutes or so) versions of scenes from Shakespeare and Dickens etc. These films, few of which survive, would have a single set and camera with actors acting as if they were still on stage, speaking their lines into the silent void and gesturing towards an audience they could not see. By the time Nazimova had made her first films this style had already been left behind (aside from some of the slapstick comics) but she would have been well aware of this tradition, indeed in her early stage days she no doubt performed in some of these plays. Nazimova and Rambova were probably also using this tradition to allow them to stage posed shots that pay homage to the works of the great Art Nouveau illustrator Aubrey Beardsley, an acknowledged inspiration listed in the credits. As noted earlier there are a few shots in "Camile" that have this quality but here most of the movie is given over to them.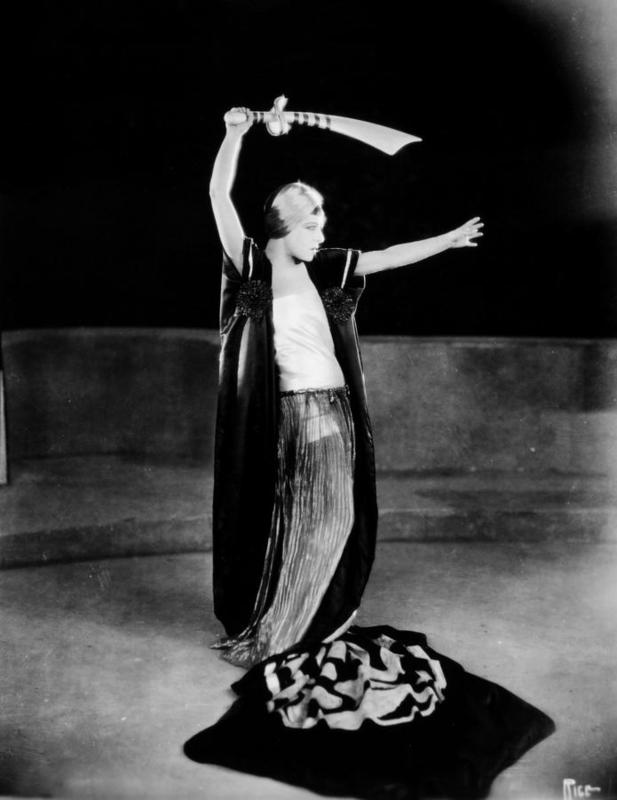 As for the other actors in the film; most are obscure, although Nigel De Brulier, who plays Jokaanan had previously appeared with Nazimova in "A Dolls House". Their acting styles are a confused mishmash. Some (such as the characters of Jokaanan, Naraboth, The Page, The Executioner) adopt the same style as Nazimova, with the same statuesque posing. While the King and Queen over-act shamelessly, grimacing, eye-rolling, rending their clothes and gesticulating like an epileptic seizure. Basically displaying the kind of over-the-top emoting that moderns consider ludicrous about silent films. In fact this sort of acting was only typical in the 1900's and 1910's. By the time of this film even contemporary audiences would have been turned off by this sort of thing. Nazimova should have known better, but it may be that those actors were allowed to go over the top to compensate for the static posturing of the rest of the film. In any case it doesn't work.
SALOME BY AUBREY BEARDSLEY;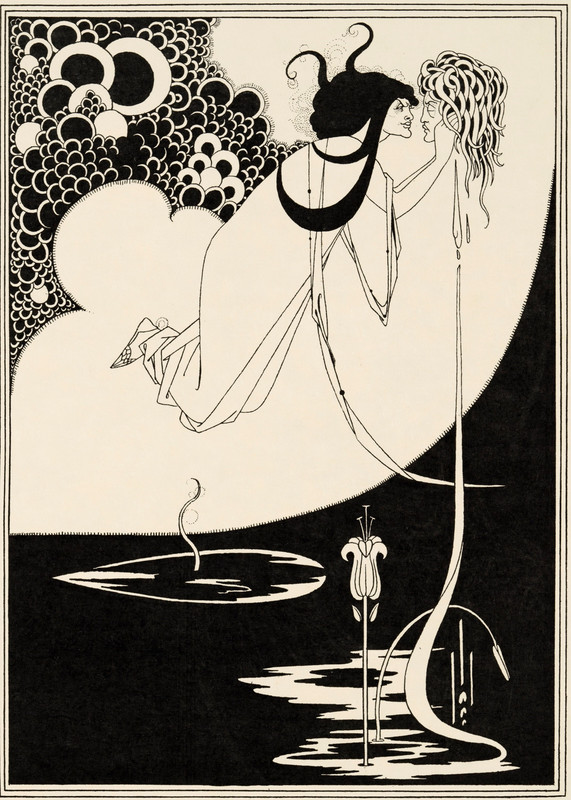 Finally the direction by Charles Bryant is pedestrian at best. This film is by necessity stage bound and tied to it's few sets. However most of the great German Expressionist films of the era were also shot entirely on stage sets indoors including the the films of Robert Wiene such as "The Cabinet Of Dr Caligari", "Genuine" and "Crime And Punishment" and Paul Wegener's "Der Golem". These films were also done on a limited budget, in fact that was one of the reason for shooting them that way. So it was clearly possible to work entirely on set and still have action sequences and mobile cameras. Nazimova and Bryant had to been aware of these German films, in fact they show a definite influence in their artsy staginess. And yet as a we have already seen in "Camile", Nazimova simply had no interest in the mechanics of film itself. She took great interest in sets and costumes as well as her own acting styles, but in terms of cinematography she had not moved since the early days of her first film in 1916. The camera once again is limited to wide shots to show off the gorgeous sets and closeups to show off the cast, especially Nazimova herself. It's possible that if a more talented director, like Robert Wiene, had been in charge the film would be more kinetic. However it's also possible that Nazimova always intended to film to look like an art exhibit. Unlike DeMille and Swanson she is not offering the vicarious thrill of high living. She, and the film are an art exhibit to be admired from afar. Taken on these terms, especially from the distance of ninety years, she succeeds.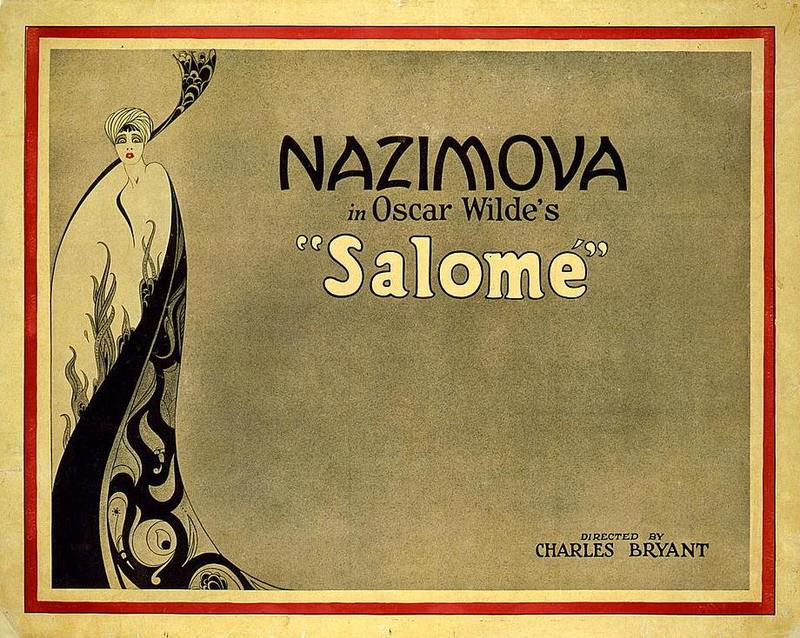 The sets openly invoke Beardsley (as noted in the credits); note the prison's gilded cage and floral backdrop in particular. Rambova's costumes are over-the-top in a different way than Swanson's tacky look-at-me social climber. Women of the twenties actually could and did aspire to dress and wear their hair like La Swanson, and that was the intent. She was a role model for the working class waitress, office girl, store clerk, and house maid who daydreamed of Hollywood. Nazimova however presents herself as a fantasy figure, remote and unattainable. There is no attempt to relate to the camera, she simply poses as a haughty model in a Beardsley or Klimt painting. Actually her outfits are quite simple (aside from the jewels in her hair) compared to the voluminous robes of "Camile" or the elaborate layers and baubles of Swanson. The guards, dancing girls and other extras are more scantily clad than even those of ancient and biblical epics made by Griffith and Demille but more erotic and oddly tasteful in their way. Naraboth and The Page are clearly based on costumes worn by ballet dancer Nijinsky who both Nazimova and Rambova would have been quite familiar with. One of the wildest costumes is in an peculiar shot near the beginning showing three dignitaries at the banquet (who we never see again) reacting to the behavior of the other guests as they turn and stare at each other. They are wearing some sort of helmet and robes that look to our eyes oddly futuristic, in fact we have seen similar costumes in numerous sci-fi films since then from "Things To Come" to "Star Trek", "Star Wars", "Tron", "The Fifth Element" and "The Hunger Games". Ironically futurism was not what they were going for. Since sci-fi barely existed in Nazimova and Rambova's day that's surely not an influence they would have been expecting and may not have entirely approved of but it's hard not to look at this film and not think of artsy sci-films that have come since.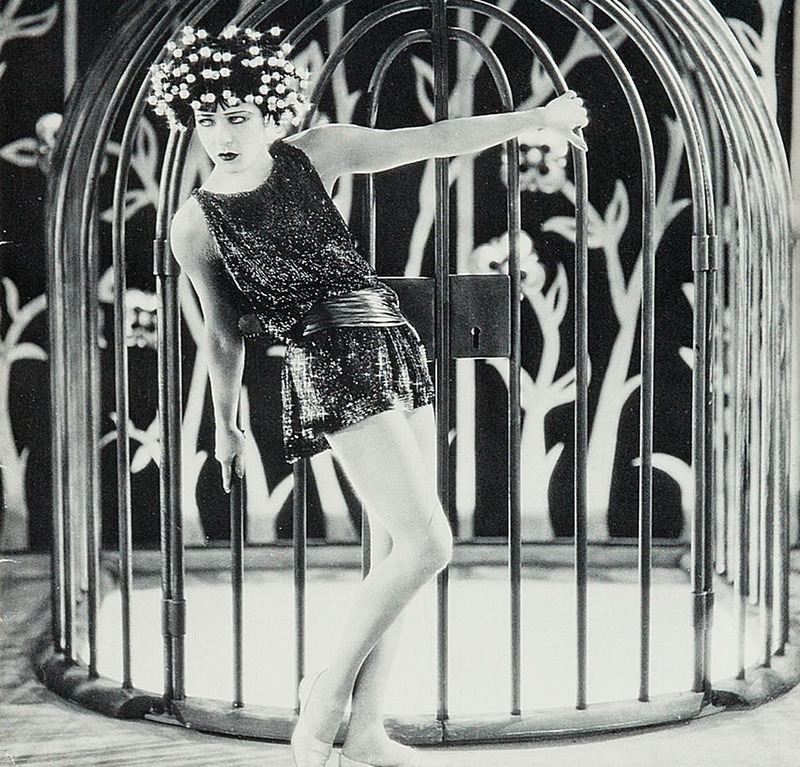 "Salome" was intended to look like a Beardsley painting come to life, although in a coolly remote way that Beardsley (who was famously ambivalent about the eroticism of his work, begging his friends to destroy it on his deathbed) would have approved of. Note that while the story emphasizes sex and death it doesn't actually show much of either, only oblique hints. Naraboth does kill himself, but bloodlessly, and the slave does leap to his death, but that is done in one of the only long shots in the film. There is no attempt to engage the viewer in any emotional way and it is too cold and remote to be erotic. The film is meant purely to be seen and admired like a Klimt in an art gallery. The cinematography has a lustrous sheen like Klimt painting, with Nazimova literally seeming to sparkle and glow. This is one time when Nazimova truly lives up to her oft described "ethereal" allure.
PROMO POSTERS FOR "SALOME";
This may have been the first feature film to attempt to try this idiosyncratic approach but it was not the last. In 1932 in the most obvious offspring American Avant Garde filmmakers James Sibley Waston and Melville Webber would make "Lot In Sodom", a silent film which would take much of the look of "Salome" but with hyper-kenetic camera work Nazimova never considered and Bryant would not have had the skill to pull off anyway. Other more recent "live action paintings" films would include 1962's "Last Year At Marienbad" (by Alain Resnais), and Stanley Kubrick's 1975 film "Barry Lyndon".
AFTERMATH;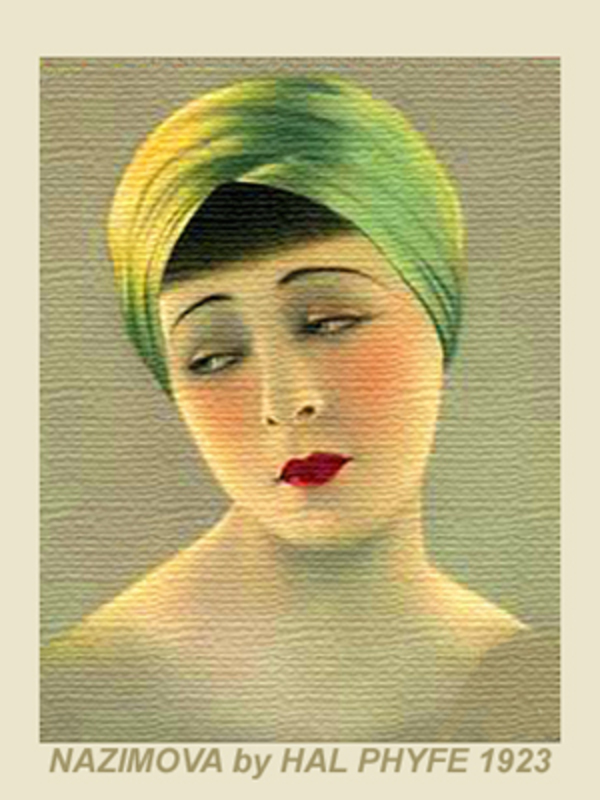 As has already been stated the film was a complete failure. No major studio would agree to even distribute it even though Nazimova had already paid to film it, cleaning out her savings to do so. It sat on the shelf for more than a year, which is not unusual today, but in the twenties films were shot and released in less than a year. Eventually an independent distributor agreed to release the film where it promptly sank after being roundly ridiculed by critics and ignored by audiences. Nazimova Productions went bankrupt and she would have to raise money by converting The Garden Of Alla to a luxury hotel. That turned out to be another mistake as the hotel lost money and she was forced to sell out, although she would continue to live there as a permanent guest. With the money gone she was abandoned by Bryant who shocked Hollywood (where everyone had always assumed he was gay) by running off and marrying a wealthy heiress half his age named Marjorie Gilhooley with whom he would have two children. Bringing insult to injury Bryant caused more damage to Nazimova when he revealed that their marriage had never been legal, that she had never divorced and confirming some of the gossip of her private life. The resulting scandal helped finish both their careers. There had always been gossip about Nazimova's unconventional private life but for many years her European exoticism and the easy going atmosphere of the twenties gave her a pass. However by the mid-twenties public attitudes towards Hollywood were changing after a series of scandals.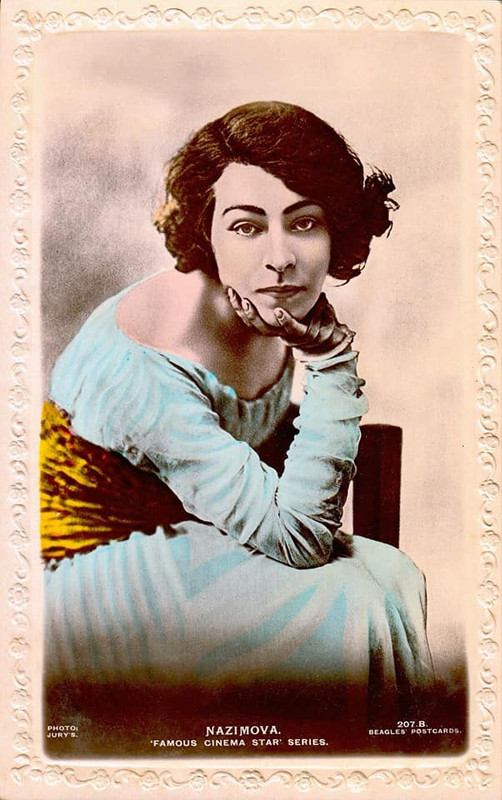 1922 brought the start of the drawn-out Fatty Arbuckle trials. The same year also marked the still unsolved murder of film director William Desmond Taylor in a case which would reveal multiple affairs and rumours of drug use that would sink the career of virginal actress Mary Miles Minter. A year later popular matinee idol Wallace Reid would shock his fans and die of complications due to morphine addiction and alcoholism. Also in that year brought the also unsolved murder of Broadway showgirl Dot King. In 1924 popular screen comic Mabel Normand (already in trouble for her association with William Desmond Taylor) would be embroiled in a lover's triangle in which her chauffeur shot another man. With the always hostile church and women's groups fresh off of their triumph in getting prohibition passed and politicians demanding government censorship boards the frantic movie studios set about censoring themselves and using the excuse to shed troublesome or risky talents. DeMille was able to make the adjustment to the new order since his films had always had an element of essentially conservative moralizing, however winked at. However those actors and directors who were most associated with European decadence like Nazimova, Von Strohiem, Pola Negri, Theda Bara, Mae Murray, Asta Neilson and even Valentino himself saw their careers go into decline. Bryant would never work in films again, returning to Broadway while Nazimova would make a few more films it would be solely as an actor, she would never again be in charge.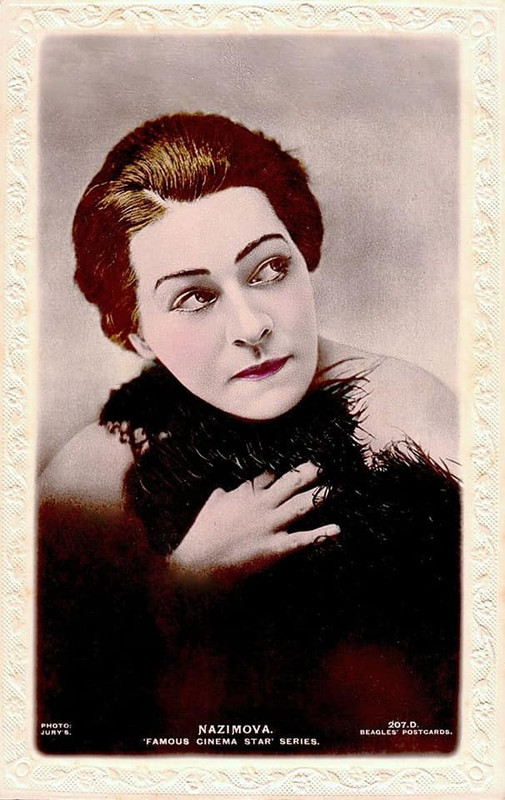 In 1925, after more than a year away from the screen (a long time in the twenties when even big names made several films a year), Nazimova attempted to restart her career with "Madonna Of The Streets" appearing for half her past fee. The film was another romantic melodrama of the old type co-starring Milton Stills, a well known leading man of the day but it still failed to find an audience. She tried again with "The Redeming Sin", a story of the French underworld in which she plays yet another dancer-courtesan opposite villainous character actor Lou Tellegen. Both these films were done quickly and on limited budgets but sound reasonably promising enough, however both were failures and are now considered lost.
PROMO PICS OF "MADONNA OF THE STREETS", "REDEEMING SIN" & "MY SON";
In desperation the now 46 year old Nazimova played a character her own age in "My Son" opposite Jack Pickford (brother of Mary), whose career was also on the down-slide due to his alcoholism, and new leading girl Constance Bennett. This film also failed and Nazimova retired from film.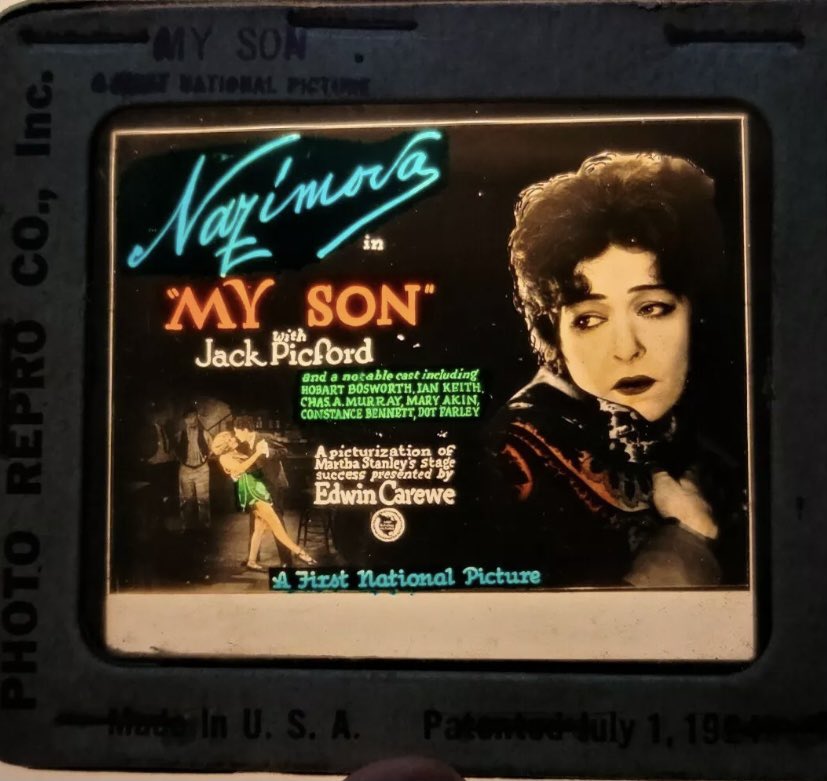 She would return to the stage with some minor success for fifteen years until 1940 when the now mature Nazimova would return to the screen as a character actress in supporting roles in a few films including "The Bridge Of San Luis Rey" and a remake of Valentino's "Blood And Sand". Unlike many figures of the silent era her long stage career meant she had no problem adapting to sound film although she never lost her Russian accent.
ALLA READING THE STATUE OF LIBERTY POEM IN "SINCE YOU WENT AWAY";
The remake of "Blood & Sand" gave viewers the only chance to see Alla in colour, albeit she was by that point in her sixties and wearing a drab washer-woman's dress. Even then we can see she still looked younger than she actually was and her expressive face and eyes had exchanged her imperious look for a more soulful one.
ALLA IN A TECHNICOLOR SCREEN TEST FOR "BLOOD AND SAND";
She remained a respected Hollywood figure as well as in the art world until she died in 1945 aged 66 of heart disease.
ALLA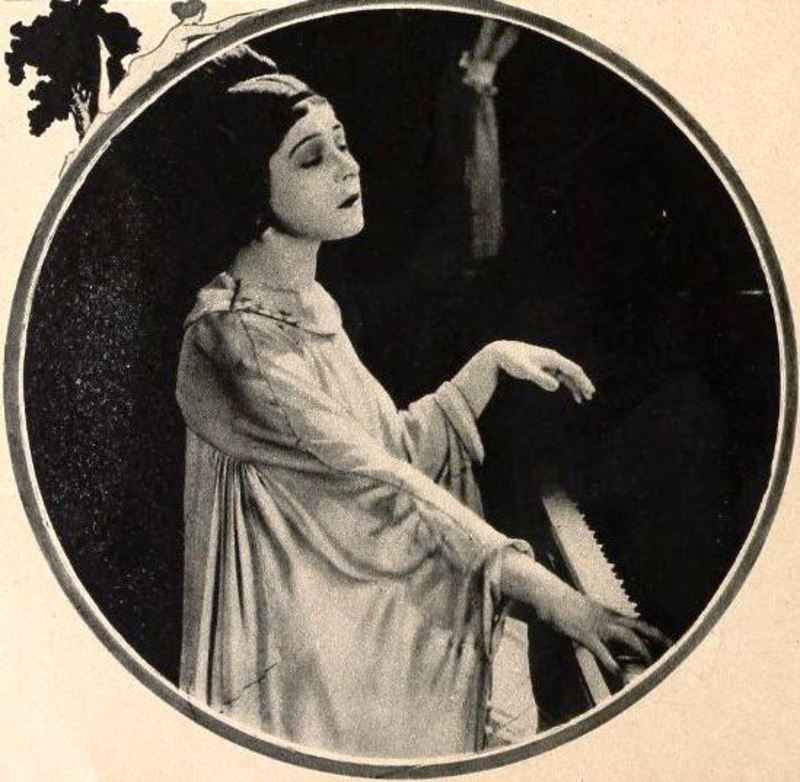 Natacha Rambova and Rudolph Valentino would have an equally rough ride. His stage-managed marriage to Jean Acker was notably unsuccessful as she locked him out during the honeymoon and filed for divorce citing "cruelty" and claiming that he had struck her in an argument. She also created a bigger sensation when she claimed the marriage had not been consummated.
JEAN ACKER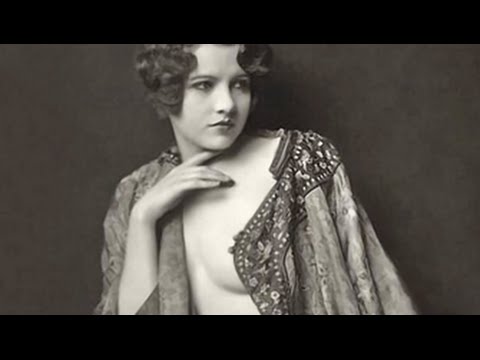 Valentino was quickly swept up by none other than Natacha Rambova who became wife number two, before the divorce from Acker was even finalized creating still more headlines. Rambova essentially took over his life and career no doubt giving him much needed structure. The absurdly photogenic couple became an early tabloid favorite as they posed for endless photos and wrote a book of maudlin romantic poetry. However her artistic pretentious and domineering personality soon infuriated the film studios. The two collaborated on three films "Monsieur Beaucaire", "A Sainted Devil" and "Cobra" on which she was blamed for going even more wildly over-budget than she had on her films with Nazimova and clashing with the screenwriter June Mathis (whom she had worked with on "Camile" and who never spoke to her again) and the male directors and cast. After the couple lost a reported $500,000 (far more than on "Salome") on a never finished film called "The Hooded Falcon" she was banned from the film lots and he agreed to return sheepishly to United Artists with a deal that banned Natacha from any creative role on Valentino's films but did offer her a chance work on films on her own. She would make two films in which she would appear as well as providing art direction. "What Price Beauty" would star Nita Naldi and a young Myrna Loy and "Do Clothes Make The Woman" starring British actor (and later the first sound version of Sherlock Holmes) Clive Brook which would later be re-titled "When Love Grows Cold" over her objections. In a surprising turn of events both films went wildly over-budget and lost money. What really ended her film career was the insistence of the studio in going behind her back and billing her as "Mrs Rudolph Valentino", the outraged Natacha stomped out and vowed to never work in Hollywood again, and did not.
By that time her time in Hollywood was clearly over anyway since her marriage to Valentino was on the rocks, a publicly acrimonious divorce happened during the filming in 1925. She did not work in film or theater again, however her career in the arts was far from over. She would become a respected figure in fashion and design as well as an authority on Egyptian art and hieroglyphs working with famed archaeologist Howard Carter (discoverer of King tut) and writing and teaching on the subject. She would later marry a Spanish aristocrat and move to Europe where they would find themselves on opposite sides of the political divide in the 1930's as he became a prominent Fascist naval commander and she would run to France and later divorce him. Returning to America during the war she would busy herself in writing about Egyptian astrology and numerology and extending her interests to Tibet and Nepal as well, collecting artifacts which would be donated to the Philadelphia Museum Of Art. She died in 1966 aged 69.
NATACHA & RUDY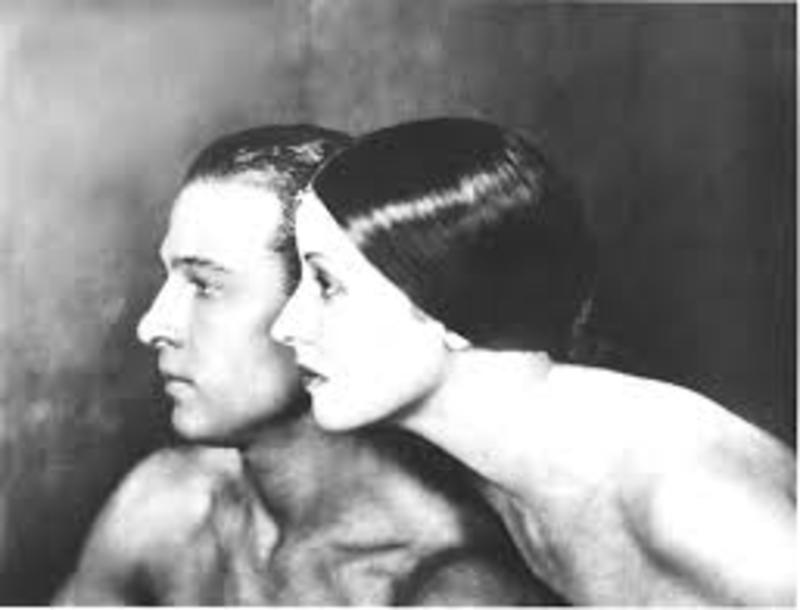 As for other figures in their story; Rudolph Ventino had seen his career go into decline under the controlling leadership of the controversial Natacha, however his next two films; "The Eagle" and "The Son Of The Sheik" were popular hits that restored much of his audience. He took up with sultry screen star Pola Negri, reconciled with screenwriter June Mathis was making plans to direct when he died suddenly in 1926 from complications from surgery for appendicitis and an ulcer aged only 31. His death brought about the largest funeral ever seen for an actor and cemented his figure as the timeless Latin lover, however it is doubtful he could have survived the end of the silent era in 1928 as his grasp of the English language was always somewhat tenuous. Charles Bryant never worked in film after "Salome" and his hostile divorce from Nazimova. His heiress wife Marjorie divorced him in 1936 and he returned to the theatre. He died in 1948 age 69 several months after Marjorie remarried. Theodore Kosloff, Natacha's first collaborator, went on to appear in several films for DeMille until the coming of sound and his lack of English ended his acting career. He continued to work as a choreographer until his death in 1956 at 74. Jean Acker, Nazimova's lover and Valentino's first wife, would never see her career take off although she would continue to work in minor supporting film roles for the next thirty years. She became much better known for her scandalous private life which included many affairs with wealthy men until she lost her fortune in the stockmarket crash and sued one in 1930, and lost. Thereafter she took up with a former Ziegfield showgirl named Clohe Carter with whom she would live until her death in 1978 aged 84. Another Nazimova flame, Patsy Ruth Miller (Nichette in "Camile") would have a more impressive career. After "Camile she would continue acting with her best known role as the gypsy girl Esmerelda in the iconic Lon Chaney 1923 version of "The Hunchback Of Notre Dame". She would make several other films into the sound era until retiring from film after 1931 to concentrate on writing for which she would win three O.Henry Awards. She had the longest life of all dying in 1995 at the age of 91.
JEAN ACKER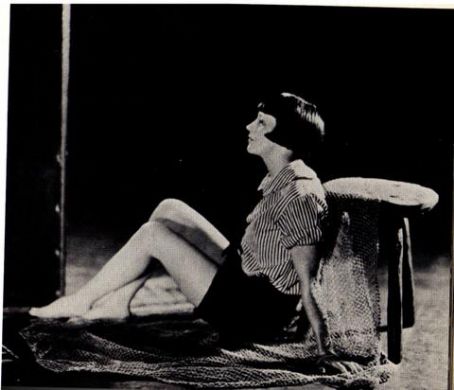 As for Cecil DeMille he would continue to make epic films well into the sound era including "The Ten Commandments". He died in 1959. Gloria Swanson saw her career go into decline with the advent of sound although she would make a spectacular comeback in "Sunset Strip" as the faded and delusional silent film star Nora Desmond, a role that had also been offered to Pola Negri who indignantly turned it down. The film would also co-star Erich Von Stroheim and a cameo by DeMille as himself. She died in 1983. Bebe Daniels (Sally in "Why Change Your Wife") would have a successful career as a romantic leading lady and glamorous model during the silent era, dying in 1971.
PATSY RUTH MILLER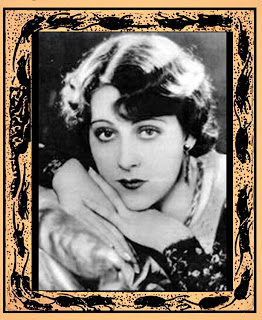 Among actors mentioned; Noah Berry (Sam Wang in "Red Lantern") had a successful career mostly playing heavies well into the sound era dying in 1946. His brother Wallace had an even more successful film career although his two year marriage to Gloria Swanson was less successful (he considered her an insufferable, social-climbing snob). His son Noah jr would also become an actor best known for playing the father in the 1970's series "The Rockford Files". Darrell Foss saw his career peter out long before the silent era ended but would outlive most of his contemporaries dying in 1962. Anna May Wong, who got her first role in "Red Lantern", would go to a long and successful career in Hollywood becoming the first Asian-American film star and an icon for Asian actors, her fame eclipsing Nazimova's. Screenwriter June Mathis died suddenly in 1927 while watching a play aged only 38. Zeffie Tilbury (Prudence in "Camile") would have an even longer career into her old age including appearing as Ma Joad in "The Grapes Of Wrath". Alan Hale (Nazimova's caddish husband in "A Doll's House") would have a minor but respectable career as a film heavy as well as but is best known for his multiple appearances as Little John in various "Robin Hood" films as well as for his son Alan Hale Jr who would go on to an acting career of his own in the 1960's appearing in Clint Eastwood's "Hang 'Em High" and as the Skipper in the television sitcom "Gilligan's Island".
ANNA MAY WONG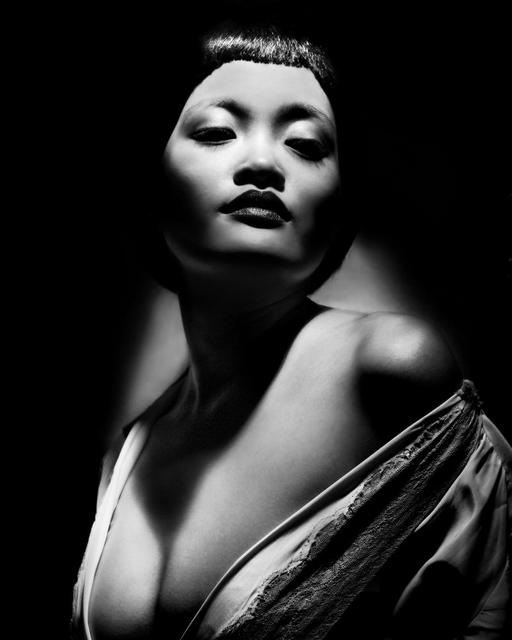 A couple of Nazimova's leading men met bad ends; Lou Tellegen ("The Redeeming Sin") would kill himself in a spectacular manner by committing a bloody sepuku on a pile of old press notices in 1935. Jack Pickford ("My Son") would see his career hit the skids and his alcoholism worsen until he died in 1933 aged 36. Rex Cherryman (Gaston in "Camile") seemed to have a promising career in both film and Broadway when he died suddenly of sepsis in 1928 aged 31, the same age as Valentino. Director Albert Capellani ("Red Lantern") made only a few more movies before returning to France where he died in 1931 of diabetes aged only 57.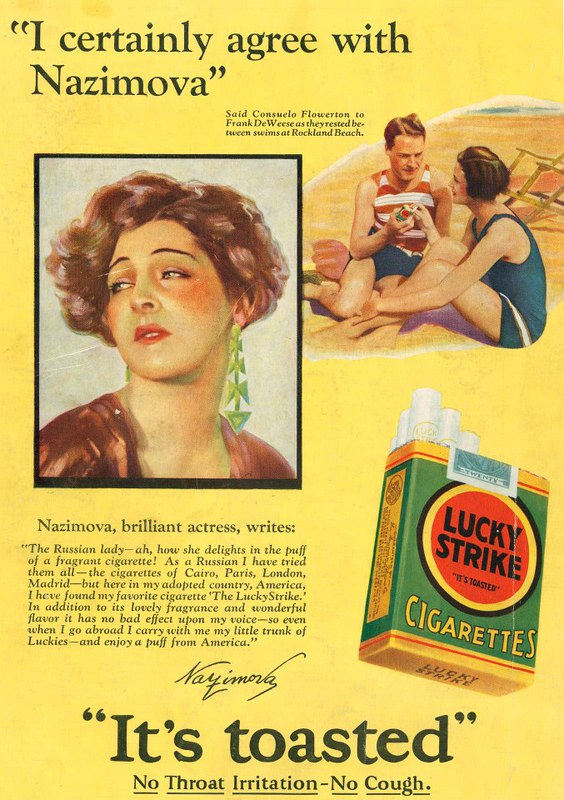 VERNON DALHART ~ "THE GARDEN OF ALLA" (circa 1918);